About This Project
The Florida Reef Tract, the third largest barrier reef in the world, is being decimated by coral bleaching and disease. Heat stress is killing seagrass, a critical habitat for sea turtles, manatees, and juvenile fish. Mangroves are threatened by coastal deforestation and sea level rise. Scientists need data to protect this important habitat.

Ask the Scientists
Join The Discussion
What is the context of this research?
Smartfin addresses a recognized gap in near-shore data available to oceanographers, which is urgently needed to study some of the most imminent impacts of climate change on the ocean. For example, it is known that biogeochemical "hotspots"—places of disproportionately large photosynthesis/respiration—can be missed by static moored sensor deployments, which has implications on a complete and accurate understanding of ecosystem health. Uncovering this need for cost-effective solutions that fill the gap in data at the coast, and realizing that this coincides exactly with the zone in which surfers spend time in the water, the idea for Smartfin was born. Embedded sensors in a surfboard fin capture data needed to understand the dynamic coastal environment.
What is the significance of this project?
The ecosystems in the nearshore ocean are hugely important for maintaining a habitable climate. The nearshore zone is home to coral reefs, which in turn house over 25% of all fish species, as well as mangroves and seagrass beds, which sequester harmful carbon dioxide emissions. Yet existing technologies have left the nearshore zone chronically undersampled, making it difficult to protect.
Smartfin can fill this gap in data by providing an innovative, low cost solution that leverages citizen science to scale the volume of data collected.
Citizen science has several additional benefits as an approach- it improves public trust in science and understanding of climate issues, and gives participants a way to have a real impact.
What are the goals of the project?
The goal of this project is to facilitate a trial of Smartfin, to validate the quality of the data collected and robustness of the product for broad use by citizen scientists.
The data collected by this project will be used primarily by a researcher at Nova Southeastern University who studies coral health. As with all Smartfin data, it will also be freely accessible to any other researcher.
The trial will last 6 weeks, after which the user feedback will be gathered and data will be analyzed for consistency with existing data sources. Feedback from this trial will inform manufacturing and deployment scale up over the rest of this year.
Budget
Smartfin is working through a beta trial of it's improved product design, and these funds will facilitate manufacturing fins to test for robustness in the field.
The updated product integrates feedback from a pilot program run in partnership with the San Diego chapter of Surfrider Foundation. The pilot proved that surfer citizen scientists can use the device to gather quality, real time data that fill in gaps left by traditional sensors. It also illuminated opportunities to improve the citizen scientist's experience surfing with the device, by making it turn on and off and transmit data all automatically.

The beta trial of our fully automated device will be conducted through partnerships with researchers in Southern Florida, ensuring that the device continues to meet standards for data quality.
Endorsed by
Florida's coastal ecosystems such as coral reefs, mangrove forests, seagrass beds, and estuaries provide numerous goods and services to humanity. However, these ecosystems are under threat from local and global anthropogenic change. While more data is needed to address the dynamic and rapidly changing environmental conditions of coastal ecosystems, outreach to the local communities that depend on these ecosystems has never been more urgent. The Smartfin project can fill both of these needs.
Project Timeline
This project lasts three months in total. Verification of the electronics in the Smartfin will be completed early in April, with the rest of the month focused on testing and review of manufacturing processes. By mid-May, the Smartfins will be deployed for a 6-week test, which will be completed by the end of June.
Apr 01, 2021
Project launched
Apr 09, 2021
Electrical testing complete
Apr 30, 2021
Manufacturing process review complete
May 14, 2021
3 Smartfin devices shipped to Florida
May 18, 2021
Project Launched
Meet the Team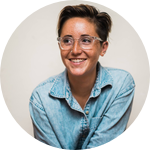 Danica Reinicke
Head of Partnerships and Distribution at Smartfin
Affiliates
Smartfin (smartfin.org)
View Profile
Danica Reinicke
Engineer and environmentalist. Danica brings to Smartfin 5 years of experience managing products in medical and environmental applications, and a passion for bringing innovative technologies to life through a lens of sustainability and equity.
---
Project Backers
4

Backers

1%

Funded

$25

Total Donations

$6.25

Average Donation