About This Project
Our health care system is built around frequent hospital visits and lengthy medical testing. We hypothesize that using a combination of zincfinger arrays in recombination with unique DNA-aptamers binding the target of interest, we can synthetically engineer a biosensor with significantly faster detection time including an adaptable health risk biosensor. We'll design biosensor kits suitable for heart disease or travelers' diseases, so it can be used at home and on the road.
Ask the Scientists
Join The Discussion
What is the context of this research?
By using a very selective and universal method, we can make a biosensor that has never been made before, by incorporating three grand systems: zincfinger arrays, split enzymes and DNA aptamers that bind the target of interest. Each aptamer can bind a specific target, be it DNA, RNA, protein or any other macromolecule, specific for a threatening compound or a disease. To make this way of detection available all around the world, we are designing a pre-composited kit that holds, not only the disc for your sample, but also up to eight aptamers. We will design standard kits, but you can also design your own. For instance, a heart disease risk with aptamers for blood clotting and heart muscle markers; but also a traveler's kit with aptamers for malaria, worm infections and hepatitis.

What is the significance of this project?
With the funds requested we can help ourselfs with enough materials to perform enough experiments. In our project we will need to perform a lot of cloning and protein purification and that alone takes a lot of kits. Furthermore, the funds will help us make the custom DNA that we want and pay for our travel expenses to our school. During official school days, we had the chance to travel for free to our school with our student card. But now that the summer vacation has started, we have to pay for the metro's and trams to go to the lab and some of us come from far. Last but not least, the funds will help us a lot for paying for the materials needed to make our product more physical.
What are the goals of the project?
Our goals are to make several variants of aptamers and fusion proteins, by which we can test different markers. Some aptamers have already been published. We will buy synthetic DNA comprised of our Zn finger binding domains and the aptamer sequences. For the targets where no aptamers are available yet, we will use an iterative enrichment technique such as SELEX to select for DNA sequences that can be used as aptamers. When the aptamers are ready, we will test parts of the system separately in a controlled environment, to see if the individual parts perform and correctly perform what they are supposed to. When this phase is done, we will bring the system together and test it in the cell, lysate and ultimately on specific discs, which will designed by ourselves.

Budget
Our budget items help us, not only with basic materials we need for our research, but also, on account of realizing our universal assay, we must produce multiple aptamer variants. Aptamers are the DNA pieces that actually bind to the target. Furthermore, we need protein purification materials to purify fusion proteins of Zinc Finger arrays and split enzymes. In order to test them in a closed system, we also need to purify them. This is a very important part for us. DNA purification and cloning kits are equally indispensable and valuable materials for our project, because with the use of many variants, we will be required to clone various DNA fragments and make diversified combinations. And competent cells for cloning and protein expression are also needed. These are the most expensive and our team is in need of an ample amount, for all the target variants we will make. Last but most important are travel expenses we need to get from the Netherlands to Boston for the Jamboree.
Endorsed by
This young enthusiastic interdisciplinary research team is working on a very interesting and smart sensor idea. Reaching even intermediate targets of this project will lead to a new smart sensor system utilizing forefront concepts of synthetic biology and biosupramolecular chemistry. I wish them good luck with this challenging project, so that they will not only achieve the working prototype stage, but also will be able to transform this idea into useful applications such as new sensing kits for point-of-care testing.
As an instructor of the iGEM Rotterdam team, I am feeling very excited. Students are doing very well and work with passion to achieve their goal. I fully endorse the capability and the required knowledge of this group of iGEM students, which are trying to accomplish a very innovative yet challenging project. Wishing them all the best for future endeavors. Best of luck team!
If this team is able to make customizable detection kit, it will be a great step forward in point -of-care testing.
If the attempt to make a customizable detection kit is successful, the way is open to the development of various DIY detection kits.
I really look forward to the results of this project!
Project Timeline
From January to February we will start forming the team that will consist of multiple studies. And from February to July we will start our lab-work, ordering DNA and look for sponsors to start our project. These months are important to kick-start the project.
From July to September we will start performing assay tests and adjust variables. And finally in October we will go to Boston to present our project with 333 other universities all over the globe.
Jan 01, 2019
Start of iGEM project, student recruitment
Feb 01, 2019
Research subject chosen and start of lab-work
Jun 01, 2019
Biobricks tested and isolated. (Fusion) Protein constructs made and isolated. Ordering of Aptamer. Look for sponsors
Jul 01, 2019
First protein assay tests performed. Aptamer order received
Jul 24, 2019
Project Launched
Meet the Team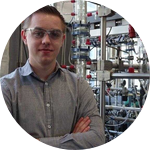 Danny Leentvaar
Student at Rotterdam University of Applied Science, Chemical Technology, Project leader
Team Bio
We are a team of 13 people and 5 different study backgrounds. Composed of 5 studies, our team is one of the most interdisciplinary groups in iGEM. The 5 studies are:
Biology and Medical Laboratory Research
Chemical Technology
Sports Marketing and Management
Marketing and Management
Industrial Product design
Together, we are working in a multidisciplinary environment which is a very exciting environment to work in.
Danny Leentvaar
As a Chemical Engineer, iGEM is a really interesting project to learn from. Hanging in between the disciplines in the team makes it an educational challenge. After doing an internship at a big oil company, iGEM gives me the opportunity to learn a lot about bio chemistry. Another big goal for me is to create a product where we can help a lot of people on the world. Sharing information and producing products makes this competition the most challenging and fun project to do.

iGEM Rotterdam
We are iGEM Rotterdam 2019; an enthusiastic group of students from the University of Applied Science in Rotterdam that want to change the way of diagnostics. For the second year in a row, a multidisciplinary team entered the iGEM competition with its giant Jamboree in Boston (US). We have been given the task to design the most innovative and newest genetically modified organism which must bring a solution to a world problem of our choosing. We are a team of 13 members consisting of five different disciplinary backgrounds. We value the diversity within our team, because iGEM is not only about synthetic biology, but also networking, seeking funds, promoting the project and most importantly, creating awareness on what we are aiming to accomplish and how it is academically beneficial for students and researchers.
Additional Information
Our health care system is built around frequent hospital visits and lengthy medical testing. Our universal biosensor will be easy, fast and reliable. We hypothesize that using a combination of zinc finger arrays with dsDNA, in recombination with unique DNA aptamers that bind the target of interest, we can make an adaptable health risk biosensor with significantly faster detection time than what is currently available. We will design the biosensor, together with a kit, suitable for (for example) heart disease or travelers' diseases, so it can be used at home and on the road. We will test our kits against the presently used health risk detection tests
---
Project Backers
1

Backers

1%

Funded

$5

Total Donations

$5.00

Average Donation