About This Project
Gong meditation, also known as gong bath or gong wash, is a form of sound healing where a symphonic gong is played with a mallet to produce overtone-rich vibrations. Participants at public gong meditation events report experiencing deep relaxation among other things. We hypothesize that individuals will show measurable changes in EEG and HRV after 14 days of listening to an 11-minute recording of a gong meditation.
Ask the Scientists
Join The Discussion
What is the context of this research?
This project is dissertation research designed to measure any change in trait anxiety when individuals listen to a 11-minute gong meditation daily for 14 days. Results will be compared against individuals listening to an active control condition of listening to an 11- minute recording of running water from a fountain daily for 14 days and a control condition of doing nothing. Attendees at gong meditations generally report feeling more relaxed. What is lacking is scientific research showing any effect on individuals with anxiety. This project will measure any effects using established outcome measures for anxiety while also measuring brainwaves and heart rate variability to provide convergent evidence of participant self-reports indicating changes in symptoms associated with anxiety.
What is the significance of this project?
The diagnostic criteria for Generalized Anxiety Disorder (GAD) include: restlessness or feeling keyed up or on edge as well as muscle tension. Pesak and Bratina (2016) conducted qualitative research on 129 subjects who attended gong baths and reported the experience healing and/or relaxing. There is no specific measure that relates to "restlessness or feeling keyed up", but Pesak and Bratina's finding do support the hypothesis that gong meditation can result in individuals feeling more relaxed and this may be beneficial for individuals with anxiety. This project is designed to follow-up on Pesak and Bratina's study by testing the hypothesis that listening to an 11-minute gong meditation daily for 14 days will result in reduced symptoms of trait anxiety.
What are the goals of the project?
Our primary hypothesis is that participants treated daily with an 11-minute recorded gong meditation will show significant changes in trait of anxiety as measured using the State Trait Inventory for Cognitive and Somatic Anxiety (STICSA). Our secondary hypothesis is that participants will show changes in in electroencephalograph (EEG) and heart rate variability (HR)V. To test this 60 participants will be randomly assigned to one of three groups: (T) treatment group will listen to an 11-minute recording of a symphonic gong daily for 14 days; (AC) active control group will listen to an 11-minute recording of water running a fountain for 14 days; and (C) a control group of doing nothing. The Sing a Song Stress Test will be used pre-/post-study sessions to assess changes in trait anxiety.
Budget
Our subject population will be recruited from a technology firm in Silicon Valley.
Participants will be on-/off-boarded in a small space (200-300sf) which will be sublet from a research nonprofit. The estimated cost for this will be $1,300.
The researcher will be commuting from out of town on the weekend due to scheduling issues during the week. Travel and accommodations for an estimated 4 weekends of data collection comes to approximately $1,400.
Data analysis will be conducted using the services of a third party. The estimated cost is $800
Endorsed by
This is an important study on a unique and relatively unexplored method of anxiety treatment. I hope to see Karambir supported in this work as sound healing is an important modality of therapy that may have many effective uses in medicine.
Project Timeline
IRB approval has been obtained. Recruitment will begin in early July, 2019. Data collection will ideally be completed by the end of August, 2019. Analysis and summarization of data will be completed by the end of December, 2019. Findings will be published by June, 2020.
Jun 11, 2019
IRB Approval for Human Subjects Research
Jul 08, 2019
Participant Recruitment Begins
Jul 22, 2019
Project Launched
Sep 15, 2019
Begin Experiments
Dec 15, 2019
End Experiments
Meet the Team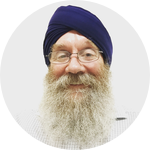 Karambir Singh Khalsa
Doctoral Student in Clinical Psychology (PsyD)
Affiliates
Sofia University
View Profile
Karambir Singh Khalsa
I am interested in the therapeutic benefits of sound healing, particularly gong meditation, for individuals with mental health issues such as anxiety.
I have a BA in Music from UCLA (1986) and an MA in Transpersonal Psychology from Sofia University (2015). I worked for fifteen years in IT programming computers. I am a level I Certified Kundalini Instructor through the Kundalini Research Institute and a Peter Hess Sound Massage Practitioner.
At present, I am doing my clinical internship at Dixie State University as part of th requirements for my Doctor of Clinical Psychology (PsyD) from Sofia University.

I first experienced gong meditation while attending a sound massage training. A couple years later, my first kundalini yoga teacher asked me to play the gong for her classes. Since then, I have conducted more than 300 gong meditations. I began to become curious about the possible mental health benefits of gong meditation after listening to attendees' descriptions of their experiences. I was surprised to find that no scientific research exists in this arena.
I have dedicated my life to finding the answers to my questions.
---
Project Backers
5

Backers

7%

Funded

$272

Total Donations

$54.40

Average Donation