About This Project
Chronic pain is the 3rd most prevalent illness in the world affecting roughly 100 million Americans. However, I'm focusing just on migraines. They affect about 38 million people in the US alone & about 1 billion worldwide. Imagine walking into 100 people a day, that means you have met 14 people just with this type of chronic pain. In hopes to cure chronic migraine pain, I plan to look for correlations between DNA & protein expression.
Ask the Scientists
Join The Discussion
What is the context of this research?
I know that very many people suffer from painful chronic migraines, so I wanted to help some of those people I know carry on with their daily lives. It's extremely hard to do everyday tasks with chronic migraines because the side effects are so severe (vomiting, dizziness, etc.). In order to help them and plenty others, I wanted to research the promoter of a certain gene in the cell's DNA. The promoter is responsible for turning on or off the gene which will synthesize or not synthesize a certain migraine protein. If we can find the sequence that specifically controls that migraine protein expression, then possibly, we could control the migraine.
What is the significance of this project?
Chronic pain is the third most prevalent illness in the world affecting roughly 100 million Americans [1] There are many forms of chronic pain such as arthritis, migraines, Complex Regional Pain Syndrome (CRPS), etc. However, I'm focusing on migraines. Migraines affect about thirty-eight million people just in the USA and about one billion people worldwide [2]. Imagine walking into one hundred people a day, that means you have met fourteen people just with this type of chronic pain. By relieving just one form of chronic pain, we can help roughly a billion people take back their lives from chronic migraines.
What are the goals of the project?
The goal is to find distinct correlations between protein expression and the gene of interest's promoter DNA sequence to see if they are related and therefore responsible for the chronic migraines. This fall, I plan on entering highly competitive local and international competitions such as AzSEF (Arizona Science and Engineering Fair), ISEF (International....), and STS (Science Talent Search) to showcase my research.
Budget
The Plasmid miniprep kit and In-Fusion HD cloning plus will allow me to replicate plasmid DNA, and "extract" the size of the promoter region in order to bioinformatically study the correlation between its (promoter) sequence and protein expression. The Quick gel extraction kit is used to physically extract the plasmid pieces from the agarose gels, so that way I can identify the sequences using other techniques.
Meet the Team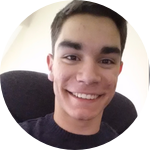 Nicholas Boria
Mr.
Affiliates
Paradise Valley High School - CREST, University of Arizona - College of Medicine
View Profile
Nicholas Boria
I am Nicholas Boria and am currently a Senior at Paradise Valley High School in Phoenix, Arizona. I am enrolled in the Center for Research, Engineering, Science, and Technology (CREST) program and have focused my studies on biotechnology. I attended and undertook research at the Governor's School of Math and Science. There, I worked with astronomy director, Dr. Toney Minter, at the National Radio Astronomy Observatory (NRAO) in Green Bank, West Virginia studying astronomy. Even when I was younger, there would often be a human anatomy book in my hands. I was simply too curious to not pick them up and read. Reading through them, I was especially attracted to sections covering the brain and neurological function. I learned about a wide range of genetic disorders and became motivated to help those suffering from abnormal brain function. One of my main career goals is to help people. I'm executing this plan by aspiring to be a neurosurgeon. I dream of leading a goal-focused team either in surgery or otherwise treating a patient non-surgically with precision medicine.

---
Project Backers
9

Backers

47%

Funded

$216

Total Donations

$24.00

Average Donation