About This Project
Huntington's Disease is a progressive neurodegenerative disease with no known cure. Huntington's is heritable and persons inheriting mutations from both parents will develop the disease. Progress in developing a preventative treatment is severely hindered by our inability to track early, pre-symptomatic disease. Identifying the signature of early stage disease could revolutionize interventions for Huntington's. With early promising results, we aim to develop a such a test.
Ask the Scientists
Join The Discussion
What is the context of this research?
Huntington's disease is an inherited, progressive neurodegenerative disease and no current treatments can alter disease course (bit.ly/HD_RX, bit.ly/Lancet_Review). The age of disease onset varies widely, from childhood up to middle age, with variable rates of progression. Currently, we cannot project the timing of onset of the disease for those who carry the Huntington genes. The inability to predict timing of onset is a major impediment to development of preventative treatments. We are developing a tool, driven by artificial intelligence (AI), to detect the early molecular signature of Huntington's and enable new clinical studies on preventative treatments. We will make this tool available to the research community and share critical insights on promising targets for early intervention.
What is the significance of this project?
To develop a preventative treatment for Huntington's requires us to identify persons in the earliest stages of disease, prior to establishment of symptoms and disease progression. Currently disease is diagnosed based on advanced symptoms - loss of muscle control, changes in cognition, behavior, and neurological scans. By the point of diagnosis, the disease is well underway and the window for prevention is likely closed. If we had the ability to identify patients in very early disease, when the first changes occurred to molecular pathways, we would be in a much stronger position to identify and test existing and new treatments to halt progression in its tracks. Based on our promising early results, we aim to develop an AI driven early disease Huntington's detection tool.
What are the goals of the project?
Our goal is to develop an Artificial Intelligence (AI) tool to detect the early, pre-symptomatic stages of Huntington's disease. We will start work on this effort immediately after the successful closing of the campaign. We will apply our AI techniques to build on our preliminary findings, and find and extract the molecular signatures of the early stages of disease. Our early results suggest such a signature is present. We have patient data, and high resolution molecular data types for this analysis, on hand now. Our challenge is to perform a sophisticated, computationally intensive machine learning process to complete development of this tool. We are requesting resources to be able to complete this development process, and make it available for assessment .
Budget
We are requesting funds to support time by an in-house machine learning expert, and cloud computing time, using our in-house machine learning techniques to perform a rigorous, sophisticated analysis. This analysis will be performed to continue to develop an AI tool that can detect the early presence of Huntington's Disease. We have access to patient data now, and based on promising early results request your support to proceed with the project. This project will leverage extensive investment of time and resources into our in-house AI systems, as well as time and effort spent by our team developing this project, and preliminary results. The next steps for this project involve devoting substantial computational and staff resources for development of a tool to help detect the early stages of this rare, very serious disease.
Endorsed by
I believe the extensive expertise in machine learning and artificial intelligence tools, that Dr. Barbour and his team have, will allow them to achieve a significant milestone in early diagnosis of Huntington's Disease. This project may eventually enable super early and personalized testing for this genetic disease, and will be one step towards truly personalized medicine for each individual's unique circumstances, which is the future of medicine. I am excited about this project!
This is an important project - my former UCSF colleague Dr J Barbour and Simpatica Medicine team have the skills and stamina to make machine-learning algorithms useful for Hungtington's patients
Meet the Team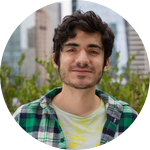 David Ott
Senior Data Scientist
Affiliates
Simpatica Medicine, Inc.
View Profile
Team Bio
The Simpatica team includes 5 data scientists, and 5 scientific advisors. The team is led by Dr. Barbour, who works closely with senior data scientist David Ott, and a team of talented data scientists Becky Spencer-Strong, Pablo Oberhauser and Jonathan Hourany. Our scientific advisors encompass expertise in genomics, very high throughput computing, AI and machine learning, and several areas of clinical medicine, including immunology, oncology, auto-immune and vascular disease.
Jason Barbour
I served as faculty at the UC San Francisco School of Medicine, and am trained in Machine Learning and Clinical Immunogenetics. During my career I have applied a combination of computational and laboratory techniques (immunology and genetics) to identify patterns that can predict disease course, and guide treatment decisions. I have received numerous research grants from the NIH, and other agencies. I was a Burrough Wellcome Foundation fellow in computational biology while in training at UCSF. I earned a Masters' degree from the Johns Hopkins Bloomberg School of Public Health, and a PhD from the University of California San Francisco. I am currently the founder and Chief Science Officer for Simpatica Medicine, Inc., a company founded to provide precision medicine solutions for guidance of treatment, and early detection of disease. I was inspired to develop this company based on my years working at San Francisco General Hospital with the SFGH General Clinical Research Center, the Clinical Immunology Laboratory, the Department of Experimental Medicine, the Positive Health Program and other clinical groups. I am strongly motivated to develop a tool for the early detection of Huntington's Disease, in order to spur testing of new and candidate preventative measures. This motivation is spurred both my years working in clinical research, and my close personal relationships to persons living with progressive neurological disorders.
David Ott
I am an experienced and skilled data scientist and software programmer. I have a Bachelors degree in Accounting from the University of Colorado Boulder, and a Master's Degree in Data Science from the Galvanize/UNH joint program based in San Francisco. I have also completed certifications in a number of different development and programming environments. I taught English for several years in Japan, prior to my Master's degree and joining Simpatica. I am a highly skilled programmer, with special expertise in deep learning and machine learning. For this project I will be working with Jason to continue our development of an AI driven tool to predict the timing on onset of Huntington's Disease. This work will take place on the Simpatica Cloud Machine Learning environment. I am highly motivated to apply my skill set to development of AI and ML tools to guide early detection of disease processes, to enable novel interventions and slow or halt disease.
Additional Information
Our core expertise is in specific sub-domains of AI known as Deep and Machine Learning. We apply our expertise to problems in medicine - focusing on early disease detection, and treatment selection for complex diseases, including Huntington's disease. We use AI to explore complex molecular processes, which vary from person to person, to identify and extract patterns that drive disease, and treatment response. Recent advances in molecular measurement of processes in inside the body (dramatically improved performance, much greater volumes of data, lowered costs), paired to advances in cloud computing and machine learning, now make this sort of AI driven medical innovation possible. Development of this sort of tool was not possible even just 3 years ago, and we are seizing on the convergence of these technologies to perform this work now. We ask for your support to complete this work as soon as possible. We are choosing to make this tool openly available to the clinical and research community to advance research and development in this area. We have a special commitment to assisting with the development of tools to improve testing, treatment and intervention for life threatening rare diseases, such as Huntington's.
---
Project Backers
5

Backers

9%

Funded

$424

Total Donations

$84.80

Average Donation