About This Project
We hypothesize that wild marine animals prefer temperatures that are colder than their physiological optima. Further, we hypothesize that under a more variable environments such as marine heat waves or El Niño, wild animals adjust their preference to even colder temperatures to reduce the risk of being exposed to lethal hot conditions. If these animals are choosing colder temperatures they increase their chances of survival at the expense of energetic performance.
Ask the Scientists
Join The Discussion
What is the context of this research?
Evolutionary theory and observations in lizards, fishes, and some invertebrates suggest that (at least) some organisms prefer temperatures that are colder than the physiological optimum to reduce the risk of getting exposed to their high temperature limit. We propose that the level of precaution depends on the environmental variability perceived by the organism, even when it means scarifying performance. Climate change is affecting marine ecosystems. We are witnessing increments in both the average temperature and the variability levels. If our hypothesis is supported, climate change may result in organisms moving in search for colder conditions, potentially affecting their growth rates, reproduction, and resistance to illness.
What is the significance of this project?
This simple experiment would subtantially increase our understanding about the adaptation capacity of benthic marine animals, and will propel larger-scale projects. It is important and urgent to understand these issues, facing a rapidly changing coastal environments and the potentially dramatic consequences for marine ecosystems. This is a key information piece currently neglected in most ecological models projecting the impacts of climate change in the ocean.
What are the goals of the project?
We want to test if marine invertebrates adjust their temperature preferences as a function of environmental varability. We will expose one group of abalones to relatively stable conditions and another to a highly variable temperatures regime. Then each group would be divided into two subgroups, one used to evaluate physiological performance at different temperatures, and the other will be submitted to a thermal gradient where they would be free to move, to register their thermal preference. In the end, we will be able to compare the optimum and preferred temperature for organisms coming from stable and from variable conditions. Our hypothesis will be supported if the abalone in high variability conditions travel greater distances than the control.
Budget
Most of the materials, personnel, laboratory installations, and institutional costs are already covered, but for this particular question we lack a a set of small temperature data loggers to be attached to the abalones, and communication and electronic accesories to set the automated temperature control for the gradient simulation.
Endorsed by
Salvador and Samuel are working about critical aspects of one of the most important fisheries resources in the northwest of Mexico (abalone). In this project, they want to find answers in relation to how anomalous warming events affect the abalone's physiological performance. Its findings will help to understand the influence of climate change in the study area and bring additional information to better management of our living resources
Project Timeline
This experiment involves acclimating abalones to the lab environment. We will adjust the lab environment settings to simulate heat waves and observe how the abalones respond.
May 01, 2019
Bring organisms (abalones) to the lab and start acclimation. 
May 06, 2019
Setting laboratory conditions (matterials, temperature gradient automated control) 
May 06, 2019
Project Launched
May 24, 2019
Progress report to backers as lab notes
Meet the Team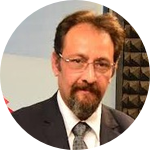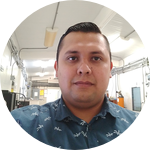 Samuel Calderón
PhD student
Affiliates
Centro de Investigaciones Biológicas del Noroeste, S.C.
View Profile
Team Bio
Our group includes the head of the experimental laboratory Dra. Teresa Sicard, an early carrer scientsts experienced in metabolomics, Dr. Miguel Tripp, and a PhD student currently doing research on abalone ecophysiology, MSc Samuel Calderón.
Salvador Lluch
Born in Mexico City, Mexico in 1969. Fisheries Ecologist with expertise in climate change impacts on marine ecosystems, and experience in leading muldisciplinary groups. He served as Lead Author of the Oceans chapter of the WG2 Fifth Assessment Report of the Intergovernmental Panel on Climate Change (IPCC) and is currently collaborating in Food Production chapter of the sixth assessment. He was Principal Investigator (for Mexico) in an NSF Biocomplexity project that analyzed the abalone-lobster fishery system in the central part of Baja California under a transdisciplinary approach. He is a primary researcher at the Fisheries Ecology Program, CIBNOR. He is currently collaborating with the marine ecophysiology group at CIBNOR, doing research on marine animals resilience to climate change.
Samuel Calderón
Born in Morelia Michoacan, Mexico in 1987. Marine Biologist with a Master in Science in natural resources management. His master's thesis was focused on the synergistic effects caused by the increase in environmental temperature in combination with extreme hypoxic events on green abalone. He has experience in manage, acclimation, and care of living organism, experience in the evaluation of physiological rates, energetics, and biochemical evaluations, extraction, management and preservation of tissues. And currently doing his Doctoral degree thesis on abalone ecophysiology under multiple environmental stress.
Additional Information
---
Project Backers
3

Backers

1%

Funded

$22

Total Donations

$7.33

Average Donation