About This Project
The 2011 accident at the Fukushima-Daiichi nuclear power plant created a radioactive landscape that can negatively affect natural populations. Previous studies in Chernobyl have shown that birds exposed to radiation develop smaller brains, have more frequent mutations and malformations, and are less likely to survive. Is this happening again in Japanese barn swallows (Hirundo rustica)? My project seeks to answer this by analyzing plumage and underlying genes in these birds.
Ask the Scientists
Join The Discussion
What is the context of this research?
The barn swallow (Hirundo rustica) has been a model species for studying the effects of radioactive contamination. Studies on this species in Chernobyl have shown an increase in the frequency of morphological abnormalities, including white ('albinistic') feathers, and abnormal beaks and toes. The higher frequency of 'albinistic' feathers in more heavily contaminated areas was associated with an increase in mutation rate (Ellegren et al. 1997). I recently showed that barn swallows are declining in contaminated areas around Fukushima (Bonisoli-Alquati et al. 2015). During recent visits to Fukushima, I also started observing similar abnormalities in Japanese barn swallows. This raises the question whether an increase in mutation rate is happening among the exposed birds.
What is the significance of this project?
The proposed study would be the first explicit test of the idea that radioactive contamination in Fukushima is causing higher mutation rates in any animal species. Previous studies on a butterfly species, the pale blue grass butterfly (Zizeeria maha), have shown an increase in the frequency of certain abnormalities, and demonstrated that these were inherited by the next generation (Hiyama et al. 2012). The studies on the pale blue grass butterfly did not, however, explicitly looked at mutations.
What are the goals of the project?
The project has two main goals.
First, I want to test if the frequency of 'albinistic' feathers and other morphological abnormalities is higher among barn swallows that live in areas contaminated by the Fukushima nuclear disaster. By capturing barn swallows in areas that differ for radioactive contamination, I'll be able to compare the frequency of these morphological aberrations. I'll combine the collected data with the ones I collected in previous years, to also test for a potential increase of these abnormalities over time.
Secondly, I want to test that these abnormalities are in fact due to germline mutations, by comparing the genomes of parents and offspring barn swallows.

Budget
The funds requested are fundamental for me to visit the Fukushima Exclusion zone, and gather the necessary samples. For the success of the expedition, I will be able to count on the collaboration of some very experienced Japanese colleagues. Funding by governmental organization for conducting research around Fukushima is rather limited, and mostly goes to remediation efforts, rather than to scientific research about the potential environmental effects of radioactive contamination. So your contribution is very important to address the ecological consequences of the Fukushima nuclear disaster!
Endorsed by
I am very excited by this project. Dr. Bonisoli-Alquati has extensive experience with this system and the proposed research is cutting edge. Given his previous studies I expect that he will be able to gather useful and potentially important data related to the impacts of the Fukushima disaster on this bird species.
Meet the Team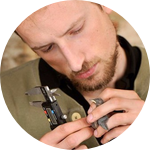 Andrea Bonisoli Alquati
Assistant Professor of Biology
Affiliates
California State Polytechnic University, Pomona
View Profile
Andrea Bonisoli Alquati
I am an evolutionary ecologist and an environmental toxicologist working at California State Polytechnic University, Pomona. I obtained my PhD in ecology from the University of Milan, in Italy (2010), and then moved to the United States as a postdoc first at University of South Carolina, and then at Louisiana State University.

I have been to Fukushima multiple times starting in 2012. Before the 2011 nuclear disaster, I had been to Chernobyl several times.
Additional Information
References
Bonisoli-Alquati, A., Koyama, K., Tedeschi, D. J., Kitamura, W., Sukuzi, H., Ostermiller, S., et al. (2015). Abundance and genetic damage of barn swallows from Fukushima. Scientific Reports, 5, 9432. http://doi.org/10.1038/srep094...
Ellegren, H., Lindgren, G., Primmer, C. R., & Møller, A. P. (1997). Fitness loss and germline mutations in barn swallows breeding in Chernobyl. Nature 6651, 593–596.

Hiyama, A., Nohara, C., Kinjo, S., Taira, W., Gima, S., Tanahara, A., & Otaki, J. M. (2012). The biological impacts of the Fukushima nuclear accident on the pale grass blue butterfly. Scientific Reports, 2, 570.
---
Project Backers
4

Backers

14%

Funded

$404

Total Donations

$101.00

Average Donation