About This Project
In Yucatán, Mexico, artisanal fishermen dive for fish while breathing compressed air. They engage in high-risk diving behavior for subsistence, endangering their lives everyday.
Decompression sickness (DCS) is a known epidemic among fishermen divers in this region. Patent foramen ovale (PFO), a congenital heart defect, has been described as a risk factor for DCS. We will conduct diagnostic screening for PFO in this fishing community and increase risk awareness.
Ask the Scientists
Join The Discussion
What is the context of this research?
PFO is a hole in the wall that separates the left and right chambers of the heart. One out of 4 adults are born with it, but in most cases the hole closes on its own. PFO is discovered at an unusually high frequency among divers presenting with severe cases of DCS.
Recreational divers normally experience a DCS rate of 0.03%. The villagers we are studying experience it at 300 times this rate, hitting the majority of the population at least once in their lifetime.
It is typically recommended that a diver with a history of neurological DCS undergo diagnostic screening for PFO. Upon detection, a fisherman may be advised to practice safer diving or stop diving indefinitely.
What is the significance of this project?
Small and large scale fisheries contribute equal amounts of marine protein to the global market. Yet small scale fisheries have significantly less ecological impact, and provide millions of families around the world with sustenance and work.
Diving is a common method of fishing around the world and a cause of many accidents. In many developing countries, lack of preventive health screening for diving aptitude prevents fishermen from understanding their own health conditions that may predispose them to diving accidents.
Understanding the prevalence of PFO in these villagers will help determine the necessity of routine medical screening in this community. It will also help implement recommendations for safe diving practices and clarify its association with severity of DCS.
What are the goals of the project?
This project will be a case-control study involving 58 fishermen from 3 fishing villages in the Yucatán: San Felipe, Rio Lagartos and El Cuyo.
A portable Philips Lumify will be used to conduct a Doppler ultrasound exam among these fishermen in their fishing villages. A medically licensed professional will pass a small handheld device called a transducer over the area of interest, using the pitch of the reflected sound waves to identify abnormal blood flow from the right to left sides of the heart (right to left shunt). A Doppler ultrasound is a non-invasive procedure that can be used to detect PFOs.
Each fisherman will be informed of his results and advised about how to take diving precautions if a PFO is detected. The collective findings will be used to raise community awareness.
Budget
Lumify is a mobile app-based ultrasound that will be used to conduct the Doppler exam for PFO screening. It will be rented for 6 months for testing and fieldwork.
Endorsed by
This project is extremely important, as it may help reduce the number of artisanal fishermen that die each year while diving. Furthermore, it can offer insight into why the divers in the Yucatan experience such high rates of decompression sickness. It can also be beneficial by identifying medical problems in the target population to allow for early treatment of PFO's.
Project Timeline
Jul 03, 2017
Project Launched
Aug 16, 2017
Recruit subjects
Aug 30, 2017
Conduct fieldwork, analyze results, inform community
Meet the Team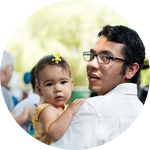 Walter Chin
BSN, RN - Principal Investigator
Affiliates
University of California Los Angeles
View Profile
Ellie Joo
BS - Research Associate
Affiliates
University of California Los Angeles
View Profile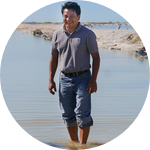 Oswaldo Huchim
MD, MSc, PhD - Principal Investigator
Affiliates
Universidad Marista de Mérida
View Profile
Walter Chin
Walter has led a number of studies related to diving and hyperbaric medicine. He has over 10 years of experience, managing critically ill patients in the chamber and overseeing the UCLA Hyperbaric Center as the Program Director. He travels frequently to Yucatán, where he works with Oswaldo and the local fishermen to reduce the fishermen's risk of having dive-related injuries and deaths.
Ellie Joo
Ellie is a research associate for a series of studies led by Walter and Oswaldo. Since joining the team as a UCLA undergraduate, she enjoys helping on a variety of projects aimed at understanding these small-scale fishermen's diving behavior and risk mitigation.
Oswaldo Huchim
In 2008, Oswaldo began working with small fishing communities in the Yucatán to study the alarming frequency of decompression sickness among these fishermen. He has worked for over 8 years in coastal communities collecting data and implementing interventions on fishermen's risk perception, epidemiology, and diving behavior. He leads educational workshops with the fishermen to raise community awareness about dive-related health risks and how to manage them.
---
Project Backers
2

Backers

4%

Funded

$76

Total Donations

$38.00

Average Donation