About This Project
We are designing a summer research field program to give NYC high school students scientific research experience. We want to quantifying ecosystem service benefits of increased green infrastructure in Washington Heights. We will quantify the effects of green infrastructure and ecosystem restoration on (1) the urban heat island effect (2) air quality (3) biodiversity of plants, birds, insects, and amphibians, and (4) water quality in the nearby Harlem River.
Ask the Scientists
Join The Discussion
What is the context of this research?
This is a very local research project with the goal of empowering high school students from underrepresented populations in the STEM community how to do scientific research and supporting their ongoing environmental justice advocacy work through the Clean Air Green Corridor project.
It is generally accepted that green infrastructure in cities help to reduce urban heat island effect, provide habitat for biodiversity, and mitigate air and water pollution, but many of those studies are at large scales, and we seek to find the best solutions for the Washington Heights neighborhood in New York City. Green infrastructure is desperately needed in Washington Heights, and we hope to direct investments to optimize these ecosystem services.
What is the significance of this project?
This project aims to determine which tree species are most effective at providing ecosystem services such as mitigating urban heat island effect and improving air quality, and looks at quantifying the effect of ecosystem restoration in a marsh on water quality. New York City has historically underinvested in green infrastructure in lower income neighborhoods, which exacerbates inequity in the city and has real health consequences for its citizens. We aim to measure different ecosystem services across different types of green infrastructure investment. Planting different species of street trees, for example, could have differing effects on the microclimate immediately vicinity, or contributions to air quality. We hope to inform those investments with our findings.
What are the goals of the project?
The goals of this project are to empower high school students to do research science. We will be taking field measurements in July-August 2021.
In April, we will be interviewing candidates for the program and finalizing our research plans. We will work with 8-12 high school students who have an interest in environmental justice and environmental science, but who lack hands-on scientific research experience. In the past, this program has successfully recruited some students to take up a science major in college.
We will collect collect samples of water quality in the Harlem River (dissolved oxygen, temperature, total dissolved solids) with the YSI water quality meters, and test the water for fecal bacteria contamination using the IDEXX kits.
Budget
We have the materials for the other research questions, but we are looking for funding for these items to measure water quality. Thank you for your interest and support!
Endorsed by
This project brings together scientists, educators, and youth environmental activists in a truly unique way. We will all be working together to study the vital services that Highbridge and Sherman Creek Parks provide to the community Upper Manhattan. Carrying out this work will give scientists and activists the necessary information to continue advocating for equitable greenspace access for all New Yorkers.
Project Timeline
The high school students will be involved in the program for 6 weeks in total. From now until July, the project leaders will continue to refine our plans based on how much funding is available. Four weeks of the program will be pure data collection in the field, and the last two weeks of the program will focused on data analysis and synthesis.
July: Take field measurements and begin to analyze results (4 weeks)

August: Synthesize results and present to relevant stakeholders in NYC (2 weeks)
May 17, 2021
Project Launched
Jul 30, 2021
July 2021 take field measurements
Aug 13, 2021
Synthesize research findings
Meet the Team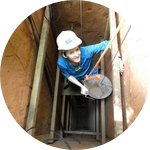 Alex Huddell
PhD Candidate
Affiliates
Department of Ecology, Evolution, and Environmental Biology, Columbia University
View Profile
Alex Huddell
I am a graduate student in Ecology and Evolution at Columbia University. My PhD research focuses on the effects of nitrogen fertilizer on the environment, and measured greenhouse gas fluxes (nitrous oxide), sources of air pollution (nitric oxide and ammonia), and sources of water pollution (nitrate leaching) from agriculture in the tropics and in a perennial wheatgrass.
I'm here to raise funds for a summer research field program focused on environmental justice in Washington Heights, New York City. Some fellow graduate students and I are planning a project to quantifying ecosystem service benefits of increased green infrastructure in Washington Heights and improving access to natural areas and ecosystem quality of (Highbridge park) and natural shoreline (Swindler's Cove).

---
Project Backers
2

Backers

1%

Funded

$17

Total Donations

$8.50

Average Donation