Ask the Scientists
Join The Discussion
What is the context of this research?
Leishmaniasis is more prevalent in poorer areas and vulnerable populations such as children, farmers and the elderly. People living in our target make a living through farming and therefore are continually exposed to hurtful, irritating and often festering sand flies. The Madawachchiya area also experiences severe droughts, forcing inhabitants to clear the jungle in order to cultivate food, which in result disturbs the sand fly breeding areas resulting in more bites. And so the evil cycle continues because nobody is taking the time to educate or to intervene.
Further, very low levels of awareness on the disease among the local population, and the absence of dedicated vector surveillance and control volunteers are also thrive the incidence of sandfly bites.


What is the significance of this project?
A very small portion of the research community focuses on sand fly vector control / Leishmaniasis. We are passionate to be part of that small group committed to making a difference, and to help the large number of poor people affected by this. The proposed project facilitates sand fly vector control and Leishmaniasis disease control in Madawachchiya MOH area, in Sri Lanka by means of providing proper instructions and improving awareness on a continues basis which will keep staying one step ahead of the sand fly vectors responsible for Leishmaniasis parasite transmission. Thus people know how to protect themselves and their communities from sand fly vectors and Leishmaniasis disease which ultimately leads to the prevention of the epidemic situation within the Madawachchiya MOH area.
What are the goals of the project?
If we reach our target of 5650 USD that would fund three months of community and field activity allowing us to significantly reduce the presence of sand flies within the Madawachchiya area. Our main goals included to evaluate two specific aspects of community health intervention. First, we will teach people how to reduce sand fly habitat in the environment near their homes by following home gardening practices. Secondly, we will arrange adult sand fly insect controlling by evaluating the vector behaviours, utilizing an integrated vector control approaches, advocacy for diseases prevention and control measures. We will evaluate the success of our programs by continuous monitoring of adult sand fly population within the area.
Endorsed by
Dr. Asha Wijegunawardana and her team have put together a great project for leishmaniasis integrating community-based vector control targeting sand-flies in Sri Lanka. From previous experience, I am sure that Dr. Asha Wijegunawardana has great potential to manage this project making excellent use of resources, managing the team and applying the funds to the community improving their life quality.
This is a very important, applied and extremely focused project. Dr. Asha Wijegunawardana and her team plan to do community and field work to reduce both the presence of sand flies and the incidence of leishmaniasis in part of Sri Lanka. Trough a very clever plan, which would make very good use of resources, very experienced researchers plan to go to a hot spot of leishmaniasis and help a community have a better life. In three months of hard field work (which includes training locals) they could make a big, long-lasting, difference.
Asha has an important project examining community-based vector control of Sand flies in Sri Lanka. I was impressed with her tenacity in developing this project. She was selected as a finalist from over 100 applicants around the world and refined her project.
Project Timeline
Our timeline flow-chart merely and chronologically explained the 3 stages of our program. Time to implement the studies (1 week); hire a vehicle and equip with temporary lab (1 week); sand fly adult collection, identify and destroy the sand fly breeding sites (4 weeks); educating the village community regarding sand fly control measures (3 weeks); progress monitoring/surveillance (3 week); analyse (2 week), and write up (2 week).
Jan 04, 2021
Travel to Madawachchiya MOH area and meet the community.
Jan 04, 2021
Sand fly adult collection, identify and destroy the sand fly breeding site.
Jan 11, 2021
Educating the village community regarding sand fly control measures.
May 03, 2021
Progress monitoring and surveillance for both sand fly vector density and community knowledge regarding control.
Jun 04, 2021
Final full report of the totality of our findings to donors, with a discussion of their significance will be shared.
Meet the Team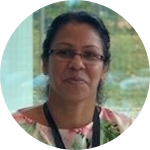 N.D.Asha Wijegunawardana
Senior Lecturer
Affiliates
Department of Bioprocess Technology, Faculty of Technology, Rajarata University of Sri Lanka.
View Profile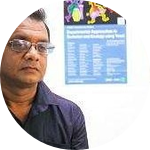 Chathuranga Bamunuarachchige
Senior Lecturer
Affiliates
Department of Bioprocess Technology, Faculty of Technology, Rajarata University of Sri Lanka.
View Profile
Team Bio
Our research project team consisted of 9 additional members including;
Dr. Nayana Gunathilaka, Dr. Ajith Rathnayaka, Dr. Prasad Jayasooriya, Dr. Dinum Perera, Dr. Lahiru Udayanga, Ms. Prabuddhika Kandegedara, Mr. Tharaka Wijerathna, Mr. Ishara Jayamanna, and Mr. Udaya Wimalasiri
N.D.Asha Wijegunawardana
I am Asha Wijegunawardana, with 14+ years of professional experience in scientific research in vector-borne disease control, investigator-driven grant handling, and general administration work. Throughout my research carrier and postgraduate studies, I have gained knowledge for insect control using sterile insect technique (SIT), insect incompatibility technique (IIT), and mosquito transgenic experiment models for the control of Aedes and Culex mosquitoes in Sri Lanka. In addition, I was trained in handling all laboratory facilities and techniques related to Molecular Biology, Entomology, Biological Science research work which has great potential to be used for modern scientific research work. My background in Biotechnology, Molecular Biology, and entomology makes me passionate about vector-borne disease research. My hunger for knowledge and determination to turn information into action has contributed to my most recent success by launching this community-based leishmaniasis vector control project.
Chathuranga Bamunuarachchige
Dr T.C. Bamunuarachchige is a Senior Lecturer in the Department of Bioprocess Technology, Faculty of Technology, Rajarata University of Sri Lanka. He has been a member of the Working Committee on Biotechnology and Bioethics of the National Science Foundation (NSF) in Sri Lanka and the Program Coordinator for the Technology Degree programs conducted by the RUSL. Dr. Bamunuarachchige is a certified tutor mentor trainer in distance and continuing education. He has served as the Program Coordinator of the Diostance education program from 2009-2012 at RUSL. Dr Bamunuarachchige has authored about 25 scientific publications and supervised several postgraduate students in the field of Biotechnology and Molecular Biology. He has a wealth of experience in writing proposals for competitive grants including World Bank and Asian Development Bank funded projects. Dr. Bamunuarachchige is a certified peer reviewer under the Elsevier Resercher Academy and has served as a reviewer for six international and several local journals. He is a prominent reviewer of Biotechnology related proposals submitted to the two leading funding agencies in Sri Lanka the NSF and the NRC.
Additional Information
We will allocate approximately 1/3 of the funds to each of the 3 stages of our research. Stage 1 will help to equipping a vehicle to act as a mobile vector clinic. Stage 2 will help to conduct community education work for sand fly vector control measures. Stage 3 will examine the progress of the community awareness regarding sand fly and its control, success of the sand fly control program through MVSU.
Activities of the field scientific staff will include research design, materials preparation, data analysis, paper write-up, and results dissemination. When each stage is complete, full lab notes will be provided via our Experiment page.
---
Project Backers
0

Backers

0%

Funded

$0

Total Donations

$0

Average Donation