About This Project
The project is a long-term four-year-long family-wide mixed-methods autoethnographic report on the impact of nutritional, sleep health, physical activity, and social interventions in a family of four at high risk of exclusion. The aim is to increase the understanding of how and when new routines should be introduced to maximize cognitive health and resilience, boost mental acuity, and ensure well-being, by sharing the experience in as much detail, methodically, and in-depth as possible.
Ask the Scientists
Join The Discussion
What is the context of this research?
The academic context of this crowd-funded and crowd-sourced autoethnography is an ongoing action-research project on the collaborative management of antipsychotic medication, and the implementation of non-coercive treatment options for severe mental health disorders undertaken at the Medical Anthropology Research Center of the Universitat Rovira I Virgili (Tarragona, Spain) with support of the Spanish Ministry of Universities until fall 2026, as well as ongoing medical studies to become a psychiatrist specializing in cognitive resilience under situations of hardship and extreme duress being undertaken by Enric Garcia Torrents. The autoethnography will include his two sons and wife, affected by his highly-dysfunctional family of origin, with two active cases of schizophrenia.
What is the significance of this project?
The project will provide a first-hand, long-term account of the difficulties experienced, enjoyed benefits, constant progress tracking, and overall results of implementing evidence-based interventions to minimize the impact of negative factors (abusive family of origin, economic precarity, social exclusion due to racism, lack of social support network due to immigrant status) and maximize resilience and well-being (nutritional optimization, introduction and tracking of physical exercise and sleep health routines, development of nurturing social ties), adding valuable, in-depth, rich data to the scientific literature, helping assess the feasibility and cost-effectiveness of different approaches and options.
What are the goals of the project?
The goal is to provide four years of biometrics tracking of all the integrants of the family (two adults, a young girl, and an infant boy), including steps count and other exercise types and duration, sleeping hours, phases, and quality, body composition, all nutrients intake using specialized software, reports on screen time and other activities, paired with regular daily, weekly and monthly free style journaling, video-posts, standardized tests and open self-assessment exercises and observations, thus producing a high-resolution account of the psychological and general health status before and after the introduction of each improvement in the routines, with a full picture of the impact of life events and other factors.
Budget
The expenses listed cover the acquisition of activity tracking watches to monitor exercise, heart rate, sleep quality, and other biometrics, and the cost of hosting and developing a project website to regularly publish both quantitative data and qualitative reports on all signs of progress and developments during the four years of the experience.
Project Timeline
The research project will last four years, from June 2022 to the end of summer 2026, producing a vast amount of open qualitative and quantitative research data at regular intervals, including periodical reports on the mental health status of the family and all relevant developments to contextualize the reported results.
Jun 01, 2022
Daily automatic upload and update of biometric data
Jun 01, 2022
Ongoing weekly and monthly journaling
Aug 01, 2022
Ongoing bi-monthly and semestral in-depth reports
Aug 01, 2022
Periodic standardized biopsychosocial tests results
Oct 01, 2026
Final report on the full experience, paper publishing and presentation at conferences 
Meet the Team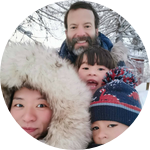 Enric Garcia Torrents
Doctoral researcher
Affiliates
Universitat Rovira i Virgili Universitat de Barcelona
View Profile
Team Bio
We are a mixed-race couple: my wife is a 33 years old Han Chinese, I am a 41 years old Mediterranean. We met in Shanghai about ten years ago while I was undertaking research on international arbitration for CodeX, the Stanford Center for Legal Informatics, and she head-hunted C-level executives for big tech corporations. We now live in Barcelona, Spain, with our kids: 7 and 5 years old at the moment of launching this campaign.
Enric Garcia Torrents
I am a physician-scientist (MD-PhD) in training: a doctoral researcher at the Medical Anthropology Research Center, Universitat Rovira i Virgili (Tarragona, Spain), a medical student at the University of Barcelona, and an assistant professor at Universitat Oberta de Catalunya, working at the interface between social and health sciences with support from the Spanish Ministry of Universities until October 2026.
My main tasks as a medical anthropologist and cognitive scientist specialized in mental health are: assessing ways to eliminate coercion in mental health settings through patient and stakeholders engagement; translating bleeding-edge research into the best-practice protocols necessary to apply personalized, evidence-based techniques to build up habits for optimal performance, acuity and resilience; and the curation of a knowledge base and the development of an open-source decision support system to ensure the best solutions are identified and properly presented to all parties involved.
Additional Information
All data, results, and publications produced will adhere to open science standards and FAIR principles (Findability, Accessibility, Interoperability, and Reuse of digital assets), striving to contribute effectively to the improvement of treatments and practices. The study is already pre-registered at the Open Science Framework, where all data and results will be published under the Creative Commons Attribution 4.0 International Public License. Its identifier is DOI 10.17605/OSF.IO/TJ76H, and the URL to review it is: https://osf.io/tj76h/?view_only=b5a2f1ae24704512913c4736268e1c93
On top of being a crowd-funded, open science project, we will use community engagement solutions such as a web forum to remain constantly open to crowd-sourced input from backers and interested parties, both on the interventions to implement, the best way to do so, and how to better undertake the research project as a whole.
---
Project Backers
0

Backers

0%

Funded

$0

Total Donations

$0

Average Donation