Getting Ready to Go! / Alistándome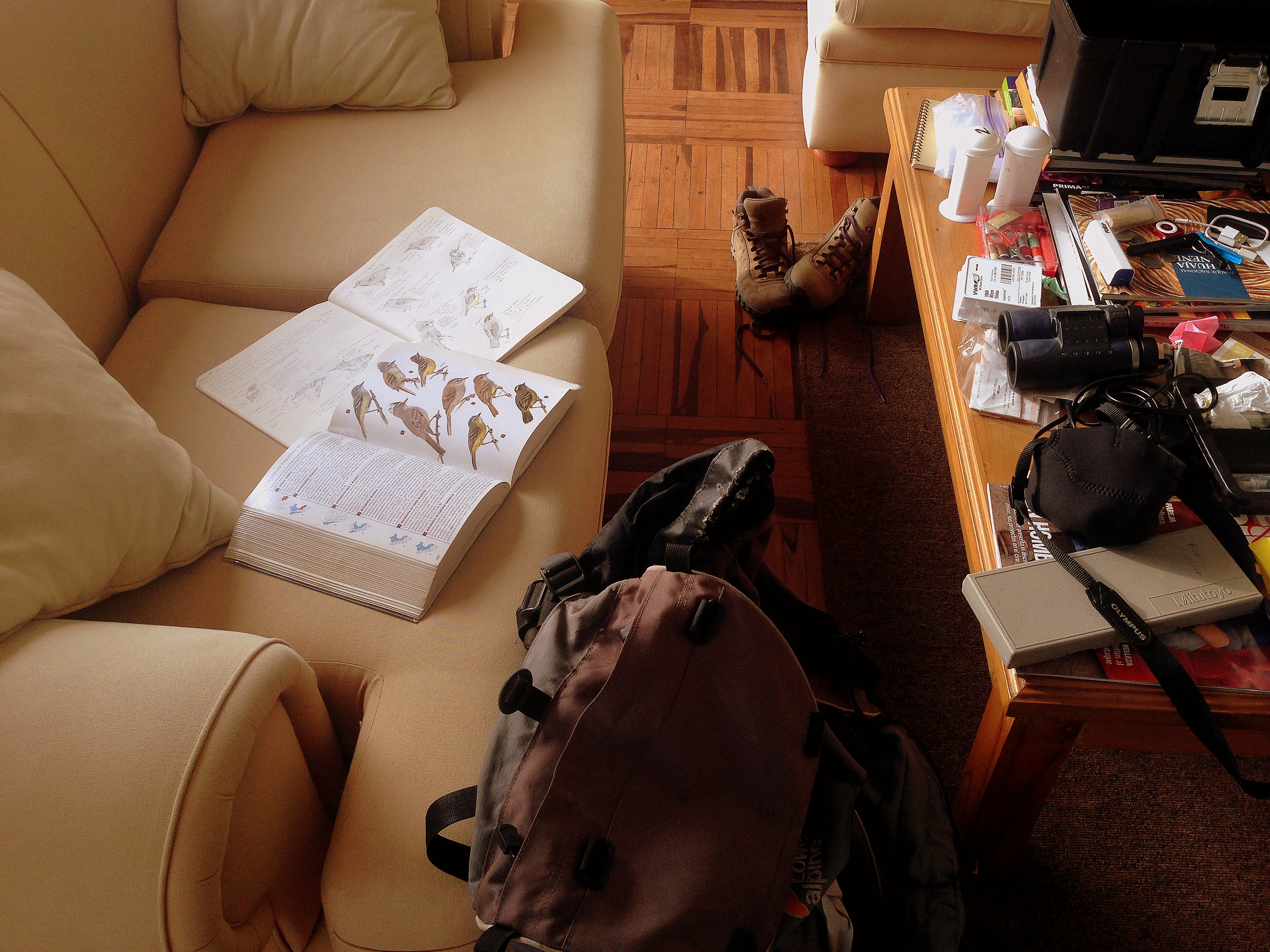 I got into Lima at 2 AM this morning and already my luggage is everywhere. I'm re-packing only the things I need for the Loreto portion of my trip: hiking boots (for proper ankle support, of course), camera, calipers to measure birds, whatman cards to store blood samples, microscope slides to see blood parasites, Birds of Perú field guide, and other equipment that includes the most important tool for this project: binoculars. I'm leaving behind things that I use only while in Lima (iPod shuffle because I'm technologically out of date but I need something small for when I run on the Malecón - it's way too hot in Iquitos to go running). Of course, part of the preparation for field work is not just making sure you have the right equipment, but also that you've been prepping for the birds you might see in the field. My personal process is to re-organize the species I might see based on family, size, color, over and over again so that I have different mental boxes for each species. And, most importantly, I draw them. I learn through doing, so poring over a field guide without an active component doesn't work for me at all. Of course, the best way to learn is having a great field local field team who has a lifetime of knowledge by living with the birds. Tomorrow, I go to Iquitos, and soon you'll all meet my Loreto field team, Susana Cubas. Until then!
-----
Llegué a Lima a las 2 de la madrugada y mis maletas ya estallaron por todo el departamento. Estoy re-empacando solo lo necesario para la porción de mi viaje en Loreto: botas de trekking (para que no me caiga, obviamente), cámara, calibrador para medir aves, tarjetas whatman para almacenar las muestras de sangre, láminas de microscopio para visualizar párasitos sanguinos, Aves de Perú, y otro equipo que incluye la herramienta más importante para este proyecto: binoculares. Atrás dejo las cosas que uso solo cuando estoy en Lima (por ejemplo, el mp3 para escuchar mientrás corró en Lima - demasiado caliente en Iquitos para ese tipo de ejercicio). Y claro, parte de la preparación para trabjo de campo es no solo asegurarte que tienes el equipo correcto, pero que has estado estudiando las aves que veas en el campo. Mi proceso personal es re-organizar las especies por taxonomía, tamaño, color, una y otra vez para que tenga diferentes cajas mentales para cada especie. Y lo más importante, es que las dibujo. Yo aprendo al hacer, así que solo leer la guía de especies sin tener algún componente activo no funciona para mí. Claro, la mejor manera de aprender las especies es tener un equipo local con mucho campo en identificación de aves. Mañana me voy a Iquitos, y pronto les presentaré a mi equipo en Loreto, Susana Cubas. ¡Hasta entonces!