About This Project
Cancer drugs can damage hair follicle cells and cause severe hair loss. In many cases, the exact mechanisms of how and why cancer drugs cause hair loss is unknown. In this project we will treat human hair follicles with the breast cancer drug, Taxol, and study how treatment affects cell division, cell death, and cell differentiation. By treating hair follicles with Taxol, we hope to gain a better understanding of the hair forming machinery of how this human tissue responds to Taxol.

Ask the Scientists
Join The Discussion
What is the context of this research?
Cancer drugs frequently cause hair loss which can negatively affect patient well being. This side effect is not a high research priority for large funding providers. As a result limited resources are available to effectively study this and both research and treatment options are years behind what they could be. In the laboratory, we can dissect donated human scalp tissue and isolate hair follicles. These follicles continue to happily live and grow hair outside of the body, allowing us to study & manipulate tissue 'ex vivo' which eliminates the need for us to experiment on animal or human subjects. With this method, we are able to experiment with cancer drugs to study how they affect the hair follicle, including within rapidly dividing cells that make hair itself.
What is the significance of this project?
This project will provide quantitative data for how human hair follicle cells respond to the cancer drug Taxol. We will measure cell division, cell death, and cell differentiation in hair follicle cells treated with Taxol after 5 days.
The results of this project will be used as preliminary data to apply for future funding to a) further develop and test protective strategies and b) broaden our research focus to include a wider range of cancer drugs that cause alopecia. Future drug targets include Taxotere.
More importantly, this work carries wider research significance by modelling the complex biological effects of Taxol in a functional and healthy human tissue system.
What are the goals of the project?
To characterise how human hair follicles respond to Taxol, we will treat human hair follicles with different concentrations of Taxol. Our control will be hair follicles treated without Taxol (vehicle). We will observe the cell division cycle, cell death, and cell differentiation at the 5 day time point on human hair follicle tissue sections by use of in situ immunofluorescence staining assays.
For hair follicles treated with Taxol, we will examine DNA replication, mitosis, and apoptosis after 5 days to establish how the hair forming machinery of the human tissue responds to this cancer drug.
The results will be used as part of a wider unfunded research initiative studying how cancer chemotherapy affects cell division in human hair follicle (e.g. shorter term Taxol organ cultures).

Budget
For this study we will have a sample size of at least 3 human hair follicle cultures, with at least 4 individual anagen VI hair follicles per condition.
In total we will treat a minimum of 12 hair follicles with Taxol and 12 hair follicles without Taxol (from 3 patients). We will test Taxol at a concentration of 100nM, with additional lower dose concentrations (e.g. 1nm & 10nm) subject to human tissue availability
After treatment of 5 days we will harvest the human hair follicles and analyse cell growth, differentiation and death in situ. To do this we will perform immunofluorescence staining on human hair follicle tissue sections and imaging by fluorescence microscopy for analysis .

To accomplish this we need to purchase TUNEL and EdU kits, and Ki-67 and KRT85 antibodies.
In addition, to fulfil our project objectives, we will employ existing resources in our laboratory, such as equipment and general laboratory materials and consumables.
Endorsed by
I am happy to support and endorse this project, by two excellent young researchers in the dermatological sciences field. With their focus and enthusiasm, I am confident that they will get very useful data on this important clinical need.
I am really excited for this significant project. Chemotherapy-induced alopecia itself is not life-threatening, however it can severely affect the psychological aspects. Most of the cancer patients hope to live the same life as before having chemotherapy if possible. At present, there are only a few therapies that may not be easy to receive for the patients. Therefore, to elucidate the mechanism of chemotherapy-induced alopecia is very important to develop the new therapies.
I am really excited about this project. I believe this pilot project will help obtaining important preliminary data for additional funding application. Ultimately, understanding the effect of chemotherapy agents on the cycle of hair follicle cells will lead to the discovery on novel therapeutics for chemo-induced alopecia. Budget is very reasonable and these scientistists have the knowledge for conducting such research!
Project Timeline
Work is projected to commence from September 2018 for a minimum of two months of experimental work as part of an actively on-going (unfunded) research initiative.
Jun 04, 2018
Project Launched
Sep 30, 2018
Completion of planned human hair follicle organ cultures with Taxol
Oct 31, 2018
Processing of all organ cultures and experiments / in situ assays 
Dec 31, 2018
Complete data analysis, synthesise and share results/key findings on Experiment.com
Meet the Team
Talveen Purba
I am a researcher at the Centre for Dermatology Research, University of Manchester, UK.
In 2012 I commenced my 4 year PhD with Professor Ralf Paus in his human hair follicle and skin research laboratory from which I have published (see - publications) and presented internationally on research areas related to human hair follicle biology, stem cells and the cell (division) cycle.
I have since continued my research in the same laboratory with research interests in stem cells, manipulating dividing cells in human hair follicles and studying the effects of which on cancer chemotherapy.
Jon Hardman
My name is Jonathan and I am currently a research scientist at the University of Manchester in the division of musculoskeletal and dermatological sciences.
I began my research career in 2011 with Professor Ralf Paus studying how the biological clock influences the skin and hair follicle biology.
Since receiving my PhD in December 2014 I have been continuing my research in the area of hair follicle biology and dermatology where my current research interests focus on better understand and treating human hair loss disorders, alopecias. (See my publications here)
Kayumba Ng'andu
I am a University of Huddersfield student doing my undergraduate placement year within the lab of Professor Ralf Paus (University of Manchester). My research involves pharmacologically manipulating the cell cycle within organ cultured human hair follicles.
Aaron O'Brien
My name is Aaron, and I am a Biotechnology undergraduate studying at the University of Manchester, currently completing a summer internship in the Centre for Dermatology Research.
My internship entails analysing how stem cells are influenced in hair follicles exposed to chemotherapy.
Charlotte Mellor
I study Medical Biochemistry at The University of Manchester, and I am currently doing a Medical Research Council internship in the Centre for Dermatology Research.
My internship project currently involves optimising protocols to visualise the expression of different cell cycle regulatory proteins, such as CDT1 and Geminin, within the human hair follicle matrix.
Additional Information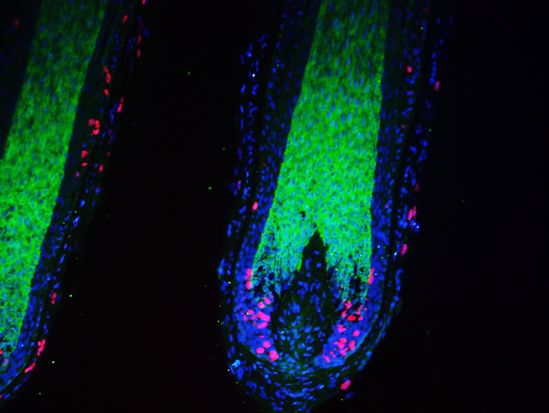 ---
Project Backers
20

Backers

42%

Funded

$826

Total Donations

$41.30

Average Donation