About This Project
Adriatic islands represent the most understudied area of the Republic of Croatia. As a country taking pride in its nickname "The Land of a Thousand Islands", it is right to assume that the fauna of this region hides many interesting biological discoveries as well. By studying which species of grasshoppers and crickets inhabit our islands we will create a solid groundwork for wide scope of future research of the area since this diverse group of animals is a very good indicator of habitat quality.
Ask the Scientists
Join The Discussion
What is the context of this research?
General lack of research of the Adriatic islands in Croatia was recently brought to attention when the first checklist of Croatian Orthoptera got published. As this problem got even more elaborated in a Master's Thesis written by our colleague, we became inspired to conduct comprehensive field research of the region. Crickets and grasshoppers are good indicators of habitat diversity and quality and since Croatia belongs to one of the biodiversity hotspots counting 184 species of Orthoptera, we decided that it was the perfect group for field research. Currently, this primary research focus is on species distribution and taxonomy. With a team of three students, we were already able to explore five islands during the previous summer and aim to further expand our research this year.

What is the significance of this project?
Research of islands is a popular topic in biology since it can reveal a lot of different aspects of species dispersal and evolutionary forces affecting them on such limited habitats. Field research is the first step towards such interesting and groundbreaking discoveries. With this project, we want to gather the first set of data for the islands and bring attention to the Adriatic islands in both the local and scientific community. Species distribution data we gather during field research will hence enable future research in a wide variety of fields of biology. We believe now is the perfect time for such an expedition, especially since the area is steadily becoming more urbanized due to tourism and we are able to document species while their habitat is still mostly intact.

What are the goals of the project?
We will conduct field research on a wide number of localities on each island, resulting in a detailed crickets and grasshoppers species list. This will be used to update the checklist of crickets and grasshoppers species distribution on this unexplored area. Our primary method of species documentation is photography, meaning we will take living specimen photographs of each encountered species which will later serve as both educational material and a reference for other scientists. If any new species or subspecies is discovered, it will be appropriately described. We will create a specimen collection that will serve for future reference and education of future experts. All the data will be published in scientific papers and the most interesting discoveries will be presented to the public.
Budget
Gas is a necessary expense for transporting the research team and our equipment to all fieldwork locations.
As we will be spending a lot of days on field and our team will be joined by additional students assisting with fieldwork, we need to be able to provide food to all participants.
The toll is the expanse we need to cover when arriving at the field from our residence and when traveling to certain distant islands.
To even be able to do our fieldwork on islands, we first need to get the research team and our field vehicle to islands, which includes paying ferry tickets.
Endorsed by
As Herman Cain said: "The endorsement process is an evolution. What you try to do is you endorse someone that you believe in and their ideas and their solutions align with yours". Two great young scientists full of enthusiasm and love for science deeply involved in research of grasshoppers and crickets fauna of Adriatic Islands. My deepest and fullest endorsement on multiple levels to them and this great project.
'Research of Grasshoppers and Crickets Fauna of the Adriatic Islands' is a great project and I am honored to endorse it. Insects are neglected in biodiversity studies but are definitely at the base of the ecosystem and we need to know more, especially in the changing world. We need more young entomologists, such as Karmela and Maks who will, with great effort, shed some light on those neat jumping critters.
Tourism development poses a constant threat to island ecosystems, but there is no successful impact assessment and monitoring without a well-known taxonomy and distribution of insect indicators. Through their dedicated work, I believe this team of perspective young scientists will lay the groundwork for systematic Orthoptera research on Croatian islands, one of the areas with the greatest disproportion between the level of research and the potential for interesting discoveries in the country. I am therefore delighted to endorse their project.
Project Timeline
Fieldwork is separated into three segments according to animal activity periods to enable us to observe all the species in their natural habitat. We will spend 63 days in the field in total, exploring over 10 islands: Pag Isl, Pašman Isl, Ugljan Isl, Dugi otok Isl, Molat Isl, Sestrunj Isl, Žirje Isl, Kaprije Isl, Kakan Isl, and islands within Kornati National Park. After fieldwork, we will process the gathered data and start preparing our manuscripts for submission to scientific journals.

May 21, 2021
Project Launched
Jun 28, 2021
The First part of research is focused on species active early in the summer. Bush crickets are the most interesting group of the period with many similar and undescribed species.
Aug 09, 2021
This is the period where most of the species are active and singing. During this period we expect to encounter the majority of species that are present on each island.
Sep 10, 2021
Late summer is the period with very little research. It is thus an interesting period for us and it is a period when we can look for the presence of a certain endemic species.
Nov 01, 2021
Specimen collection completion, data preparation for processing, and public presentations for the local community and students.
Meet the Team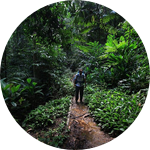 Maks Deranja
Master's student
Affiliates
University of Zagreb, Faculty of Science, Department of Biology
View Profile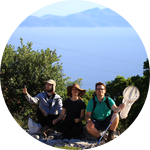 Karmela Adžić
Master's student
Affiliates
University of Zagreb, Faculty of Science, Department of Biology
View Profile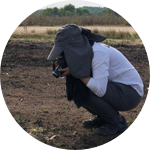 Amira Aqilah Muhammad
PhD student
Affiliates
Universiti Malaya, Institute of Biological Sciences.
View Profile
Maks Deranja
After all my early life being fascinated with biology, especially evolution and entomology, I went off to the University of Zagreb, Faculty of Science. There I earned a title of a Bachelor in Biology, and now I am finishing my master's thesis. In the last two years, alongside my team, I started writing scientific papers about grasshoppers and cricket (Orthoptera), my biggest passion of all branches of biology. My colleague Karmela Adžić and I in partnership with the University of Malaya in 2019 organized and conducted an expedition to peninsular Malaysia where we researched Orthoptera. The expedition lasted 30 days, but unfortunately, the results still aren't published due to complications caused by the COVID-19 pandemic. Therefore, in the summer of 2020, Karmela and I focused on local research of Orthoptera, so we started a two-year project researching the Orthoptera of Adriatic islands. The first year of research gave us a lot of interesting results, but due to two strong earthquakes that struck Zagreb and surrounding areas, we couldn't access the damaged University building, so publishing those results will also have to wait a bit more. We did a lot of work in really difficult conditions which gave us valuable experience that will make all our further scientific ventures noticeably improved. I the future, I plan to constantly improve on every aspect of doing scientific work, and by doing so, bring a lot of advancements in knowledge about my field of research.
Karmela Adžić
During my student days, I have gotten into entomology as a part of my student practice and discovered that it is a field of biology I want to study for the rest of my life. I am especially interested in taxonomy and evolution, and I have recently become interested in the popularisation of science. I am currently working on crickets and grasshoppers with a special interest in pygmy grasshoppers—a very diverse and interesting group of animals usually not larger than two centimeters. My favorite activity during fieldwork is photographing animals, which I later use for scientific purposes if they are of animals I am studying or upload them to iNaturalist if they are interesting species. I was lucky in a way that I already have good mentors supporting my work and teaching me and that I am part of a team of students who conduct fieldwork together. Thanks to this, I already have some experience in science even though I have yet to get my Master's degree. I have a few scientific papers published and have experience in planning, organizing, and conducting field research. Areas I have so far explored during fieldwork are Peninsular Malaysia and Adriatic islands which I am currently researching. My hopes for the future are that I will get to explore more of my country, especially Adriatic islands, and a number of tropical countries.
Amira Aqilah Muhammad
Currently a graduate student at the leading university in Malaysia with an ongoing project on ants in urban parks, which is also the subject for my doctorate degree. Insects in general is my preferred niche of study but grasshoppers, crickets, its allies and ants are my favourite. During free times, you can find me wandering in nature hoping to come across adorable animals to play and photograph, or at the University of Malaya's Museum of Zoology sorting specimens with a cup of tea at hand.
Although my current study is more on urban and ants ecology, Orthoptera (grasshopper, crickets and its allies) is my "first love". Since my undergraduate years, I was and still work on this subject especially pygmy grasshoppers alongside amazing Orthopteran researchers from various institutes such as National University of Singapore and University of Zagreb, Croatia. I am lucky to get in touch with experts worldwide and learn a lot of valuable lessons from everyone in order to develop my skills. I still have a long way to go, and I am willing to do so given the right opportunity and guidance.
Since 2020, the pandemic is hard on everyone, especially researchers who need travelling for fieldworks and data collection. Our collection of data requires in-situ sampling and photographing, which is restrained during these tough times. Nevertheless, we are trying our best to carry out our tasks in search for novel knowledge and contribute to the scientific community. This project's expedition to Croatia's Adriatic islands will definitely give us new experience and insight into European Orthoptera which surely will benefit us a lot in terms of knowledge exchange and strengthen the collaboration between both of the countries' leading universities.
Additional Information
This is a two-year-long project that started last year. It was then funded by the Orthopterists' Society that enabled our team of three students to spend 36 days of fieldwork and explore five Adriatic islands. This project has already yielded very interesting data which will be published together with this year's research.
We have already gathered some funding for our project this year, from Orthopterists' Society and a few local funding sources. With these sources, we were able to completely cover accommodation expenses for our planned research, which will last 63 days and will include a team of four students. The funding we have received is not sufficient for all of our research expenses, and we ourselves have limited budgets since we are all still students.
Since this research is the first of its kind, we cannot predict all the results it will give. For that reason, we have only listed the goals we can promise to achieve, but it is possible this research will result in much more discoveries in years to come.
---
Project Backers
11

Backers

24%

Funded

$690

Total Donations

$62.73

Average Donation