Tree profile: Black-monkey thorn
   Black monkey-thorn, the bonsai tree
Scientific name:
Acacia burkei
Acacia: from the greek word 'akis' meaning a point or a barb;  Burkei: named after botanist joseph burke (1812-1873) who collected the tree near the Magaliesberg in 1840
Family: Pod-bearing family (Fabaceae)
Indigenous names: Swartapiesdoring (Afrikaans), umKhaya (Siswati), Mokwaripa (North Sotho), Nkasinga (Tsonga).  
Editor's Note: I find the indigenous names of a tree interesting because they indirectly show the distribution of the tree across an area and the cultural importance of the tree to different tribes. For example, the Zulu name for black monkey-thorn isn't listed, suggesting the Zulu people never encountered the tree or else did not consider it important enough to give a proper name.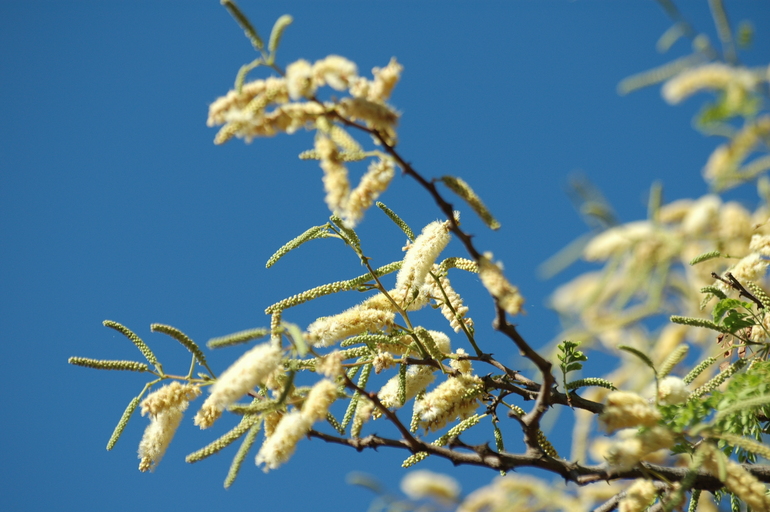 Interestingly enough, I didn't find much information on this tree from my usual sources. When I turned to the internet, I found pages and pages and pages of bonsai references. So at the very least, I can say that this tree makes a very good bonsai subject. It seems especially useful for beginners, as it can easily be trained into a shape resembling the adult tree as well as the other classic bonsai forms.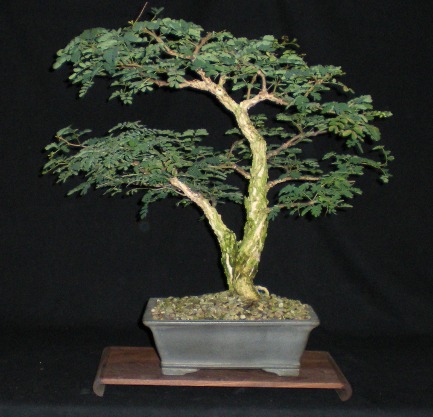 Superficially, black monkey-thorn resembles another acacia,
Acacia nigrescens
(though to be perfectly honest, all acacias superficially resemble each other) and during the early days I misidentified it as such at one of my sites. Through happy coincidence, black monkey-thorn was later added to the tree list, so the measurements ended up being useful after all. The feature I find most striking is the dual, hooked thorns that spiral along the branch. The thorns are a deep jet black that contrasts nicely with the yellowish bark and the deep green of the leaves. The wood is golden brown, quite difficult to work with, but because of the color often shaped into furniture, especially for riempie benches and chairs. It's also termite-resistant, and makes long lasting fence posts. The leaves are eaten by black rhino, giraffe, kudu, nyala and impala; the dropped leaves by steenbok and grey duiker. The pods are highly nutritious and often fed to cattle and game.
Cultivation:  
Seeds are collected fresh from the tree and must be soaked in hot water overnight. The swollen seeds are then sown in trays filled with sand or a mixture of sand and compost (9:1), covered with 5mm of sand and kept moist. Germination occurs in 3-5 days and all seeds should be germinated in 4 weeks. The seedlings are transplanted at the two-leaf stage into nursery bags filled with sand, compost and topsoil. If transplanting is left too late the taproot can be easily damaged. Black monkey-thorn can be grown in any soil as long as its well drained. It can withstand low temperatures but not cold wind. The root system can become aggressive so take care where you plant it. It's a relatively slow grower, gaining about 60-80 cm a year, so it's best considered a long term project or else a good candidate for a potted plant.
Sources 
Making the most of Indigenous Trees, Fanie and Julye-Anne Venter
Trees and Shrubs of Mpumalanga and Kruger National Park, Ernst Schmidt, Mervyn Lotter and Warren McClealand
Field Guide to Trees of Southern Africa, Braam van Wyk and Piet van Wyk