About This Project
The iconic kakapo is a flightless, nocturnal parrot endemic to New Zealand. More breeding territories are needed to increase population size. Little Barrier Island could broaden not only breeding territory but also food sources and hence diet.
This project asks three important questions. Firstly, what vegetation exists on Little Barrier Island? Secondly, would the island offer quality chick feed? and lastly, will there be enough?
Ask the Scientists
Join The Discussion
What is the context of this research?
The kakapo (Strigops habroptilus) was once ubiquitous across New Zealand. It is now critically endangered. Currently there are only 125 kakapo in existence. (plus a possible 33 new chicks from the 2016 breeding season!). They are now exiled to New Zealand's remote offshore predator free islands.
Kakapo feed on the fruits, seeds, foliage, bark and stems, bulbs and roots of native plants. Particularly prevalent on the south offshore islands is rimu fruit. When rimu trees undergo a masting cycle and abundant fruit is available, the female kakapo are triggered into breeding.
What is the significance of this project?
The amazingly successful 2016 breeding season yielded 33 new chicks!
We now need to investigate expanding breeding territories. This hopefully will lead to a further increase in population size. Increasing the numbers of female kakapo is especially important.
The importance of utilising Little Barrier Island as a breeding site is substantial. This project could broaden not only breeding territory but also food sources and hence diet.
What are the goals of the project?
There are three goals to this project.
The first is to identify and map the different food species that exist on the island. We know kakapo eat kauri, beech and podocarp so we need to check if these species thrive on Little Barrier Island and where. We will accomplish this using aerial imaging.
Secondly, we need to determine if the island would offer quality chick feed. Female kakapo need nutrient rich seed to feed their chicks. We will examine and compare the nutritional composition of seeds of the kauri, beech, and podocarps on the island.
Lastly, we need to know if there is enough food for kakapo mothers to breed there. We need to check when the island experiences masting events to predict when the next possible breeding year for kakapo could be.
Budget
The initial $2500 goal will commence this project. We need to raise more to reach completion (see Additional Information below).
Our first task is to determine the island's vegetation class. We can do this by obtaining high quality Aerial Images of the island. This is expensive. We need your help to finance this important task. We will also ground-proof the vegetation, that is, go on foot to check tracts of vegetation for species accuracy.

Sample Collection involves researchers travelling to a very hard to get to place. Transport costs are high and all equipment needs to travel with us. We will be hiking through difficult terrain to obtain seed and dropping samples. This requires us to be well stocked and prepared to spend time in a remote environment.
Donations will help us secure Laboratory Time which will enable us to analyse collected materials for nutritional value. The outcome of this is vital for the future management Little Barrier Island as a breeding site.
Endorsed by
Establishing a third large kakapo breeding population is a priority for the Kakapo Recovery Programme, given that the two other breeding islands are full. Hauturu is a prime candidate, but more information is needed about how suitable the island is for kakapo, and in particular what the breeding triggers would be. With expertise in phenology, avian nutrition and kakapo ecology, this team is very well-placed to answer those questions.
Meet the Team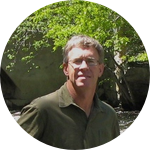 Bruce Burns
Senior Lecturer
Affiliates
University of Auckland
View Profile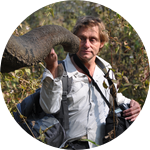 David Raubenheimer
Professor
Affiliates
The University of Sydney
View Profile
Team Bio
We have formed an exceptional team of scientists. We are encouraged by this project's ability to contribute to kakapo conservation. Collaborators span a variety of organisations and institutions both in Australia and New Zealand. We are very excited about this research and need to raise enough funds to enable the project to commence and be completed successfully.

Anja Steinwendler
Anja has been involved in conservation for over 20 years. She has done everything from fundraising to building bird hides in swamps. Her passion is birds, especially parrots and cockatoos. She is keen to see bird habitat conserved, reclaimed and restored. This project tickles her pink as it has a very practical approach and a real outcome for conservation of an enigmatic bird species.
Anja has spent the last two years pulling this project together. This has meant travelling all over New Zealand and volunteering for many conservation projects. She has headhunted some of the best people to join her on this journey to establish Little Barrier Island as a kakapo breeding ground.
Bruce Burns
My research interests broadly cover the field of plant ecology in seeking to understand determinants and mechanisms of plant persistence, distribution and abundance.
I am particularly interested in species-level positive feedback mechanisms. The contexts for this research vary widely but include:
1. Forest ecology. What determines plant species coexistence in native forest ecosystems? How does variation in environment, disturbance regime, and biotic interactions lead to spatial and temporal differences in forest structure and diversity? In Auckland, I'm particularly interested in the unusual forests dominated by the ancient conifer Agathis australis (kauri) and other members of the Araucariaceae, and the ecology of hemiephiphytes such as Metrosideros robusta (northern rata), once a common component of North Island forests.
2. Biodiversity management in urban, rural and plantation forest ecosystems. There is increasing interest in maintaining and increasing native plants and animals in human-dominated landscapes while reducing the impact of invasive species. What determines the persistence of indigenous biota within these landscapes and how can management be adapted that is sympathetic to biodiversity?
3. Ecological restoration. Reversing biodiversity decline now requires restoration of degraded ecosystems. How do we manage natural processes to achieve restoration goals cost-effectively in these systems?
4. Ecosystem and community responses to pest removal in biodiversity sanctuaries. The development of areas where mammalian pests are reduced to near-zero densities has increased dramatically as a conservation strategy in New Zealand, sometimes using pest-proof fencing. What changes and responses in natural communities occur as a result of this intervention, and what contribution to national conservation goals will these techniques achieve?
David Raubenheimer
David is an expert in nutritional ecology – the study of how nutrition influences animals in their everyday lives.
He has worked with a large number of different species, from insects and spiders to fish, birds, grizzly bears, giant pandas, elephants, snow leopards, gorillas, orangutans and humans and … yes … the kakapo.
He has co-invented a new approach to understanding animal nutrition, called nutritional geometry. This has provided new insights into many important unsolved problems, from the factors that drive human-wildlife conflict, to the role of nutrition in accelerating or delaying ageing and the cause of the human obesity epidemic.
He has also used nutritional geometry to develop a new understanding of the factors that drive reproduction in the kakapo, which has formed the basis for redesigning supplementary feeds used in the management of this species.
David holds the Leonard P. Ullman professorship in Nutritional Ecology, and heads the Nutrition Theme at the University of Sydney's Charles Perkins Centre. He has published over 270 scientific papers and book chapters, and is co-author of the book The Nature of Nutrition: a Unifying Framework from Animal Adaptation to Human Obesity published by Princeton University Press in 2012.
Additional Information
This project is expected to run for three years.
Our initial goal of $2500 is to get started as per our budget outline. Update -This has been achieved!
If we raise more we can achieve more!
Raising $10 000 will enable us to purchase a drone and get more accurate vegetation data closer to the tree tops. It will also let us track an individual kakapo's foraging path over difficult terrain.
Raising $30 000 will enable us to hire a research assistant for one year.
Raising $60 000 will let us keep this research assistant for another year.
Raising $100 000 will make us giddy with happiness and cover all our needs.
---
Project Backers
99

Backers

172%

Funded

$4,314

Total Donations

$43.14

Average Donation