Ask the Scientists
Join The Discussion
What is the context of this research?
California's MPAs are home to hundreds of diverse fish including dozens of rockfish species, Chinook salmon, smelts, lingcod, sharks, and rays. MPAs are managed adaptively, meaning their design and regulations can be updated as new data is collected. Biodiversity data (i.e., which species are present) are key to understanding MPA success, but often hard to obtain. eDNA sampling is a sensitive and non-invasive approach for characterizing biodiversity that has great potential as a tool for marine conservation and management. Understanding the capabilities (and limitations) of eDNA sampling and data is key to its use in marine ecosystems and fisheries science.
What is the significance of this project?
eDNA is trace DNA that fish shed in water. In this project, we seek to gain a nuanced understanding of the best application of eDNA for biodiversity monitoring in Northern California MPAs. Marine studies demonstrate that eDNA detection of fish performs equally well or better than conventional methods and may be more sensitive for detection of rare species.
eDNA has proven quite sensitive in capturing spatial and temporal variation in fish communities. Only recently applied to Southern California MPAs, eDNA has not previously been used to assess our MPA study sites near the the University of California's Bodega Marine Laboratory. We will use eDNA to compare fish diversity in MPAs with reference sites along an ecologically rich stretch of California coastline.
What are the goals of the project?
We collected 80 eDNA samples alongside the annual California Collaborative Fisheries Research Program (CCFRP) fish survey in 2020 and 2021 at Bodega Head State Marine Reserve, Stewarts Point State Marine Reserve, and at corresponding unprotected sites. We want to groundtruth eDNA detections against CCFRP detection and to detect fish that don't bite hooks. We expect biodiversity including non-target and cryptic fish will be higher in the MPAs due to MPA spatial protection. We predict that MPA protection of large predators allows for reduced competition among non-target species and greater levels of intra-group diversity. We will produce a scientific paper and an open access web portal to share results with the community.
Budget
Our budget covers preparation of eDNA samples using polymerase chain reaction (PCR), high-throughput next-generation genetic sequencing, and data analysis. We prepare the samples in a dedicated eDNA lab in the Genomic Variation Laboratory on UC Davis campus. Once samples are ready for sequencing we take them to UC Davis's high tech Genome Center. At the Genome Center, Illumina sequencers generate millions of genetic barcodes from each eDNA sample. The sequencer generates "Big Data" files that are processed through our data analysis (bioinformatics) pipeline.
Data analysis is an experiential learning opportunity for undergraduate students. The funding in this budget will cover paid internships for 1-2 students at $15/hr (25 hours/week for 10 weeks or equivalent hours). The students are mentored by and work closely with 3 UC Davis graduate students.
Endorsed by
This well-designed study complements the statewide collaborative program between universities and citizen scientist anglers and a companion eDNA study in southern California evaluating the effectiveness of California's network of MPAs. The funding will provide a second season of sampling to determine whether fish diversity is greater in MPAs, formative research experience for undergraduate interns and a stepping-stone to careers in science for the graduate students. As Helen's doctoral advisor, I highly recommend this cost-effective research.
This project will allow researchers to understand how MPAs are affecting whole fish communities, rather than just species that are easily caught by hook and line. Ann and Helen are accomplished researchers in eDNA monitoring and marine science and well qualified to do this work. They are excellent mentors and a funded internship will be accessible to all students, even those who must work to support themselves. As Ann's PhD advisor, I've enjoyed watching her interns start graduate school or careers in environmental science after graduating!
Project Timeline
We have already collected our eDNA samples. Crowdfunding will enable the purchase of laboratory supplies to amplify eDNA using PCR. We will isolate DNA of the universal fish genetic barcode and a barcode that targets rockfish, which are a particularly diverse, interesting and long-lived group of fishes in coastal California.
This summer and fall we plan to complete sequencing of all 80 samples at two barcodes for a total of about 160 samples.
Jun 03, 2022
Project Launched
Jul 15, 2022
Submit samples for next-generation genetic sequencing
Aug 01, 2022
Receive raw sequencing data for analysis from UC Davis Genome Center
Sep 30, 2022
Complete undergraduate eDNA data analysis internship
Dec 15, 2022
Complete and submit manuscript to peer reviewed journal
Meet the Team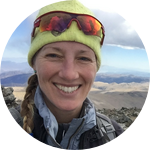 Ann Holmes
Ph.D. Candidate
Affiliates
University of California, Davis
View Profile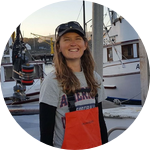 Helen Killeen
Ph.D. Candidate
Affiliates
University of California, Davis
View Profile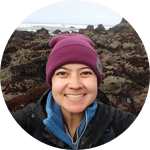 Keira Monuki
PhD Student
Affiliates
University of California, Davis
View Profile
Team Bio
We are graduate students in Ecology and Population Biology at the University of California at Davis. We conceived and designed this project out of our of passion for conservation of marine resources. Start-up funding for this research was generously provided by two small grants from the American Fisheries Society and a seed grant from the UC Davis Genome Center. We need your help to complete the project!
Ann Holmes
I'm a Ph.D. candidate in Ecology at UC Davis conducting research in fish and wildlife conservation using genetic methods. I use eDNA to study ecosystems and ecological interactions, including the use of multi-taxa biodiversity assessments for conservation and management of estuarine and coastal species. I am also interested in methods for sharing and managing large genetic datasets. I have an MS in Ecology, Evolution and Conservation Biology from San Francisco State University and a BA in Ecology and Evolution from Cornell University. I am originally from San Francisco and competed nationally and internationally in rowing. I will complete my PhD in December, 2022.
One of the best things about doing science is sharing it with others. I enjoy mentoring undergraduate researchers and have supervised paid undergraduate experiential learning at UC Davis since 2019. In 2021, I received a UC Davis Chancellor's Award for Excellence in Mentoring Undergraduate Research.
Helen Killeen
Helen Killeen is a Ph.D. student at the University of California, Davis where she studies the ecology of coastal and ocean ecosystems. Helen studies marine ecosystems by collecting specimens and observing ocean conditions while at sea on the Pacific Ocean. Her graduate research is helping to show how baby fish (larvae) survive their dangerous journey to adulthood. Helen's research is also giving us a better idea of how coastal ecosystems are likely to be affected by climate change and whether or not conservation methods, like marine parks, really work to protect ocean animals. After graduate school, Helen is planning to work with conservation organizations and the government to improve how we manage and protect the ocean and its resources. Helen is from Colorado, likes cooking, and was a high school chemistry and physics teacher before going back to school.
Keira Monuki
I am a PhD student at the University of California, Davis and the Bodega Marine Laboratory studying the impacts of climate change on marine ecosystems. Specifically, I use different experimental approaches and molecular methods to discover how marine animals are responding to increased stress from global change. As an undergraduate, I conducted an independent project on the depth variation of environmental DNA (eDNA), and I am excited to continue to investigate how we can use eDNA to better inform conservation of our vital ecosystems.
Additional Information
We believe the best way to learn new skills is to solve real world problems in a supportive environment. The mentoring opportunities this project has offered undergraduate students are key to our core values of creating new opportunities in science. Experiential learning is a hands-on process; students learn by doing, increasing knowledge retention, confidence, and problem-solving skills. In the last 2 years, students working on this project have helped with sample collection, metadata management, and creation of genetic resources for data analysis.
Our undergraduate research interns are always paid, a more inclusive approach than projects where students are expected to volunteer their time or receive stipends below a living wage in order to get their foot in the door of conservation research. Funded undergraduate positions are one of the ways we let interns know that they are valued members of our research team.
Any funding obtained beyond our goal will go to funding additional student intern hours learning eDNA methods and analysis. Funds may also facilitate a third year of eDNA sampling conducted in August-September 2022, if logistics permit.
---
Project Backers
20

Backers

130%

Funded

$11,165

Total Donations

$558.25

Average Donation