About This Project
More than 40% of horses are obese, and many of these obese horses develop elevated levels of circulating insulin and fat, a condition named equine metabolic syndrome (EMS). EMS can be devastating—many EMS horses get laminitis, a debilitating hoof disease that can lead to euthanasia. We have shown that genetics are important in developing EMS. In this project, we determine how genetics affect muscle and fat metabolism—information critical to designing new EMS treatments.
Ask the Scientists
Join The Discussion
What is the context of this research?
Obesity in horses is growing at an alarming rate. Like humans, over 40% of horses are overweight or obese. Obese horses share many of the health concerns of obese humans as obese horses often develop metabolic changes with elevated levels of the hormone insulin and fats in the bloodstream. Obesity, high insulin and circulating fats together make up the key components of "equine metabolic syndrome" (EMS). EMS consequences can be devastating; many affected horses develop laminitis (aka founder) a debilitating condition of the hoof. Laminitis is extremely painful and can leave horses permanently crippled—severe cases often result in euthanasia. Our research over the last decade shows that diet alone does not explain EMS and that genetics plays an important role.
What is the significance of this project?
Our long-term goal is to understand how an animal's genetics affect metabolism so that we can better understand how EMS develops, find new treatments for EMS, and will be able to identify horses that are a high-risk for developing EMS before they develop laminitis. In this project, we will identify how a horse's genetics affects metabolism in both muscle and fat by examining how changes in a horse's genome (all of an individual's DNA, about 22,000 genes) affect the expression of genes in muscle and fat tissues. By connecting information about gene expression in muscle and fat of EMS horses with differences in their genomes, we can connect the dots between an animal's genetics and changes in metabolism.
What are the goals of the project?
All the cells in a horse's body have a copy of the horse's entire genome; however only some of the 22,000 genes are turned on (expressed) in each tissue. In this project, we will decipher how the genome controls the expression of genes in muscle and fat by comparing about 1.5 million genetic markers in the genome to gene expression in fat and muscle in 96 horses (normal or EMS). This will help us understand the genetic control of both energy burning and energy storing in these tissues. If we understand what genes are turned on/off in the muscle and fat of normal horses and what is different in obese/EMS horses, we can begin to understand what is going wrong in EMS. Once we know what went wrong and why, we can design new treatments to prevent obesity, EMS and laminitis.
Budget
We are asking for funds to add a key component to a larger research project. We have collected muscle and fat samples from 96 horses and we have generated data about the expression of gene in these tissues. The budget for this expirement.com project is to gather data from about 1.5 million genetic markers for each of these 96 horses using a technology called a genotyping array. The cost for the genotyping array is $105 per horse.
By collecting genetic marker data (genotyping) these 96 horses we will be able to answer the central question of the proposed project: How does a horse's genetic makeup affect metabolism in muscle and fat tissues?
The larger research project is supported by funding from both the Morris Animal Foundation and the United States Department of Agriculture.
Endorsed by
Dr. McCue and Dr. Mickelson were my master´s and PhD advisor and co-advisor, respectively. Their work on equine genetics disease have been outstanding. They are proposing a relevant project for the equine community, that will have a great impact on horse´s health. They will look into the genetics that affect metabolism to better understand, treat and identify EMS horses that are at high risk of developing clinical signs. I believe this project will answer critical questions that are not understood at the moment.
Discovering the role that a horse's genes play in the development of obesity and metabolic dysfunction is a critical step in solving the puzzle known as equine metabolic syndrome. This is an important project with wide-ranging implications to the horse industry. The team at the University of Minnesota have a proven track record as innovative scientists and leaders in the world of equine genetics and genomics, and I am very excited to see the results of this project.
Project Timeline
Fat, muscle and DNA samples are already collected. By June 30, 2018 the gene expression data will be generated (part of a larger project). We are asking for support to genotype the 96 horses for 1.5 million genetic markers using a genotyping array, which takes approximately 6 weeks.
The majority of the timeline is committed to data analysis and writing the research paper. To analyze data genotype and gene expression data will take 6-9 months. Writing will take 3 months. Total about 12 months.
May 14, 2018
Project Launched
Aug 31, 2018
Genotype horses for 1.5 million markers
Jan 31, 2019
Complete data analysis
May 31, 2019
Submit research paper for publication
Meet the Team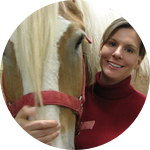 Molly McCue
Professor of Equine Internal Medicine
Affiliates
University of Minnesota
View Profile
Molly McCue
Dr. McCue received her Doctor of Veterinary Medicine from Kansas State University, completed an internship in large animal medicine and surgery at the University of Georgia and a residency in equine internal medicine at Kansas State University. She is a Diplomate of the American College of Veterinary Internal Medicine (Large Animal). Dr. McCue received her Master of Science degree in Clinical Sciences/Epidemiolgy from Kansas State University and her PhD in Comparative and Molecular Biosciences/Molecular Genetics from the University of Minnesota. She completed her postdoctoral studies at the University of Minnesota. Dr. McCue is currently a Professor of Equine Internal Medicine at the University of Minnesota.
Dr. McCue's research focuses on genetic disease, performance and genetic diversity in equine populations. The main goal of her laboratory is to improve horse health through the understanding of complex genetic disease, allowing for better prediction, diagnosis, and treatment of these diseases, and to improve human health through the use of the horse as a biomedical model. Current research focuses include Equine Metabolic Syndrome, Polysaccharide Storage Myopathy, Osteochondrosis, Recurrent Exertional Rhabdomyolysis (Tying-up), atrial fibrillation, gait and performance and understanding genetic diversity and the impact of selective breeding practices on horse health and disease.
James Mickelson
Dr Mickelson is a major contributor to the international equine and canine genetics and genomics efforts, and he is an expert in the molecular and genetic basis of neuromuscular disease in animals. His group has identified genes for inherited neuromuscular diseases in both horses (overo lethal white syndrome, glycogen branching enzyme deficiency, polysaccharide storage myopathy) and dogs (malignant hyperthermia, exercise-induced collapse, various polyneuropathies and neuropathies) that serve as comparative animal models for several human conditions. He is part of a comparative animal genetics program performing genetic association analyses for exertional rhabdomyolysis in Thoroughbred and Standardbred horses, as well as several forms of canine idiopathic epilepsy, exercise collapse, leukoencephalomyelopathy, osteo and hemangiosarcoma, and polyneuropathies. He also collaborates on the identification of genomic signatures of selection and the functional underlying alleles in the horse that are revealing genes and alleles for racing performance, gait, and size, among others; as well as on identification of genes for equine metabolic syndrome and canine urolithiosis. Dr Mickelson' teaching responsibilities lie in Veterinary Biochemistry, Genetics and Nutrition (metabolism), Critical Scientific Reading, Veterinary Physiology (muscle), and Biochemistry of Muscle.
Additional Information
Beyond helping horses, understanding EMS and obesity in horses could also lead to new treatments in humans with similar conditions.
---
Project Backers
4

Backers

1%

Funded

$61

Total Donations

$15.25

Average Donation