About This Project
With 88 out of 100 species critically endangered and 38 possibly extinct, the Neotropical harlequin toads (genus Atelopus) are among the most endangered of all amphibians. The majority of Colombia's 40 species have not been seen in three decades. While some may be extinct, others are likely persisting at very low abundance. We need more efficient tools to look for declining frogs before they vanish. We will deploy new environmental DNA (eDNA) methods to speed up the search in Colombia.
Ask the Scientists
Join The Discussion
What is the context of this research?
To execute efficient conservation actions, we need to know if harlequin toads are still surviving. Many amphibians declined suddenly in the 1980s due to chytridiomycosis, a disease caused by an invasive fungal pathogen, 'Bd'. However, for Colombian Atelopus, the lack of field sightings could also be due to the toads' secretive nature, remote habitats, or lack of field surveys. Harlequin toads are hard to find in high Andean forests, and they only come to streams to reproduce.
Colombia has been wracked by civil war, and field surveys were simply not possible until recently. Recent re-discoveries of Atelopus in Costa Rica and Ecuador give us hope, but we should move fast. Because animals shed DNA, we can detect the presence of any vertebrate, from trout to bears, and hopefully toads.
What is the significance of this project?
Without immediate action, the last remaining harlequin toads in the Andes may disappear. We are implementing a rapid and efficient method to search for previously lost harlequin toads by scanning for their DNA in streams where they once thrived. eDNA methods have been successfully applied to amphibian surveys in Brazil and Bolivia, and they it should work in the high Colombian Andes, as well. By detecting very rare frogs that may go unnoticed during traditional field surveys, this method offers our best hope for finding lost frogs. Once we find these declined but majestic toads, we will work with our conservation partners ReCRAC and ASI to implement urgent conservation actions. This project will serve as a proof-of-concept for expanded surveys in 2024 and beyond.
What are the goals of the project?
Our main goal is to find lost species of harlequin toads in Colombia. We have already surveyed a site with a stable population of Atelopus as an experimental 'control', and a site with a declined but persistent population. Next we will survey four sites where Atelopus have not been seen in three decades (whether due to true declines or just lack of field surveys). Each water sample also offers eDNA 'by-catch', meaning all other vertebrate species present will be revealed by their unique DNA signatures, such as other endangered amphibians or any invasive trout. We will also use the water samples to check for the presence of the fungal pathogen, Bd, and a pathogen called Ranavirus. Thus, Atelopus serves as an umbrella species for conservation and a growing symbol for the local communities.
Budget
This funding will help me accomplish 3 vital tasks. (1) To pick out minute bits of eDNA from water samples, I need field materials such as filtration kits for environmental DNA (eDNA), water containers, gloves to avoid contamination, and bleach for cleaning instruments after each use. (2) Following the eDNA trail means traveling to remote, high-elevation Andean sites in Colombia where Atelopus were last recorded between 20 and 30 years ago, specifically in Tolima, Cundinamarca, Santander, and Antioquia. I will sample the same streams where Atelopus have been reported historically, and arrive during the reproductive season in hopes of finding eDNA from tadpoles. (3) Sequencing eDNA of all vertebrate animals present in water samples (including invasive fishes that prey on amphibians) will allow me to compare the 1000's of eDNA sequences with public databases (and our lab's new sequences of Atelopus) to determine which species of Atelopus and other animals are present at each site.
Endorsed by
As coordinator of the Atelopus Survival Initiative, I proudly endorse this groundbreaking project to conserve Harlequin Toads, the jewels of the creeks and forests of the Neotropics. By leveraging advanced eDNA technology, this initiative offers an accurate method that can revolutionize conservation strategies, benefiting not only the toads but also broader biodiversity efforts. Join Daniel, Andrew and the ASI in our mission to rediscover lost species and safeguard the future of these highly threatened amphibians and their vital ecosystems!
This outstanding project comes from a well-known group of herpetologists working to understand the conservation status and distribution of a critically imperiled group of animals. I strongly recommend this project and will be thrilled to contribute to their efforts that will help build capacity in Latin America to save the incredible harlequin frogs. Their connections with the Atelopus Survival Initiative will ensure that this project's impact will help advance goals for the whole region.
Project Timeline
Field work was started in November 2022 and continues through September 2023. Each trip lasts ≥4 days per locality where Atelopus species have been reported. We have conducted field trips in Santa Marta and Tolima. After 4 field trips, we will send the filters to a specialized eDNA laboratory in Germany for processing. This will result in a species list of all vertebrates leaving DNA in our streams, including Atelopus. Data analysis and writing will run from October 2023 to January 2024
Jul 28, 2023
Project launched
Jul 28, 2023
Social media campaign
Aug 16, 2023
Project Launched
Aug 29, 2023
Travel to Choachí where A. lozanoi has been recorded
Sep 08, 2023
Travel to Sibaté where A. subornatus has been recorded
Meet the Team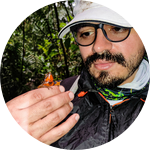 Daniel Vivas Barreto
MSc in Biological Sciences Student
Affiliates
Universidad de Los Andes
View Profile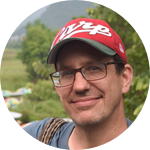 Andrew Crawford
Associate Professor
Affiliates
Universidad de los Andes
View Profile
Daniel Vivas Barreto
Can you imagine living in the most biodiversity country in the world and the species are disappearing? Can you imagine never knowing that we have them because we never found them? Or worse, can you imagine believing a species to be extinct because no one has reported seeing one for years, but in reality, it was not extinct and we can still do something to prevent its extinction? These are my principal concerns that led me to work with them, these amazing and beautiful toads. These toads are not just important for the ecosystems they live in, but also for the people that live where they can be found. I would like to be part of the solution that can help bring them back.
I was born in Bogotá, Colombia, an amazing country with the largest numbers of amphibians in the world. I completed a bachelor's degree in biology at the Universidad Nacional, Colombia. During my studies, I fell in love with amphibians, because they are one of the coolest groups – they have amazing shapes, crazy colors, and play a very important role in ecosystems as bioindicators. So, how not to love them?
After I finished my undergrad, I decided to start my masters in Biological Sciences at the Universidad de Los Andes, Colombia, to continue with my passion and work with frogs. Also, as part of my quest for knowledge, I started to work as the assistant curator of the reptile collection at the Museo de Historia Natural C.J. Marinkelle. I am also a member of the Atelopus Survival Initiative (ASI). Through this network and with ASI's support, I am sure that we will be able to implement this project with the collaboration of different stakeholders at local, national and international levels. Another important part of research for me is to work with local communities, learn from them and reciprocally share knowledge, because science should not only stay in academia but is part of everyone. Everyone can be a scientist, and scientists can learn from everyone.
Andrew Crawford
I have spent my entire career seeking, studying, and saving frogs in the rainforests and in the mountains of Costa Rica, Panama, and Colombia. I was born in California, and since 2009 I am a professor at the Universidad de los Andes in Bogotá, Colombia, teaching statistics, genomics, natural history, and amphibian biology. My twin passions are learning more about amphibians and supporting students interested in biodiversity science and conservation. I have advised 53 undergraduate students and 26 graduate students since moving to Colombia, most recently Daniel Vivas, a dedicated young conservationist with a vital project that I hope will provide the world with some good news about the survival of Atelopus. Just like Daniel, I am also a member of the Atelopus Survival Initiative.
My road to Colombia was long but direct. I did my undergraduate work at UC Berkeley with Dr. David Wake, the first person who raised the alarm about amphibian decline as a world-wide problem. Through him, I became obsessed with amphibians and going to see the tropics for myself. After completing my graduate work on Costa Rican 'dirt frogs', I spent six years at the Smithsonian Tropical Research Institute in Panama. There I was lucky to collaborate with my friend Dr. Karen Lips, a scientist who bet her nascent career that the amphibian declines witnessed in Central America were caused by a pathogen moving like a slow wave through the mountains. She was right, of course, and we now know that an invasive microscopic fungus caused the horrendous declines of Atelopus. Karen introduced me to the incredible abundance and diversity of amphibians before this pathogen spread everywhere. In the future I want everyone to be able to see what I saw then. Atelopus are greatly declined, but they are not all gone. We need to find out which species are still hiding in the mountains of the Andes so we can take action to bring them back from the brink. Daniel's work this year will help greatly in this task.
Additional Information
The main threat to amphibians is chytridiomycosis, an emerging disease caused by the chytrid fungus Batrachochytrium dendrobatidis (Bd). It is estimated that Bd can cause the decline of up to half of the amphibian species at a site and drive certain more sensitive species to local extinction. Bd is known to have caused the global extinction of at least 90 species, affecting mostly upland species. This may be because the higher the altitude, the greater the risk of extinction, primarily because the geographical ranges of species tend to be more restricted in upland areas. Thus, this infection is one of the major factors contributing to the loss of species diversity and abundance of amphibian populations.
Another possible cause of the decline of atelopus is the introduction of invasive species such as the rainbow trout, which is why the detection of vertebrates, as well as knowing the diversity at each sampling site, makes it possible to establish a possible relationship or causality in the decline of the toads, associated with invasive species.
Looking for the presence of Bd/invasive species in streams could potentially provide a 1) reason to explain the possible absence of Atelopus in these streams or 2) help in planning mitigation activities in the event that both Atelopus and Bd or invasive species are recorded.
I will carry out this project in conjunction with Red de Conservación de Ranas Arlequín de Colombia (ReCRAC), a group of people working to improve the conservation status of harlequin frogs. With the support of this network, I will link local communities with their frog fauna and raise awareness of the importance of conserving and protecting amphibians, as well as reinforcing Atelopus as a symbol for conservation through positive results. Also, as a member of the ASI (Atelopus Survival Initiative), a collaborative, coordinated regional effort to implement substantial, long-term, wide-ranging conservation measures to prevent the extinction of harlequin toads. ASI connects and fosters collaborations between more than 100 members from over 50 organizations in 13 countries. All efforts to save harlequin toads from extinction will be joined both nationally and internationally. Thus, conservation measures generated from projects such as this one will be the basis for mitigating the threats to this unique group of amphibians.
---
Project Backers
63

Backers

100%

Funded

$3,013

Total Donations

$47.83

Average Donation