About This Project
We are developing and testing the feasibility of a peer coaching program where experienced stroke patients are trained to coach and mentor newly diagnosed stroke patients through the early phases of rehabilitation. This is an exploratory study where we will develop the program and set up the foundation for a larger quantitative study.
Ask the Scientists
Join The Discussion
What is the context of this research?
Stroke is a leading cause of morbidity affecting participation in everyday activities. Participation in meaningful activity is an important determinant of continued life satisfaction. The long term effects of stroke including mobility limitations, cognitive impairment, loss of confidence and fatigue. It can be difficult for stroke survivors to resume pre-stroke participation levels.
The proposed research will pair experienced stroke survivors with new stroke patients to participate in shared areas of interest.
The model involves an early component to inspire hope in new patients. This will include regular meetings to encourage participation in meaningful activities in the first six months post stroke.
What is the significance of this project?
We hypothesize that at a patient level the peer intervention will promote stroke survivors to engage in more of their chosen activities and achieve self-directed goals. As a side result we expect this will improve confidence, mood and well-being in the stroke survivor and reduce caregiver strain. It is possible that the effects of the intervention are further reaching, e.g. in supporting return to work, achieving financial independence and contributing to the economy. The intervention may positively impact engagement in rehabilitation and reduce the burden on health and social care resources in the longer term.
What are the goals of the project?
We've already raised over £20,000 to support a PhD student to carry out this project. We only need another £10,000 to be able to support the student entirely. This student will develop and test a peer coach training and mentoring package, run a controlled trial to determine the efficacy of this program. The student will also conduct interviews with service providers, trial participants, commissioners, and other stake holders.
The outcomes of this study will be published in the student's PhD dissertation and be used to inform the design of a definitive trial.
Budget
We need additional funds to complete this PhD studentship project. We are supported with £20,000 from Fighting Strokes (link to http://www.fightingstrokes.org/) and Nottingham Hospitals Charity.
University of Nottingham School of Medicine and the Division of Rehabilitation are matching all funds we raise from this campaign.
With all these funding sources combined we will be able to complete this research with a full-time PhD studentship which typically costs £54,327. This covers a £14,057 per annum stipend plus tuition fees of £4052 per annum. Additional research costs of £5,673 will cover the productions of training manuals and materials for the patient mentors, printing of study related documentation (participant information leaflets, consent forms, assessment documents), and the travel and expenses of the patient volunteer mentors.
Endorsed by
I really support this research endeavour as I truly believe it can make a positive difference and impact the lives of both the mentor and the person being mentored. Peer mentoring schemes such as the one proposed here can have wider positive societal impacts that are not often measured in research. The team is well placed placed to conduct this research due to their extensive track record in the field of rehabilitation and I wish them every success.
The work proposed in this project is potentially very valuable and what impresses me about it is the fact that at its heart is the stroke survivor and caregiver experience. This is an excellent team who can carry forward this very interesting and timely project. I wish them every success in their work.
I am in strong support of this project, which will investigate if peer mentoring for people with stroke is effective. This is an important question given people with stroke often experience ongoing problems for many years. The team are well placed to carry out this research, with an excellent track record in the field of rehabilitation research.
Meet the Team
Joanna Fletcher-Smith
Doctor
Affiliates
University of Nottingham School of Medicine - Division of Rehabilitation & Ageing
View Profile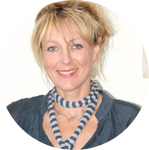 Kate Radford
Associate Professor in Rehabilitation Research
Affiliates
University of Nottingham
View Profile
Team Bio
Dr Kate Radford, Associate professor in Rehabilitation Research will lead this project with Dr Joanna Fletcher-Smith. Together they will co-supervise a PhD student who will complete this program of research as part of a PhD Studentship. Ms Kate Allatt (stroke survivor and CEO of the charity Fighting Strokes) will be the Patient and Public Involvement (PPI) representative of the research project team.
Joanna Fletcher-Smith
I am a Health and Care Professionals Council (HCPC) registered occupational therapist by professional background and am employed by the University of Nottingham as a Research Fellow. I am the Principal Investigator for a National Institute for Health Research (NIHR) RfPB funded study called the 'ESCAPS study'.
My research is focused on stroke rehabilitation interventions, in particular recovery of arm and hand function after stroke, cognitive rehabilitation, recovery of dressing ability after stroke, and patient peer mentoring interventions to improve participation and psychological outcomes after stroke.

Kate Radford
An Occupational Therapist since 1990, I have worked predominantly in neurological rehabilitation. My PhD involved developing and validating tests to predict fitness-to-drive for people with stroke, traumatic brain injury (TBI), multiple sclerosis,Parkinson's disease and dementia. However, following clinical work in a community neurological rehabilitation team in 2003, I became interested in finding ways of supporting people with an aquired brain injury, resulting from stroke or TBI to return to work or actively participate and this is now the primary focus of my work.
Funded projects include trials to determine the feasibility of measuring the effects and cost effectiveness of early intervention to prevent job loss in people with TBI and stroke, and to develop peer coaching interventions to help brain injured people participate in activities outside of the home.
Kate Allatt
Kate Allatt is the Patient and Public Involvement (PPI) representative on the study team, having survived a brain stem stroke in 2010. After leaving hospital in February 2011 Kate founded the charity 'Fighting Strokes' and has provided one to one peer mentoring support to newly diagnosed stroke patients both in person and via online support for hundreds of patients throughout the UK and overseas. Kate is currently involved in other stroke rehabilitation research projects at the University of Nottingham and is excited at the prospect of seeing this new patient peer mentoring project get off the ground!
Additional Information

We will draw upon evidence from existing peer coaching interventions for people with mental health problems, traumatic brain injury and those for people late after stroke, interviews with stroke survivors and then working in partnership with stroke survivors and other stakeholders (service user organisations, NHS and third sector service providers and service commissioners, including former Olympian Sir Brian Steele) we will develop a peer coaching model suited to the needs of people early after stroke.
---
Project Backers
3

Backers

2%

Funded

$54

Total Donations

$18.00

Average Donation