About This Project
We aim to provide the first report of microplastic presence (or absence) in deepwater corals. Deepwater corals aren't as well-known as their tropical, shallow-water relatives, but their reef structure magnifies seafloor biodiversity by providing unique niches for thousands of species, including many potentially undiscovered ones. Microplastics, if deepwater corals consume them, may present a new threat to these ancient and understudied ecosystems.
Ask the Scientists
Join The Discussion
What is the context of this research?
A staggering amount of plastic enters the ocean annually, yet it is not fully understood where all of those plastics go or how they interact with deepwater corals that we know so little about. Deepwater corals commonly live for centuries, and their structure provides unique niches for many species. However, they are wholly dependent on surface water productivity for food, which falls to the bottom in the form of "marine snow". Unfortunately, surface-floating debris, including microplastics, are likely commingled with natural food particles, thus begging the question: do these deepwater corals consume microplastics? To answer this question, we traveled to the remote equatorial Pacific ocean, to one of the largest marine protected areas (MPAs).
What is the significance of this project?
If plastics are consumed by deepwater corals even in this remote, protected place, then deepwater corals everywhere are probably consuming them. Getting a baseline for the amount and types of microplastics will help us estimate what risks they pose to these unique seafloor ecosystems, especially in protected areas free of other threats. However, if these remote ecosystems are so far unmarred by microplastics, then there may still be hope for the more pristine parts of our planet if we take quick and effective management actions. Whether we find plastics in the corals or not, the investigation will yield vital insight into the scale and scope of the problem.
What are the goals of the project?
This project is simple: confirm or deny microplastic presence within a diversity of deep-sea coral samples (93 in total) from multiple depths (200-2500m deep) from a remote and fully protected MPA (already collected and in-hand). We will start analyzing our samples in September 2022, using a combination of microscopy and analytical chemistry techniques to detect microplastic particles. These methods will destroy part of the coral sample, but the microplastics will stay available for any future analysis needed. If we find them, we plan to characterize their shapes, sizes, and polymer composition, which can all affect how dangerous microplastics are to living organisms.
Budget
Collecting deep-sea corals is expensive (millions of dollars), but luckily, we have already been to sea and have the samples in storage. This budget will cover the necessary reagents, lab supplies, fluorescent stains, and time with the confocal laser scanning microscope and Raman microscope needed to detect microplastics and identify their polymer composition. This project will also provide 1/12 of support for a newly-minted Postdoctoral Associate, providing the essential personnel and expertise to accomplish this project. We will take the necessary and extraordinary precautions with samples to prevent microplastics in the laboratory air from contaminating them. We have experience with preventing contamination and know how to mitigate that risk.
Endorsed by
This project will be the first analysis of its kind. It is fundamental to understanding how microplastics may ultimately contribute to deep-sea ecology, and what the consequences of ingestion by deep-sea taxa will be.
Exploring the deep ocean means not only encountering amazing and unexplored ecosystems and species, but also our trash! We are just beginning to understand how widespread our pollution is, and that's just the big pieces of litter we can see, much less the smaller pieces that Randi and Maxwell want to learn more about. This is cutting-edge and important work - please consider supporting this project!
I am very excited about this research and know it is deeply important to the field. This work will provide critical data on microplastic ingestions of deep-sea coral. The field of microplastic research is ever-expanding and there is much unknown yet to be discovered. In order to fully understand the impacts of microplastics, we must first understand how far this problem reaches. If deep-sea corals at sites this remote exhibit plastic ingestion, this finding can most likely be extrapolated to many other ]less remote locations around the globe.
Project Timeline
Since we already have the samples in-hand, the rest of the project will involve chemically digesting them to remove organic material, filtering them to trap any microplastics, and using a fluorescent staining technique to make them visible under confocal microscopy. We also plan to use Raman microscopy to identify the specific plastic polymers present. We expect to have the results written up and submitted for publication in a peer-reviewed journal by the end of 2023.
May 27, 2022
Project Launched
Sep 30, 2022
Method refinement
Dec 31, 2022
Sample digestion, filtration, and staining
Apr 30, 2023
Microplastic visualization and analysis
Meet the Team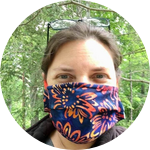 Dr. Randi Rotjan
Research Assistant Professor
Affiliates
Boston University
View Profile
Team Bio
We are a team of researchers experienced with microplastic detection and imaging techniques as well as coral biology and interactions with microplastic particles.
Maxwell Helmberger
Max is an incoming postdoctoral associate at Boston University in the Department of Biology. His Ph.D. research focused on interactions of microplastics with soil invertebrates. During that time, he also developed a novel fluorescent counterstaining method for detecting microplastics in invertebrate samples. He is skilled in confocal microscopy and microplastic analysis.
Dr. Randi Rotjan
Randi is a Research Assistant Professor of Biology at Boston University. Due to her love for truly natural systems, she is a reluctant and inadvertent microplastics researcher, compelled to study microplastics only because they continually appear in systems previously assumed to be undisturbed and relatively pristine. She is a classically-trained ecologist and conservation biologist, focused on shallow, temperate, and deepwater corals across the globe.
---
Project Backers
8

Backers

100%

Funded

$5,301

Total Donations

$662.63

Average Donation