About This Project
Wedge-tailed Shearwaters leave Hawaiʻi at the end of the nesting season (November) and return in spring (March - April). During their winter dispersal, shearwaters are threatened by fisheries and marine debris. Yet, we do not know where they go and whether their migrations shift in response to changing ocean conditions. Mapping their year-round distributions and the threats shearwaters face at sea, will facilitate the broader conservation of this species throughout their life cycle.
Ask the Scientists
Join The Discussion
What is the context of this research?
Since 2008, we have worked to enhance public awareness and stewardship of a beloved Hawaiian seabird - ʻUaʻu kani - the Wedge-tailed Shearwater (Ardenna pacifica), hereafter referred to as WTSH. We have learned about the ecology and threats this species faces during the breeding season. As a result of our efforts, the number of ʻUaʻu kani breeding pairs at the Freeman Seabird Preserve in Oʻahu has quadrupled from 97 (2009) to 423 (2022). Yet, the most commonly asked question by our volunteers is "where do the birds go when they leave Hawaiʻi?". This mystery underscores the knowledge gaps concerning the biology and conservation of this species at sea, where they are susceptible to myriad of human impacts, including entanglement.
What is the significance of this project?
Mapping where WTSH travel after raising their chicks in Hawai'i, and what threats they face during their migration, will inform effective ecosystem-based management of the species. In particular, the winter tracking data will give managers insights into the food-webs that support them, with an emphasis on the potential overlap and reliance on skipjack tuna aggregations and the purse seine fisheries that target them. Finally, the ability to study these relationships during years of contrasting oceanographic conditions (La Niña, El Niño) will provide a dynamic understanding of WTSH distributions, and the influence of interannual oceanographic variability on their winter migrations and habitats in the North Pacific Ocean.
What are the goals of the project?
The goal of this tracking project is to: (1) model WTSH winter distributions in relation to oceanographic conditions (sea surface temperature, sea surface height, wind) and anthropogenic (fisheries, entanglement) factors; (2) compare these relationships during years of contrasting oceanographic conditions (2022-23 La Niña, 2023-24 El Niño) to understand the influence of interannual oceanographic variability on WTSH winter migrations and habitats in the North Pacific Ocean; and (3) investigate the trophic relationships of the tagged birds via stable isotopes (δ15N, δ13C) from feathers grown during winter. We will highlight potential risks at-sea by overlaying shearwater distributions with purse-seine tuna fisheries and areas of likely marine debris concentrations.
Budget
We already tracked 21 shearwaters during La Niña conditions (2022-23 winter migration), and now seek funding to complete a second year of tracking during El Niño conditions (2023-24 winter migration).
Donations will directly go to cover the cost of purchasing 30 geolocator tags from Lotek, an animal migration technology company. One miniaturized light-level geolocator tag (model MK4093) for a seabird costs about $150. These tags have an internal clock and record ambient light levels, from which two geographic locations (latitude and longitude) can be estimated per day.
Previously, we deployed 25 tags in August 2022 and retrieved 21 working tags in April 2023. We will deploy 30 of these tags in August 2023 and expect to retrieve 20-25 in April 2024. We anticipate that fewer birds will return to breed in 2024.
We have secured funding for field work and data analysis. Your donations will help us expand the scope and the sample size of our study.
Endorsed by
The most common seabird in Hawaii and we know so little about it! I have worked with Alyssa and she is a committed graduate student tackling the complicated process of converting light level measurements to a location in the ocean. I like that these tags are so small they fit on their legs and during the first year she didn't find any disturbance impacts on the chicks with tagged parents. Exciting to get another year of data. Wildlife, and the ocean, are so variable that one year can't tell the whole story.
Project Timeline
Logistical preparation (preparing tags for deployment, tag calibration) will occur in August 2023.
The tags will be deployed on WTSH August 2023 and retrieved from the same individuals upon their return to the breeding colony in April 2024. The tags will be actively recording data throughout this time period.
Migration data analysis occurs May-Sept 2024 with write-up and reporting expected in Oct 2024. An important step involves refining location estimates using statistical models.
Jul 13, 2023
Project Launched
Aug 29, 2023
Deploy 30 Geolocator Tags
May 29, 2024
Retrieve 20-25 Geolocator Tags
Oct 29, 2024
Report on Completed Data Analysis and Synthesis
Meet the Team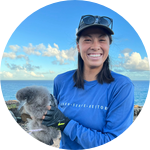 Alyssa Piauwasdy
Field Biologist, Graduate Student
Affiliates
Hawaiʻi Pacific University, Oikonos Ecosystem Knowledge
View Profile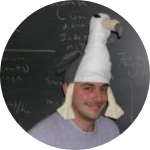 K. David Hyrenbach
Professor of Oceanography, HPU
Affiliates
Research Associate, Oikonos Ecosystem Knowledge
View Profile
Alyssa Piauwasdy
Alyssa is a Master's of Science in Marine Science (MSMS) graduate student in the pelagicos laboratory at HPU. She has eight years of seabird field research experience throughout the Pacific, with the past four years working with Wedge-tailed Shearwaters in Hawaiʻi.
Alyssa will lead the data collection, synthesis of results, and outreach efforts of the project.
K. David Hyrenbach
David Hyrenbach was born in Spain, earned a Ph.D. in Oceanography from the Scripps Institution in 2001, and moved to O'ahu in 2008.
David has been an Oikonos research associate since 2001, and is a professor of oceanography at Hawai'i Pacific University.
David's research examines how oceanographic variability shapes the distributions of marine vertebrates, and how habitat preferences influence the efficacy of spatially-explicit management strategies. He has pursued these questions by developing the conceptual foundation for pelagic marine protected areas (MPAs), assessing the overlap of seabirds with fisheries, and quantifying the habitats of far-ranging species.
Since coming to Hawaii, David has been using marine predators as biological indicators of plastic pollution in marine food webs. Students in the pelagicos lab work on a variety of research topics, involving the distribution, foraging ecology, diet, and plastic ingestion by seabirds in relation to oceanographic variability. More recently, the lab has been studying the diet and plastic ingestion by commercially-valuable predatory fishes, like skipjack tuna and mahi-mahi, and their prey.
Since 2009, the lab has been monitoring Wedge-tailed Shearwaters nesting at the Freeman Seabird Preserve in O'ahu (Hawai'i) and studying their attraction and grounding due to artificial lights. During the 2022 breeding season, we started tracking their winter migration across the North Pacific.
To learn more, check out:
Featured by Vice News - April 7, 2017
News piece on CNN - March 11, 2013
Additional Information
To learn about the El Niño Southern Oscillation (ENSO) and the current status of the Pacific Ocean, visit the NOAA diagnostics page.
Last year, we tracked the seasonal migration of 21 WTSH nesting at the Freeman Seabird Preserve, during a La Niña (cold-phase ENSO conditions), between November 2022 and April 2023. Data analysis is underway for these tags.
In June 2023, NOAA issued an "El Niño Advisory", because warm-phase ENSO conditions were present in the central Pacific Ocean, with a >90% chance that they will persist through February 2024 and a 56% chance of a strong El Niño event developing over the 2023-24 winter.
Now, we seek to collect additional tracking data to study WTSH winter distributions in a broader dynamic context, by comparing their movements during years of contrasting ENSO conditions: 2022-23 El Niño and 2023-24 La Niña.
References
Gagné, T., Hyrenbach. K.D., Hagemann, M., & Van Houtan, K. (2018). The trophic signature of pelagic ecosystems in seabirds. Science Advances, 4(2), eaao3946 DOI: 10.1126/sciadv.aao3946.
Hebshi, A.J., Duffy, D.C., & Hyrenbach, K.D. (2008). Associations between seabirds and subsurface predators around Oahu, Hawaii. Aquatic Biology, 4: 89-98.
Hyrenbach, D., Elliott, L., Cabrera, C., Dauterman, K., Gelman, J., & Siddiqui, A. (2020). Seabird Entanglement in Marine Debris and Fishing Gear in the Main Hawaiian Islands (2012-2020). 'Elepaio 80(6): 41-46.
Hyrenbach, K.D., & Piauwasdy, A. (2023). 2022 Shearwater Nesting at Freeman Seabird Preserve: 'Ua'u kani Enjoy Persistent La Niña Conditions 'Elepaio 83(2): 13-14.
Lyday, S.E., Ballance, L.T., Field, D.B., & Hyrenbach, K.D. (2015). Shearwaters as ecosystem indicators: Towards fishery-independent metrics of fish abundance in the California Current. Journal of Marine Systems, 146: 109–120.
---
Project Backers
2

Backers

5%

Funded

$200

Total Donations

$100.00

Average Donation