Project Results
Full results will be published in a peer-reviewed paper by 2020.
Kerri Slifka and Jan Raines
Poster
Kerri Slifka and Jan Raines
Poster
About This Project
Saddle-billed Storks are large, charismatic birds that are rare in captivity. The Dallas Zoo was the first zoo to successfully hatch a live chick and was then able to aid other zoos to have similar successes with their birds. Over the past five years, reproductive success has decreased dramatically throughout the SSP population. To rule out possible nutritional factors, this study has been initiated to evaluate the vitamin and mineral blood levels in the captive population.
Ask the Scientists
Join The Discussion
What is the context of this research?
The Dallas Zoo has had a long relationship with this species dating back many years. Beyond being the first zoo in the world to successfully hatch a live chick back in 1994, the studbook keeper for Saddle-billed Storks is based here at the Dallas Zoo, and we house three breeding pairs, more than many other zoos and aquariums. The fecundity of Saddle-billed Storks in captivity is dropping precipitously from previous hatching levels. From a high point of twenty living chicks from four institutions over two breeding seasons to only nine living chicks from three institutions in the most recent breeding season. Since there is still so little known about this species in captivity this project is attempting to rule out any nutritional basis for this decline.

What is the significance of this project?
Popular with the staff and the public, these storks stand up to 1.3 meters tall with a striking crimson, black and yellow bill. They create long standing pair bonds with intricate mating and nest building behaviors. Endangered in many parts of Africa, and very rare in captivity, this species is a beautiful reminder of the many wonders of the natural world. The conservation goal of all zoos and aquariums is to establish captive populations to help educate the public to inspire more global conservation efforts. The information acquired from this study will hopefully resolve the more recent loss of fecundity in Saddle-billed Storks and re-establish reproductive success in the population.
What are the goals of the project?
To have blood samples collected from all birds in the captive population and submitted for lab analysis.
Holding institutions will be requested to submit samples as soon as this project is funded. Ideally we hope to repeat sample collections six-months after initial submission to allow for any natural fluctuations, but only the initial collection is budgeted in this proposal. We have also created a survey to send to all the holding institutions to gather diet information, reproductive history, and any other pertinent husbandry information. With this information we will hopefully be able to determine if there are any nutritional deficient in these birds, allowing for appropriate dietary supplementation to be initiated. Repeat testing will be determined based on initial serology.
Budget
All North American Saddle-billed Stork holding institutions will be requested to collect blood samples for a Vitamin Profile (Vitamins A, E and Beta-carotene), a Primary Trace Nutrient Panel (Cobalt, Copper, Iron, Manganese, Molybdenum, Selenium, Zinc) and a Vitamin D Profile (PTH, Ionized Calcium, 25-hydroxyvitamin D). Currently there are 66 extant animals (34 males, 32 females) at 28 different institutions in the AZA Studbook population. This budget is based on a single sample collected from each animal at all institutions.
The components in these samples are sensitive to temperature fluctuations, so all samples must be frozen in an ultra-low freezer (-80 F) and shipped overnight on dry ice. In addition, the zoos that hold this species are located all over North America which affects costs.

Endorsed by
As the nutrition advisor for the Ciconiiformes and Phoenicopteriformes TAG, I fully support this project to assess the nutritional status of Saddle-billed Storks under human care. The information gained can help provide valuable clues to potential nutritional challenges that could be impacting the reproductive success of this species, which once determined, can be mitigated to improve the reproduction of this magnificent bird and help ensure the continuation of the population as a whole.
Meet the Team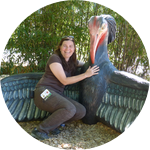 Jan Raines
Veterinarian-Dallas Zoo
Affiliates
Waldrapp Ibis SSP
View Profile
Team Bio
This project is a collaboration between the veterinary, nutrition, and avian department at the Dallas Zoo.
Jan Raines
A graduate of the LSU-School of Veterinary Medicine (Geaux Tigers!!) and of Tulane University (Roll Wave!).
I have been a practicing zoo veterinarian for 21 years, 14 of those at the Dallas Zoo. The entire veterinary team has been working closely with our Bird department with this species since 2006. I have been to multiple zoos in Europe that hold this bird and they truly love and adore this species.
Hopefully, this project will be funded and we will be well on our way to ruling out a cause!

Kerri Slifka
I have a BS in Animal Science from University of Illinois at Urbana and a MS in Human Nutrition and Dietetics from University of Illinois at Chicago.
I have been a zoo nutritionist for 22 years, the last 10 of those at the Dallas Zoo.
I have an active interest in nutrition of all species of zoo animals, but in particular carnivorous birds. They can be one of the greatest challenges meeting all their unique requirements.
I feel that our diets are very complete, but the best way to ensure that is to perform some nutritional analysis on the actual animals we are feeding. Hopefully this project will get full funding and answer some of the questions we have.

---
Project Backers
39

Backers

102%

Funded

$5,146

Total Donations

$119.13

Average Donation