About This Project
Hawai'i's coral reefs are home to nearly 500 fish species! The saddle wrasse is a common sight on these reefs. Like many generalist fish species, wrasses actually do better as coral reefs become degraded - but why? Through the use of behavioral indicators, I can ask wrasses targeted questions on how they perceive their reef homes: specifically trying to understand tradeoffs of food and safety as reef habitats degrade.
Ask the Scientists
Join The Discussion
What is the context of this research?
The world is a scary place when you are a small coral reef fish! You must balance the risks of predators, with the rewards of foraging for food. How does the fear of predation affect the decisions a fish makes? And more importantly, how does a fish's perception of risk change when a coral reef is degraded? I aim to answer these questions through the use of behavioral indicators. I will quantify the tradeoffs of food and safety through foraging experiments in the patch reefs of Kane'ohe Bay, Hawai'i. This project will allow me to make comparisons between reefs in good condition and those that are degraded.
What is the significance of this project?
Unfortunately, coral reefs are being threatened by humans through habitat degradation and intensive fishing. Fishes have long been suggested as indicators of coral reef quality. Traditionally, coral reef managers survey fish populations to assess the effects of habitat degradation. These assessments require a team of experts, and are costly in time and money. While we learned a great deal through these assessments, they are unfortunately a trailing indicator, indicating a problem once populations have already changed. With this in mind, coral reef managers can benefit from an assessment technique that is a leading indicator of reef health, signaling changes in behavior that occur prior shifts in fish communities. My research will quantify such shifts in behavior across reef habitats.
What are the goals of the project?
My goal this field season is to measure the risks and rewards of foraging saddle wrasse. Last summer, I successfully developed an artificial food patch that attracts saddle wrasse and allows me to quantify exactly how much they are willing to risk to obtain food. This summer, I will make comparisons between reef habitats that are healthy and those that are degraded. My research has three main goals: 1) Deploy food patches across reefs and measure foraging intensity of the saddle wrasse. 2) Quantify structure at each patch. 3) Record feeding and vigilance behavior at food patches using GoPro cameras.
Budget
The funds raised through experiment.com will allow me to conduct field experiments to answer the question: how does coral reef quality affect fish foraging behavior?
My research requires access to fairly remote reefs within Kane'ohe Bay by small boat ($10/hour rental from HIMB) and snorkeling. I use artificial food patches (krill burritos...YUM!) and video to quantify fish feeding behaviors across the reef. I will measure coral structure or rugosity with the HOBO Water Level Logger as a means to quantify refuge that wrasses use to hide from predators.
Any additional funding will allow me to pay my field assistants (they deserve it!) and will allow me to stay longer out in the field.
Meet the Team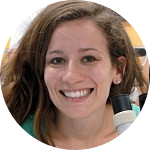 Margaret Malone
Graduate Student
Affiliates
University of Illinois at Chicago, Field Museum of Natural History
View Profile
Margaret Malone
I am a lifelong fish fanatic and Ph.D. student studying the ecology and evolution of fishes. I am especially interested in fish morphology, biomechanics, and behavior associated with feeding. Most of the year I work with preserved fishes in the collection at the Field Museum of Natural History, but during the summer I can see my fish in action on the reefs of Hawai'i.
---
Project Backers
133

Backers

120%

Funded

$3,806

Total Donations

$26.74

Average Donation