About This Project
Grevy's zebra are one of Africa's most threatened large mammals. My project focuses on the largest extant Grevy's populations in Kenya, where animals face increasing environmental stress. The project goals are to understand how genetic diversity and environmental stress combine to affect disease risk. Results will inform efforts of Kenyan wildlife officials to mitigate the risk of disease, which they have identified as a major threat to the species' survival.
Ask the Scientists
Join The Discussion
What is the context of this research?
Since the 1980s, Grevy's zebra populations have declined by as much as 68%. Such dramatic population declines often result in significant loss of genetic diversity, which in turn is frequently linked to increased risk of disease. At the same time, Grevy's inhabit an environment characterized by rapid habitat loss and degradation. We know that environmental stress disproportionately affects species with low genetic diversity. In fact, studies have shown that low genetic diversity and environmental stress can act synergistically to reduce time to extinction by up to 28%. This project will test whether the loss of genetic diversity in Grevy's zebra, in combination with high levels of environmental stress, may put them at increased risk for disease.
What is the significance of this project?
The Grevy's zebra is in serious danger of extinction in the wild. The Kenya Wildlife Service has listed disease as a primary threat, yet we have very little information to inform disease mitigation efforts. Our data show that Grevy's living in environments with more human disturbance have greater parasite burdens (specifically, two types of gastrointestinal parasites – strongyle nematodes and lungworms) than those in officially protected areas, but these areas cover less than 0.5% of the species' range in Kenya. Additionally, we do not have information on how past population declines have impacted levels of genetic diversity. We have been working in collaboration with Kenyan wildlife officials since 2012 and will use our results to understand how disease risks can be mitigated.

What are the goals of the project?
The goal for this project is to establish information on genetic diversity for 500 unique Grevy's zebra using fecal samples collected non-invasively across the Kenyan Grevy's zebra range. Samples were taken from areas with high levels of environmental stress and from protected areas in 2014 and 2015. We have established that we can obtain high quality DNA from these samples. We will use microsatellite molecular markers amplified via polymerase chain reaction (PCR) to obtain genetic information for each individual. This will provide us with data to understand: 1) if genetic diversity impacts disease risk in Grevy's zebra and 2) how environmental context impacts the relationship between genetic diversity and disease risk.

Budget
We have collected fecal samples from over 500 individual Grevy's zebra in Kenya and established parasite levels for each of these animals. We now want to use DNA extracted from feces to determine genetic diversity levels for each zebra. DNA has been extracted from 300 samples and we have begun genetic analysis.
Your contribution will enable us to extract DNA from the remaining 200 samples and contribute to establishing genetic diversity levels for all individuals.
Understanding how genetics and environmental stress combine to impact parasite infection levels in Grevy's zebra will not only help us understand how disease may threaten Grevy's populations, but will shed light on these factors in other at risk species of wildlife.
Contributors giving $100 or more receive a special piece of Samburu beadwork! (Beadwork sales also support the Samburu Youth Education Fund http://samburuyouth.org)
Endorsed by
This project has excellent potential to show how changes in human land use directly affect how animals interact with one another, and how this influences disease risk in a population. In this case, working with Grevy's zebra populations, the results of this study will influence how Kenyan wildlife officials manage and sustain these animals. Sara is an outstanding scientist with a diverse training ranging from molecular biology to field biology.
Meet the Team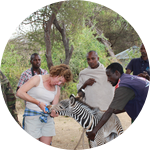 Sara Elizabeth Heisel
PhD Candidate
Affiliates
University of Georgia, Odum School of Ecology & Integrative Conservation
View Profile
Sara Elizabeth Heisel
I'm a PhD candidate in Ecology and Integrative Conservation at the University of Georgia. Since 2012, I have spent over a year and a half traveling around remote regions of Kenya collecting the fecal samples to conduct this work. Applying the results of my research to real-world conservation issues is my primary objective. To help do this, I have and continue to collaborate with government and local conservation organizations in Kenya who are working daily with Grevy's zebra to help this species persist.
I'll finish my PhD in 2017 and am eager to continue working with molecular tools to address wildlife conservation issues. In 2015 I was asked to join the IUCN Equid Specialist Committee and hope to contribute information on genetics and physiology to Grevy's zebra conservation through this membership.
Additional Information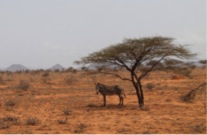 Grevy's zebra in an environment with limited forage and water.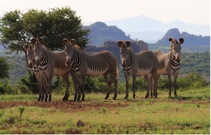 Grevy's zebra found in an area that has more forage and water available.
Differences in environmental stress imposed by these two environments could influence disease susceptibility. Due to the diversity of habitats Grevy's zebra live in within Kenya, we sampled at 11 sites throughout their range (and across wet and dry seasons). I will pair environmental data with genetic data for each animal to see how genetic and environmental factors combine to impact health and disease.

---
Project Backers
25

Backers

21%

Funded

$1,240

Total Donations

$49.60

Average Donation