About This Project
The overarching goal of this experiment is to determine the carbon dioxide (CO2) concentration needed to cause movement of Faxonius rusticus and Procambarus clarkii away from the source. Time of exposure will also be evaluated, and depending on their size, some crayfish may need to be exposed to the CO2 longer than others in order to see an affect. This method may be further tested as a way to remove invasive species from small bodies of water without harming the crayfish.
Ask the Scientists
Join The Discussion
What is the context of this research?
Invasive crayfish like Faxonius rusticus and Procambarus clarkia have begun to displace and reduce the native populations of crayfish, reduce game fish populations, and their feeding habits reduce available habitats for amphibians. The growing rate at which these invasive species are spreading is troubling. Due to their invasive nature, F. rusticus and P. clarkia and thus negative effects on the environment, it is important to find was to control their abundance. Using CO2 to encourgae invasive crayfish to move to one area of a pond will allow their efficient removal and allow natives to be transplanted. If CO2 is too high the crayfish may lose consciousnous and thus not move to a site where they could be trapped and removed.
What is the significance of this project?
Faxonius rusticus and Procambarus clarkii are both considered to be invasive species. In the past, a variety of techniques have been used to help reduce the population of invasive crayfish. A new method of removal has been introduced that utilizes CO2. However, this method has only previously been tested on fish. This method has been used in small bodies of water in order to relocate the invasive crayfish to one localized point. From there, they can be trapped, removed and relocated elsewhere. However, due to this technique being relatively new and understudied, the exact amount of CO2 that is required to cause movement in the crayfish is undetermined. We also know little about the effect of crayfish size on their response to CO2.
What are the goals of the project?
The overarching goal of this experiment is to determine the CO2 concentration needed to cause movement of Faxonius rusticus and Procambarus clarkii away from CO2. The level of CO2 must be adequate enough to cause movement, however, it must not be elevated to the point where is causes the crayfish to lose consciousness or result in death. Time of exposure and crayfish size will also be evaluated, seeing as, depending on their size, some crayfish may need to be exposed to the CO2 longer than others in order to see an affect.
Budget
I intend to purchase an Orion meter and dissolved CO2 probe to measure the CO2 levels. The dissolved CO2 meter, will allow me to quickly measure CO2 levels that encouraged the crayfish to move, by measuring the levels at the CO2 source and each 10cm away from the source. Without the meter, I would simply measure an estimated concentration using a titration method at the crayfish location.
Also, my advisor for this project has kindly donated his stipend of $500 for the project. This $500 in addition to the $2,000 I am raising will help to cover the full amount of the probe and meter.
Endorsed by
Emily has created several biological undergraduate research experiences to understand animal behavior - with this project focusing on invasive species of crayfish with Dr. Bill Bromer. This project is exciting because it is trying to understand how differences in CO2 concentrations impact crayfish behavior, and results could impact future management of invasive crayfish in Northern Illinois waterways.
Project Timeline
Supplies and materials will be ordered during the month of June. Testing trials will run through the whole month of June and July 2019, and data analysis will begin the first week of August.
May 23, 2019
Project Launched
May 31, 2019
Begin to assemble holding tanks for crayfish along with testing tanks.
Jun 01, 2019
Being running testing trials.
Jul 01, 2019
Continue running trials.
Jul 27, 2019
Begin to compile and analyze collected data.
Meet the Team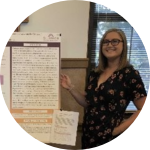 Emily Siegler
Junior Biology Major
Affiliates
University of St. Francis
View Profile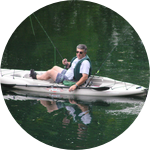 William Bromer
Professor of Biology and Environmental Science
Affiliates
University of St. Francis, Joliet, IL
View Profile
Emily Siegler
Hi there! I'm Emily Siegler, I am currently a Junior at the University of St. Francis majoring in Biology and minoring in Chemistry. I am very involved in research here at my university. This current project is the second independent research project that I have done. The project I conducted was "Competition and Population Dynamics in the Kleptoparasitic Spider Argyrodes elevatus in the webs of Nephila clavipes". Since that project, I have fallen head over heals in love with research. It truly is a passion and a hobby of mine and it is something that I hope to pursue as a career once I am finished with my degree.
William Bromer
Dr. Bromer has been working with undergraduate research scientists for 30 years and has been studying the effects of invasive crayfish for 12 years. In 2007, a student wanted to study crayfish so we learned to identify the local crayfish from Chris Taylor at the Illinois Natural History Survey and Mike Redmer from the USFWS. Since then, we have been documenting the effects and distribution of Rusty Crayfish (Faxonius rusticus - previously Orconectes rusticus) in a dozen streams around Joliet, Il. Students have studied the effects of Rusty Crayfish on the macroinvetebrates, mating behavior and potential hybridization between native and Rusty crayfish, measured basal metabolic rates of native and Rusty crayfish, and the effect of substrate on crayfish distrbution among other studies.
This is the first project where the effects and effectiveness of possible control measures will be studied and I am really excited to take this next step with Emily because I am sure it will lead to more projects in the future.
---
Project Backers
9

Backers

20%

Funded

$392

Total Donations

$43.56

Average Donation