About This Project
I am studying Ichthyosaurus specimens from the British Lower Jurassic. Historically, many ichthyosaur specimens from the UK were sold, traded and donated to various institutions in North America, and they have largely been missed by researchers who were unaware they existed. I intend to visit such institutions and study these specimens for the first time. In order to complete my studies on Ichthyosaurus I must examine these specimens in detail. Some likely represent new species.
Ask the Scientists
Join The Discussion
What is the context of this research?
Ichthyosaurus was named in 1821 and was the first extinct marine reptile scientifically recognised. I have been studying and have written about Ichthyosaurus for several years.
Thousands of ichthyosaur fossils are stored in UK museums and range from isolated bones to complete specimens. Many have been examined and re-examined, but some have remained off the radar to researchers. For example, I rediscovered a specimen that was mistaken for a replica and which I subsequently identified as a new species in 2015 (see here: http://www.bbc.co.uk/news/science-environment-31521719). The species was named I. anningae. An unexpected find- "I mean, who would expect to find a new species of ichthyosaur from Charmouth, Dorset, in a small museum in South Yorkshire? I definitely did not."
What is the significance of this project?
Despite it being almost a century since the description of Ichthyosaurus specimens in North America have largely escaped study. Furthermore, the science has evolved so much that we now have a far greater understanding of ichthyosaur phylogenetics (how species relate to each other) and morphology (study of bones).
This project will enable me to complete my ongoing study revising the genus, something that has been required for a very long time. Some specimens have been examined by a colleague but in order to critically evaluate them we must examine and assess eachothers findings together – like good scientists should! I like to think that the discovery of I. anningae in 2015 epitomises this project.
What are the goals of the project?
The primary goal of this research project is to rescue (from obscurity) important specimens of Ichthyosaurus in North American institutions so they can be studied by researchers. By examining these specimens in person, and not through photographs, it will enable a thorough assessment of each individual. Having seen photographs of specimens it appears some are likely new species.
This study will first enable identification of scientifically important Ichthyosaurus specimens from the UK in North American institutions as well as the identification of potential new species. It will also enable the recognition of specimens of existing species and provide new morphological details on those species. Finally, it will allow for the examined specimens to be included as part of new scientific papers.
Budget
Travel expenses. From Manchester, UK to NY, USA. Starting in NY and travelling to the following institutions (in no particular order) :
American Museum of Natural History, New York, USA; Carnegie Museum, Pittsburgh, USA; Academy of Natural Sciences, Philadelphia, USA; The Harvard Museum of Natural History, Massachusetts, USA; Peabody Museum of Natural History, Connecticut, USA; Royal Ontario Museum, Ontario, Canada.
The project will take place during summer 2016 (July/August).
The above amount will by no means cover the entire project costs, but are instead to assist specifically with airfare and accommodation costs. I am a freelance palaeontologist and so do not have external funding for my research which is almost exclusively self-funded (see here for more details about my research: http://www.deanrlomax.co.uk/Research-profile.html). In order to cover additional travel and subsistence costs I shall be paying out of my own funds.
Endorsed by
This timely and important project will bring many largely unknown fossils to the attention of the palaeontological community. Among these historical specimens there will undoubtedly be some interesting information that will help to resolve current taxonomic issues with the genus. Dean Lomax (having studied literally thousands of Ichthyosaurus fossils in the last few years) is the person best placed to critically evaluate the specimens with the latest data available. He & Judy Massare have an impressive track record of publishing their research.
Meet the Team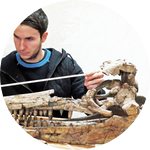 Dean R. Lomax
Palaeontologist & Science Communicator
Affiliates
The University of Manchester
View Profile
Team Bio
I have been collaborating with Prof. Judy Massare (SUNY Brockport College, NY, USA) for about 6 years now. Together, we have written 5 papers (on ichthyosaurs!) with several more to come. Prof. Massare is a world renowned marine reptile expert, having been the first person to discuss tooth morphology and prey preference of Mesozoic marine reptiles - a ground-breaking study published in 1987.
Dean R. Lomax
Hey, thanks for checking out my bio! I have been working in palaeontology for some 8+ years and during that time I've been very privileged to travel around the world and work on many fascinating projects from excavating dinosaurs in the American West to discovering new species of extinct marine reptiles in the UK.
I work as a freelance palaeontologist but am affiliated with the University of Manchester as an Honorary Visiting Scientist. I'm very passionate about science communication and actively engage with traditional and social media. I've written two books, numerous scientific papers and many popular articles and regularly appear on television, most recently as series advisor and recurring on-screen expert presenter for a TV documentary called Dinosaur Britain (a two-part series based in-part on my book, Dinosaurs of the British Isles). I am also the patron of the UK Amateur Fossil Hunters organisation.
For more, please visit my website: www.deanrlomax.co.uk.

---
Project Backers
12

Backers

16%

Funded

$414

Total Donations

$34.50

Average Donation