About This Project
Spotted seatrout (Cynoscion nebulosus) is the most popular recreational species along the coast of Mississippi. Although we have a general understanding about the prey species spotted seatrout eat, stomach contents of fish collected during the day are often too digested to identify beyond broad categories like fish or shrimp. We will sample spotted seatrout from the late evening to early morning, a time believed to be their most active feeding period.
Ask the Scientists
Join The Discussion
What is the context of this research?
Stomach contents of predatory fish can provide a basic, yet effective, way to connect species within local food webs. Understanding such predator-prey relationships is particularly important for species, like spotted seatrout, that establish localized resident populations and feed on economically important species. Although spotted seatrout in Mississippi waters are considered generalist predators that experience seasonal changes in diet (Overstreet and Heard 1982), details of such changes are lacking. Furthermore, changes in foraging patterns during prolonged spawning seasons remain unknown. This study will allow us to examine the importance of seasonally-abundant prey species to spotted seatrout diet in Mississippi coastal waters.
What is the significance of this project?
As management agencies move towards holistic approaches that incorporate natural and human impacts, characterizing the interactions among species becomes increasingly important. Detailing the predator-prey relationships of economically important fish, like spotted seatrout, are particularly useful because they often feed on prey species that also experience human-related fishing pressure. Our study is designed to fill knowledge gaps that will provide a better understanding of the ecological role of spotted seatrout in Mississippi's coastal waters. Such information can be used to help identify how natural and human-induced changes to the environment will affect spotted seatrout and their prey.
What are the goals of the project?
The main goal of this study is to describe the diet of spotted seatrout as it relates to fish size, maturation state, time of day, and sampling season. We will perform monthly sampling at a minimum of four fixed stations throughout the Mississippi coastal region. This sampling design will compliment an ongoing survey that provides additional stomach samples taken during the daytime. By extending our sampling efforts between dusk and dawn, we can estimate the average amount of food consumed by a spotted seatrout over a 24-hour period. Diet data will be paired with estimates from current spotted seatrout stock assessments to derive a population level consumption estimate for consumed prey groups (e.g. shrimp, crabs, and fish) that are also commercially and recreationally harvested.
Budget
To achieve the goals of this project, we will be performing monthly sampling at a minimum of four stations throughout the Mississippi coastal region. The boat use fee is $250 per trip (12 total trips) and truck usage fees will be approximately $50 per trip. If we meet our project goal of $3600, any additional funds will be used for the purchase of a new sampling gill net that will be dedicated to this project. The money raised through Experiment.com will provide funding for approximately one year of field sampling.
Endorsed by
My colleagues Chris Butler and Justin Lewis are proposing a project to address a critical need for quantitative information on nighttime diet of spotted seatrout, a species that supports valuable commercial and recreational fisheries in coastal Mississippi. This study will provide a clearer understanding of the ecological role of this species in local estuaries and enable development of consumption estimates for consumed prey groups that support important local fisheries.
Meet the Team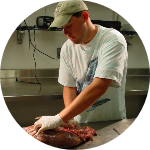 Christopher Butler
Fisheries Research Associate
Affiliates
Center for Fisheries Research and Development, Gulf Coast Research Laboratory, The University of Southern Mississippi
View Profile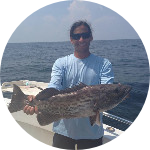 Justin Lewis
Fisheries Research Technician
Affiliates
Center for Fisheries Research and Development, Gulf Coast Research Laboratory, The University of Southern Mississippi
View Profile
Christopher Butler
I received my Master's Degree from North Carolina State University in 2007 under the guidance of Dr. Jeff Buckel. My Master's research focused on the winter feeding ecology and predatory impact of Atlantic bluefin tuna (Thunnus thynnus) in North Carolina waters. After working for two years as an aquatic veterinary technician with North Carolina State University's College of Veterinary Medicine, I began my career as a fisheries biologist in 2009 at The University of Southern Mississippi's Gulf Coast Research Laboratory. I am interested in how environmental and biological variables influence the foraging habits of piscivorous fish. Although my work has focused mainly on pelagic species, I am currently working on several projects that examine the feeding ecology of coastal piscivores in the Mississippi Sound.

Justin Lewis
I recently joined the Center of Fisheries Research and Development (CFRD) as a fisheries technician and am also finishing a Master's Degree at the University of South Alabama. My thesis focuses on the use of natural chemical tags to study connectivity of coastal sharks and demonstrates one can use natural tags to accurately infer natal origin. As a member of CFRD, I am involved in a number of surveys that monitor the status of local fish populations. I am also pursuing more focused projects that will provide detailed life history information for local fish species.
Additional Information
This project is in compliance with the University of Southern Mississippi's Institute of Animal Care and Usage Committee (USM IACUC protocol #15101509).

---
Project Backers
129

Backers

105%

Funded

$3,795

Total Donations

$27.48

Average Donation