About This Project
Peoples' use of technology is an integral part of how they communicate and relate to the world. Online counselling therapy brings with it many distinct advantages, but also challenges. The accessibility and affordability it introduces to individuals living in poverty can be applied and create significant benefits for those participating. My goal is to determine if online counselling therapy is equally effective for individuals living in poverty, as traditional face to face sessions.
Ask the Scientists
Join The Discussion
What is the context of this research?
The cost of professional Counselling Therapy can become a barrier for those living in poverty, experiencing mobility challenges, or trying to overcome the stigma associated with seeking mental health support.
In today's technological society a person's entire life can be managed on their mobile devices, so why not their mental health? If online mental health services proves to be just as effective as face to face sessions, barriers to treatment, such as stigma, affordability, and accessibility for those suffering from mental health problems can be overcome by developing and implementing free online counselling.
What is the significance of this project?
According to the Government of New Brunswick, one in 10 New Brunswickers seek mental health services each year. This relates to over 28,200 individuals annually, who report symptoms consistent with mental health problems, and does not account for those challenged by stigma and feel that they cannot talk about it. Normalizing and providing access to mental health treatment is the best way to reduce the prevalence of mental health conditions. By creating an effective, accessible alternative to in-person counselling therapy, the quality of life of the individual can be increased at no cost to them and without the stigma associated with traditional therapy sessions.
What are the goals of the project?
The goal of this project is to implement a free online counselling program for managing mental health problems (mhp).
This pilot will be overseen by myself, a Licensed Counselling Therapist, I will be collecting mental health related and demographic variables at the baseline. I will also use regression analyses to investigate household income as a predictor of mhp, and examine the online counselling effectiveness by comparing mhp change across three household income categories across three time-points: baseline, 6 month mark, 12 month mark.
The pilot will be offered to individuals ages 16 and up, using three types of therapies, CBT, Dialectal,and Mindfulness therapies.
Budget
The proposed budget is intended to cover the costs necessary to establish the online platform. Most importantly, the online platform will be a reliable platform and have guaranteed security. This platform will be compliant with PIPEDA and PHIPA, along with secure video, instant messaging, and file sharing on any device. In order to do a complete thorough research, I will need access to peer reviewed journals and create templates for participants and partners.
As I am a Licensed Counselling Therapist, I am assuming a minimum of 20 hours spent weekly, this includes a significant subsidy of services to help make this service free, a salary of $3,000 enables me to focus on this pilot.
Any additional funds will be used to incorporate more organizations and a wider range of participants accessing the service.
Endorsed by
I am really excited for this project. Kayla has all the qualifications to excel at this much needed service. New Brunswick will be better equipped to manage mental health to all demographics.
Project Timeline
May 21, 2018
Project Launched
Jun 01, 2018
Begin Search for platform
Aug 24, 2018
Complete Partnership Agreement with Non Profit Organizations 
Aug 29, 2018
Confirm platform functionality
Sep 03, 2018
Launch Online Community Counselling Program
Meet the Team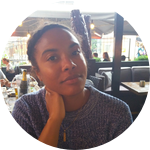 Kayla Breelove Carter
Licensed Counselling Therapist
Affiliates
The College of Counselling Therapists of New Brunswick | Canadian Counselling and Psychotherapist Association
View Profile
Kayla Breelove Carter
Hello! I am a Licensed Counselling Therapist, and have been practicing counselling therapy since 2012. I am from Moncton, NB.
I began working with non profit organizations in my community since 2010, but also volunteered my time from 2007 in other communities, during my undergrad at St. Mary's University, Halifax, NS. I've always had a passion for psychology, which brought me to complete my Master's in Counselling Psychology at Yorkville University. With a passion for Trauma, PTSD, and IPV, it became clear to me that many of the individuals I hoped to assist through mental health, lived in poverty and could not afford counselling therapy or had transportation barriers. Having had the opportunity to work within the non profit world, it was helpful to gain a better understanding of the barriers face by individuals living in poverty, but also the difficulties in the lack of skills by frontline workers.
Creating resources for frontline workers to better support those in need, along with providing affordable and accessible counselling has been my goal, with technology becoming more accessible to those who may otherwise not have access to conventional services, this really became an opportunity to spread my resources to reach as many individuals as I could.
I am fortunate enough to have a supportive network, which allows me to give so much back to my community. I want to be able to give back in a meaningful way, there is a significant need for mental health services anywhere, so why not give back using the expert skills i've acquired throughout my academic lifetime and careers in government, non profit, and private. I would love the opportunity to provide an alternative to face to face counselling therapy, and to reach individuals throughout my province, rather than, those who can travel to the office and/or pay for the service.
Additional Information
Counselling Therapy is a professional activity that utilizes an interpersonal relationship to enable people to develop self-understanding and to make changes in their lives. Since June, 2017, the New Brunswick government has amended the Licensed Counselling Therapy Act, creating a regulatory body, the College of Counselling Therapist of New Brunswick; that is responsible for regulating the practice of Counselling Therapists by ensuring ethical services that will protect the public we serve. Counselling Therapist can cost between $50 to upwards of $150 per hour for face to face sessions.
---
Project Backers
4

Backers

5%

Funded

$234

Total Donations

$58.50

Average Donation