About This Project
Enhanced weathering is a scalable strategy for sequestering atmospheric CO2 and increasing crop productivity and can play a major role in addressing two interleaved existential challenges: global temperature increase and food supply instability. This project uses an AI-based protein design method to develop silicases, enzymes that are rare in nature, that can be secreted by food crop plant roots to accelerate the weathering process and augment CO2 sequestration and crop productivity enhancement.
Ask the Scientists
Join The Discussion
What is the context of this research?
Reports of the catalytic activity of silicases, Si-O bond-breaking enzymes, are rare and in most cases present results that have not been independently reproduced. Motivated by silicases' potential to accelerate enhanced weathering (EW) operations, which can scale up to help mitigate atmospheric temperature rise and stabilize the global food supply chain, in this project we will verify and/or refute reports that describe bacterial enzymes with silicase activity and use these study results to guide our use of a generative AI-based protein design method in creating fast-acting silicases that can be highly secreted from the roots of food crops and play a key role in widespread manifestation of CO2-sequestering, high-productivity agriculture enabled by EW.
What is the significance of this project?
Field trial results indicate that implementing enhanced weathering (EW) across the United States' 150-million square miles of cropland could lead to sequestration of up to 5 percent of domestic CO2 emissions and add more than $20 billion/yr to total US food crop output value by increasing cropland yields. Elevating silicases from their present status as ambiguously described enzymes to well-characterized biocatalysts that can be highly secreted from plant roots to accelerate the breakdown, which leads to CO2 capture and higher crop productivity but can take years to complete, of rock powder fertilizers can bring reality to the vision of nearly every acre of US (and world) cropland being fertilized with rock powder and seeded with silicase-expressing crop plants.
What are the goals of the project?
Goals for this one-year project, which will enable us to procure resources for follow-on collaboration with the UW-Madison Crop Innovation Center that focuses on expressing novel silicases in food crop plants, are: (1) Express and assay bacterial enzymes reported to possess silicase activity to identify gene sequences for use in generative AI-based design of a synthetic silicase library (2) Perform high-throughput screening and next generation sequencing (NGS) on a sample of this library, and (3) Apply machine learning to NGS data to predict sequences of the most active silicase library members, validate the properties of these silicases, and choose lead silicase genes for follow-on expression in plants.
Budget
The detailed budget for this project is provided in the Solution Statement that has been uploaded for Homeworld reviewers.
Project Timeline
Our anticipated completion date for this one-year project is February of 2025.
Feb 01, 2024
Initiation of Project
Meet the Team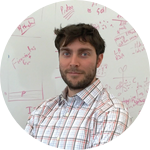 Philip Romero
Assistant Professor
Affiliates
University of Wisconsin-Madison
View Profile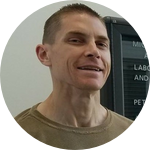 Pete Heinzelman
Associate Scientist
Affiliates
University of Wisconsin-Madison Department of Biochemistry
View Profile
Team Bio
Our group is a leader in developing protein design and protein assay data modeling methods and our lab bench expertise enables maximal leveraging of these in silico avenues for rapid protein property optimization. This project's 'team within a team', i.e., Dr. Heinzelman and I, has a track record spanning time here at UW and the lab of Nobel Laureate Frances Arnold at Caltech: five publications with two more in preparation, a US patent filing, and several awarded grant submissions.
Philip Romero
I'm an Assistant Professor in the Departments of Biochemistry and Chemical & Biological Engineering at UW-Madison. My graduate studies were conducted in Nobel Laureate Frances Arnold's lab at Caltech with subsequent postdoctoral research in the lab of microfluidics-based protein engineering expert Adam Abate at UCSF. The Damon Runyon-Rachleff Innovation Award, Greater Milwaukee Foundation Shaw Scientist Award, and the Wisconsin Alumni Research Foundation (WARF) Innovation Award have been granted in recognition of my prior research efforts.
Our lab focuses on machine learning-driven enzyme engineering and has numerous publications and ongoing projects in the arena of bioenergy and environmental sustainability. This Homeworld Collective silicase development project fits well with the sustainability theme and I'm enthusiastic about potentially being privileged with the resources that will allow us to pursue and achieve the project goals.
Pete Heinzelman
Two formative elements of my grade school years were viewing the dystopian film Soylent Green and seeing a family friend's life slowly taken away by Alzheimer's Disease (AD). Pursuing a Chemical Engineering degree here at UW-Madison opened doors for me to go hard after what I chose as my top priority as a professional and person; developing biotechnological solutions to challenges in planetary well-being and aging medicine. This opportunity was furthered by protein engineering PhD studies at MIT and postdoctoral scholarship in the birthplace of protein directed evolution, the lab of Nobel Laureate Frances Arnold at Caltech.
These and subsequent experiences as a University professor, industrial biopharma scientist, and senior academic researcher have and continue to provide opportunities to pursue avenues for solving problems in climate welfare and AD while looking back at the associated outputs, i.e., six US patents and fifteen first author publications, provides perpetual motivation. Reflecting upon the postdoctoral experience that led to four cellulase enzyme-related papers, four US patents, and commercial licensing of cellulases that I'd developed is particularly inspiring. Although cellulosic biomass-to-fuel conversion did not ultimately realize its great potential, seeing proteins I'd created advance to industry energizes me by showing that well-framed big picture thinking and persistence in the lab can put a researcher on the cusp of having an impact in the real world. This silicase project similarly motivates by presenting another opportunity to hit a technology home run for our planet's welfare.
Every night I ask what are the biggest things I can do to keep projects with which I'm involved moving forward tomorrow. Then the alarm goes off and I do them. I'll put this fire to work to provide Homeworld Collective with fulfilling returns on their support of our silicase engineering effort and appreciate your consideration of our funding request.
---
Project Backers
0

Backers

0%

Funded

$0

Total Donations

$0

Average Donation