About This Project
The Sun Conure, Aratinga solstitialis, is vanishing. Wildlife trafficking has nearly eliminated this beautiful bird from Guyana. We will construct a breeding facility and identify captive birds in the pet trade that are descended from birds captured in Guyana to serve as founders for a reintroduction program. We will prepare the foundation of a scientifically sound, tourism compatible conservation breed and release program for this iconic species.
Ask the Scientists
Join The Discussion
What is the context of this research?
This effort is connected with the Smithsonian-led Red Siskin Initiative; a model conservation program that is working to understand, protect and reintroduce another highly endangered bird in the region. For both efforts, we also aim to generate eco-tourism benefits and provide conservation training for local Amerindian communities.

Sun Conures, called Sun Parakeets in the scientific literature, are in deep trouble. They are endangered and declining (IUCN, 2014). We know that parrot research, combined with tourism, funds itself and can pay local people (Brightsmith, Stronza, & Hollec, 2008). We also know that birds raised by people and released at a tourism lodge live for many years under the protective watch of local tourism guides and researchers (Brightsmith et al, 2005).
What is the significance of this project?
This project would produce valuable population genetics data that serves an important purpose: Save a critically endangered species and help support the local people who share the habitat with animals. Furthermore, we will integrate with efforts to promote local conservation governance and strengthen community pride in the rich natural heritage.

The chance that Sun Conures in Guyana will recover on their own is small. The aim of this project is to have a genetically responsible breed and release population in place before international trade in Sun Conures is shut down by a future CITES I listing, which would inhibit our conservation efforts.

What are the goals of the project?
The primary question is what birds alive today carry the special genes that helped sun conures survive in central Guyana?

We aim to find out what the original Guyana Sun Conures were like, genetically, and, which pet trade birds are derived from Guyana. We will also create a facility in Guyana for conservation breeding of captive lines originating from that country.

We need to determine genetic differences that distinguish Guyana conures from related species and populations. We will do this by sequencing DNA from museum specimens of known origin. We will then determine which captive lines carry the right genes to produce the right babies to send to the breeding program in Guyana. We will create a reference genome for informed genetic management.

Budget
We are raising funding to cover supplies for genetic testing and to build a breeding facility in Guyana. Each block of $5,000 will cover the cost of a key step towards achieving our ultimate goal of Sun Conure recovery through reintroduction.
Our experts already know how to breed and release Sun Conures, but we don't yet know which captive birds come from Guyana. Some birds may even be hybrids. We only want to release birds that originate from Guyana because they will have the best chance for successful reintroduction and integration with wild populations.
Using a genome scale sequencing approach, we will identify which captive lines of Sun Conures are derived from Guyana in order to establish a genetically appropriate founder population for conservation breeding. These genomic resources will also be used to create molecular tools for optimal management and monitoring of captive, wild and released populations.

Any additional funds will help the program go farther, faster.
Endorsed by
I am really excited to see this project get underway. This is a great team for initiating this project.
Meet the Team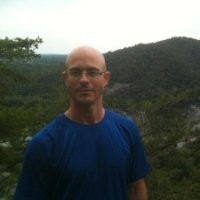 Brian Coyle
Project Coordinator and Post Doctoral Researcher
Affiliates
Smithsonian Institution
View Profile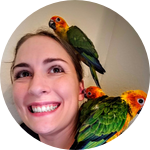 Constance Woodman
National Science Foundation IGERT, Vice President Bird Recovery International
Affiliates
Texas A&M University, Bird Recovery International (501 c 3 non -profit)
View Profile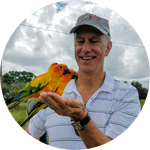 Michael Braun
Research Scientist and Adjunct Professor
Affiliates
Smithsonian Institution and University of Maryland
View Profile
Team Bio
This team formed through discussion of rare bird breeding at SCBI, and then met in Dripping Springs, TX, to examine sun conure wild behavior development at Hill Country Aviaries by Bird Recovery International.
Led by Dr. Michael Braun, the team has extensive expertise in molecular genetics, ornithological field research focused in Guyana, avian conservation, captive breeding and creating wild behaviors in captive raised parrots.
Brian Coyle
My fascination with the natural world started early, through many wilderness excursions with my father and brother in New Jersey. We did lots of camping in the mid-Atlantic before I left home to visit wonderful natural areas around the world as I became involved in research. All along my sense of responsibility about protecting the environment has grown stronger. That is why I have dedicated myself to biodiversity conservation research and education.
I received my PhD in sensory and behavioral ecology from the University of Maryland. I have been involved with ecological and genetic research on several endangered and iconic bird species. Currently, I work at the Smithsonian Institution as project coordinator and researcher for the Red Siskin Initiative, an international team that is working to recover the iconic Red Siskin in Venezuela and Guyana. I also work with the Smithsonian Earth Optimism program to highlight conservation success stories and motivate more support and engagement globally. Finally, I am very active in outreach and education to the public, with students and any other audience where I can have an impact.
The Sun Conure, like the Red Siskin, is an uncommonly beautiful and iconic bird. These ambassador or flagship species garner extraordinary concern and attention. We leverage this special interest to bring attention to other species, habitats and important issues on a regional scale. Saving one species is important, but the Sun Conure also provides an opportunity to maximize our resources and effort for the broadest possible impact for birds, ecosystems and people.
Constance Woodman
I'm currently a National Science Foundation IGERT Trainee in trans-boundary conservation, working with the Tambopata Macaw Project in Peru. (Here's a photo of a wild macaw hanging out at the rainforest research station.)

Having worked as both a conservation breeder for bird breed and release, as well as a licensed wildlife rehabillitator, I've spent a lot of time, hands on, preparing animals to live wild.

I currently using new technology ("robo spy eggs") to record the unknown, intimate life habits of wild macaws in primary rainforest. This work is done in partnership with volunteer tourism, where people pay a fee to get trained and work with parrot nests in the rainforest instead of a regular vacation. I can help bring this sort of self-funding research tourism practice to the Red Siskin Initiative.

State-side, I work with several partners (The Schubot Exotic Bird Health Center, Bird Recovery International, and Hill Country Aviaries) to develop methods that create wild bird behavior in hand raised parrots. That's where the video comes from! The parrots in the video fly outside.

I have a masters degree in public Environmental Education from Huxley College of the Environment where I studied how experiences with live animals help shape how people learn.
Michael Braun
Mike grew up in Houston enthralled by the natural wonders of the Texas Gulf Coast and Hill Country. He began birding in high school, and roamed Texas and Mexico with family and friends of the birding community. His love of nature led him to study science as an undergraduate at Cornell University, and to pursue a doctorate on the evolutionary genetics of birds at Louisiana State University. After postdoctoral studies at the National Cancer Institute and a year on the faculty of the University of Cincinnati, Mike moved to the Smithsonian Institution where he founded the Laboratory of Molecular Systematics. His research employs genomic tools to explore the evolutionary relationships, diversification processes and conservation biology of birds and other organisms. Mike has led bird tours to North and South America since his days in graduate school, and loves to share his knowledge of nature and science with others. He lives in Washington DC.
---
Project Backers
49

Backers

100%

Funded

$5,041

Total Donations

$102.88

Average Donation