About This Project
Edible seaweeds provide a sustainable source of healthy food and ecosystem services, including habitat for marine animals, oxygen for life, and uptake of excess nitrogenous wastes. Cleaner waters in NYC and advances in ocean farming make this a good time to make edible seaweeds part of local food. Our goal is accomplishing a critical step towards this goal, namely, determining a key growth parameter (nitrogen loading) in a micro nursery for the edible seaweed nori.
Ask the Scientists
Join The Discussion
What is the context of this research?
Decades of industrialization, habitat destruction, and over fishing in urban areas necessitate not only a conservation but also a restoration approach. Regenerative ocean farming is a potentially transformative approach to meet these challenges. Seaweeds are important components of ocean farming because they provide oxygen, remove nitrogen pollution, and can also be edible. To introduce regenerative ocean farming into degraded ecosystems, it is necessary to establish land-based nurseries to propagate and transplant healthy seedlings into the sea. Several research laboratories and non-profits along the east coast of the U.S. have established the feasibility and protocols for seaweed cultivation. It is an opportune time to expand these approaches.
What is the significance of this project?
Edible seaweeds are significant agricultural products in Asia and provide important ecosystem services (producing oxygen, nitrogen uptake, habitat). This project is part of a longer term objective of establishing seaweed cultivation in NYC waters for the ecosystem services they provide and their potential for local food. If seaweeds can be cultivated on a large scale, we believe their oxygen production and nitrogen removal would complement restoration ecology efforts, such as the billion oyster project. We are choosing to focus on nori because it is possibly the best tasting of the edible seaweeds that grow locally, and also because it complements efforts by the non-profit Greenwave and others to establish kelp farming.
What are the goals of the project?
We are aiming to determine whether growth media that mimics the local waters (nitrate and ammonia) is superior to a growth media with only nitrate concentrations (1 mole / liter) recommended in the New England Seaweed Culture Handbook. Our endpoint assessments are bladelet size, morphology, and growth rate . Our hypothesis is that growth media that mimics natural waters will yield superior growth rates because the seaweed physiology is optimized for their natural environment, which contains both nitrogen sources. We will follow growing protocols from the New England Seaweed Culture Handbook. We will determine average ammonia and nitrate concentrations from the field site where the nori will be collected in Jamaica Bay using our test kits and measurements made by the NYC DEP.

Budget
Our budget items provide materials to perform controlled experiments in a land-based, micro nursery for nori cultivation. Nori grow best in colder water (~60 F) so an aquarium chiller is needed to provide the optimal temperature. We will collect field isolates of nori from local waters and DNA testing will be used to confirm species, which is needed because of difficulties in species identification. The aquarium LED light and hood will be used to provide proper light for growth and also keep out contaminants. We currently have water testing kits and nitrogen compounds. The appliance timer is to set the optimal light/dark cycles. The spools are used for the seedlings to attach to and grow. Once they reach sufficient size they can be transferred to the ocean to grow on ropes (long lines) or floating cages, pending approval of our field permit. Lastly, the utility cart will allow us to move the system during events at Genspace so it isn't damaged.
Endorsed by
This critical project grows edible seaweeds through regenerative ocean farming. The nori which already grows locally removes nitrogen pollution and would be a great source of local food. This nursery project would eventually contribute to seaweed cultivation in NYC.
Project Timeline
We will first setup the saltwater aquarium and monitor its environmental parameters for consistency. We will use media from a culture collection and do not anticipate problems until we introduce the nori from field isolates. After we introduce the nori, we will continue monitoring the environment and the aquarium for fouling organisms. We will measure growth rates, morphology, and bladelet size in multiple biological replicates on a weekly basis. We will also measure ammonia and nitrate.
Nov 23, 2021
Project Launched
Dec 01, 2021
Install saltwater aquarium and establish consistent environment
Jan 03, 2022
Introduce nori from field isolate, perform genetic testing to confirm species, and measure growth rate
Jan 31, 2022
Monitor growth rate and bladelet size in control (1 molar nitrate) vs experimental group (1 molar ammonia + nitrate)
Meet the Team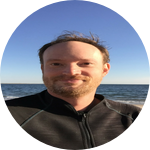 Alex Roy Root
Member
Affiliates
Genspace Community Biolab
View Profile
Team Bio
Our team consists of Alex, a systems biologist and member of Genspace with experience growing algae, and Jehovani, a jack-of-all-trades biochemist and lab manager of Genspace with expertise in all things bio-instrumentation and microscopy. The team met at space and bonded during a trade of granola bars for seaweed snacks. The team is most qualified because of a fearless desire to learn by doing and a willing-ness to seek help from experienced aqua culturists.
Alex Roy Root
I am fascinated by the potential for cities to coexist in harmony with nature. I am interested in sustainable living that also restores ecosystems. I received a PhD in systems biology, where I focused on using molecular techniques and microscopy to understand how cells work. I taught high school math for several years in under-resourced communities and am interested in project-based learning that gives young people a sense of connection to nature.
Jehovani Lopez
Jehovani Lopez (he/him) is the Lab Manager at Genspace. Before joining Genspace, he taught biochemistry laboratory techniques at Yeshiva

University. Previously, he has done research in the fields of optical sensors, atomic force imaging, Alzheimer's proteins, and drug discovery. His graduate research dealt with the use of bioanalytical techniques using electrochemistry. He is passionate about expanding access to hands-on research and exploring ideas that incorporate material chemistry and 3-D printing.
---
Project Backers
5

Backers

101%

Funded

$576

Total Donations

$115.20

Average Donation