About This Project
For my project I am building an exoskeleton that helps medical patients or soldiers by amplifying their strength by two times. The exoskeleton uses pneumatic actuators and solenoid valves mounted on a custom built carbon fiber frame. Possible applications for this project include, fabrication, medical needs, prosthetics, and helping military units move heavy equipment. In the future I plan to extend this project by making the exoskeleton support the entire body
Ask the Scientists
Join The Discussion
What is the context of this research?
The inspiration from this project comes from the current military challenge to assist soldiers in amplifying their strength and allowing them to carry heavy equipment over long distances. Many companies such as Lockheed Martin and Boston Dynamics are currently designing and testing robotic systems that assist soldiers. Many exoskeleton suits available are either: extremely heavy, very expensive, impractical, or have low maneuverability. My goal for this project is to design a suit that uses flexible bio-inspired muscles to give realistic range of motion and prevent bulkiness.
What is the significance of this project?
This project can assist with soldiers carrying heavy equipment, the design and creation of flexible and realistic prosthetic limbs, and industrial use (such as workers moving heavy parts). It can also help medical patients with conditions such as muscle dystrophy, broken or fractured bones, and recovery in physical therapy.
Industrial use such as workers moving heavy parts to prevent back injury. Back injuries lead to more lost days of work than any other kind of injury or illness. In 2013 over 1.3 million Americans suffered from back injuries while lifting heavy equipment in the workplace.
What are the goals of the project?
My goals are to create a pneumatic exoskeleton that provides the user with over two times the original unassisted upper body strength without using tethered controls.
I hope to be able to make the suit easy to use and very maneuverable.
To create my project I will first study artificial muscle design, draw the design, and make and test the strength of the artificial muscle. Then I will finalize the design, make 1 artificial muscle for the triceps, 2 artificial muscles for the back, and 1 artificial muscle for the chest. I will build the exoskeleton frame from shoulder pads and build the arm brace with joint from carbon fiber.
After building these parts, I will connect the Pneumatic Circuit. and program the EV3 remote and controller. Lastly, I will test the suit performance.
Budget
The 1 YD roll carbon fiber will be used to make a hard shell mold to be used as an arm brace to mount the artificial muscles on. The Lego EV3 micro computer will be the brain of the project that controls the solenoid valves and overall operation. The football shoulder pads will be used as the frame to build the project around. The touch sensors will be used to give human to computer inputs. The Epoxy will be used to harden carbon fiber. The HPA is a tank that will hold the air that powers the artificial muscles. The Knee braces will be used for leg support. The heat sink will warm up air to allow for proper expansion. The kevlar plates will be used for back support. The torch and fuel will be used to make the shoulder hinge out of steel and for wielding together brass fittings. The drill press and bits will be used to make the shoulder hinge and mounting brackets. The mold and plaster will be used to make a mold for the carbon fiber. The fishscale will be used to test strength.
Endorsed by
Please support Sebastian on his journey to become a fantastic engineer and entrepreneur! Already he has demonstrated great interest and skill in engineering, the study of the human form, and media content generation! By funding Sebastian you will empower this extremely hard working and dedicated person to continue improving his capabilities, giving him a running start before college.
It is great idea to make life easier for human beings.
Meet the Team
Sebastian Torres-Wilcken
I am a junior in the stem engineering program at Lithia Springs High School. I participate in Robotics, Cross Country, Tennis, NHS, Beta Club, and Governors Honors Program . I am interested in perusing aerospace engineering at Georgia Institute of Technology. I plan on designing spacecraft or aircraft in the future. In my free time I build and create things for fun. I have competed and won first place in the Georgia Science and Engineering Fair 3 times and I take pride in my work. I am a 2 year intern for Georgia Institute of Technology Aerospace Department.


Additional Information
I have competed and won first place in the Georgia Science and Engineering Fair 3 times. I am very serious about my work and hope to have created something amazing that will help others.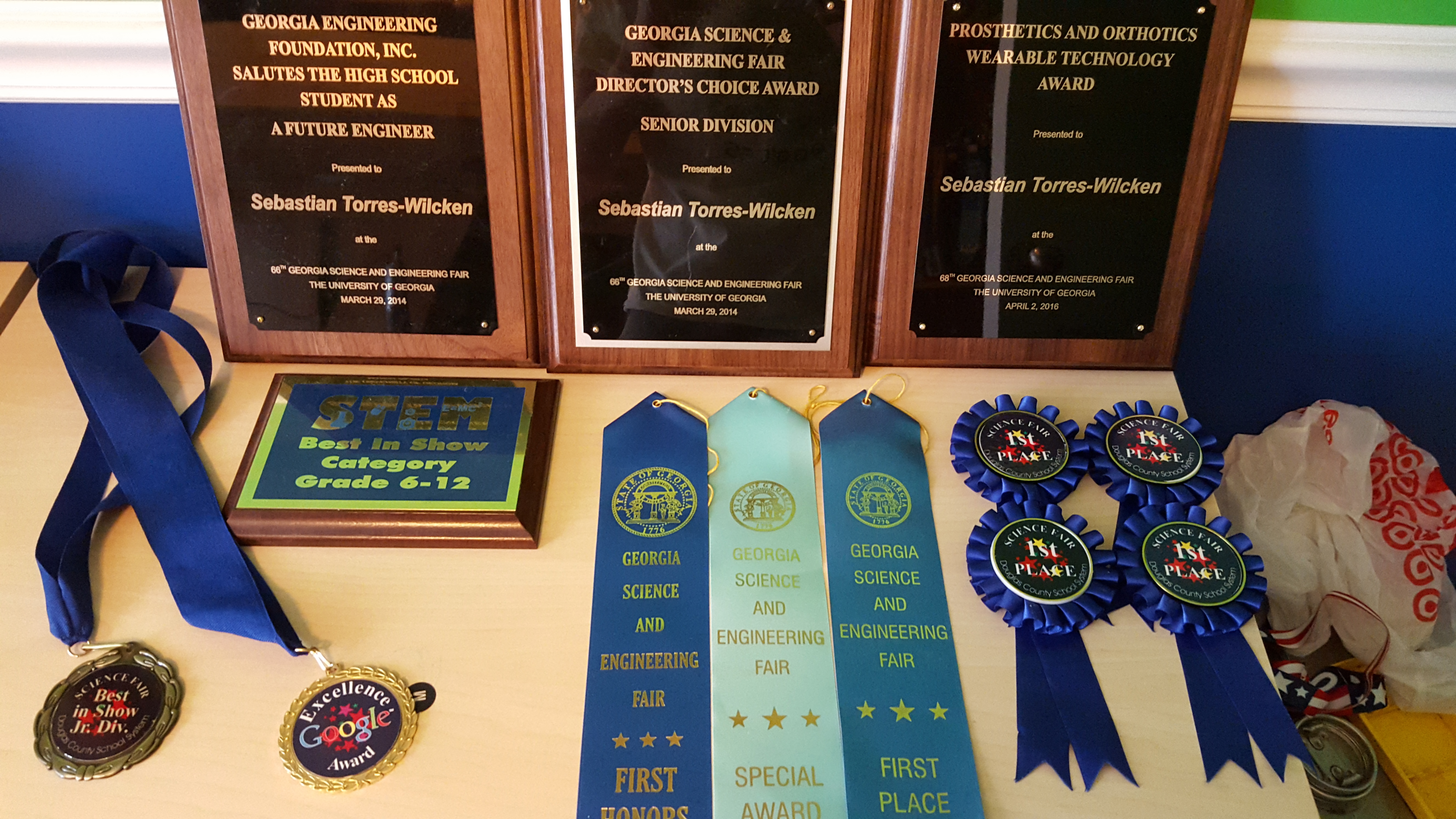 ---
Project Backers
5

Backers

3%

Funded

$330

Total Donations

$66.00

Average Donation