Ask the Scientists
Join The Discussion
What is the context of this research?
What is the prey preference of nesting Golden Eagles (Aquila chrysaetos) in Arizona? This project is a portion of a larger study pertaining to Golden Eagle ecology in Arizona. My objectives are to collect prey remains and regurgitated casting material from active nesting pairs. I will identify (at least to genus) and rank preferred prey species among active nesting pairs. The prey base of non-migratory populations is mainly medium-sized mammals hares (Lepus spp.), rabbits (Sylvilagus spp.), ground squirrels (Spermophilus spp.), prairie dogs (Cynomys spp.) and marmots (Marmota spp.) and varies by region but depend on carrion as well. Determining Golden Eagle diet and prey preference using several methods such as pellet analysis and prey remains is well documented.
What is the significance of this project?
The status of Golden Eagle population throughout North America is unclear and their numbers are believed to be declining especially in the southwest regions. Studies that include why the eagles are choosing specific prey as well as how they are obtaining their prey are needed. A pair of nesting Golden Eagles require large ranges and land cover that not only provides foraging success for them but cover for their prey species. Golden Eagle conservation indicates the need to protect sizeable tracts of landscape in order to support their prey base. Golden Eagles can act as an umbrella species by conserving their habitat, in turn all flora and fauna within their territories are protected as well. Policy and conservation actions will benefit by determining what Golden Eagles prefer as prey.
What are the goals of the project?
All the funds will be used to support fieldwork during data (prey remains) collection. Golden Eagles in Arizona nest in extremely remote areas; therefore, a high clearance vehicle and primitive camping are required. I expect to be in off-road conditions for 30-40 miles as well as hiking over rough terrain; therefore, the proper equipment must be packed in and out and is necessary for this project. We will be driving hundreds of miles between nesting territories so, fuel is costly.
Budget
The funds are for a high clearance vehicle, fuel to travel to different nesting territories and basic needs for primitive and remote campsites.
Meet the Team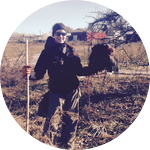 Michele Losee
PhD Student
Affiliates
BS - Biology -Texas Christian University MS - Environmental Policy and Management - American Military University PhD Student - Ornithology - Antioch University New England
View Profile
Team Bio
I am a raptor ecologist and falconer. Currently, I am completing my PhD at Antioch University New England with my research focus on Golden Eagles in Arizona. I am an avid falconer, birder and hiker.
Michele Losee
I am a raptor ecologist and falconer. Currently, I am a PhD Candidate at Antioch University New England with my research focus on Golden Eagles in Arizona.
Additional Information
Please consider funding this research! In Arizona, Golden Eagles have never been studied; therefore, all of this research will be the first and all involved will be considered pioneers in Arizona Golden Eagle research. It is showing that Southwest Golden Eagles may be in trouble so, be apart of the conservation of this wonderful bird.
---
Project Backers
3

Backers

9%

Funded

$80

Total Donations

$26.67

Average Donation