About This Project
Hellbenders or "snot otters" are giant salamanders living in streams of the eastern US. These are not only wonderfully unique animals but are also sentinels of river health. They have undergone dramatic declines with some populations showing signs of disease. I will be evaluating skin secretions from different populations to determine causes of wounds and deformities seen in this declining species. I will be in the field as well as the lab looking for answers in the snot.
Ask the Scientists
Join The Discussion
What is the context of this research?
Hellbenders are charismatic salamanders that once thrived in streams throughout the eastern United States. Unfortunately, biologists have noticed dramatic population declines. Habitat degradation is likely a major factor but other observations tell us there is more to the story. The Ozark Hellbender is a subspecies only found in the Ozark region of the US. This population has undergone a much more dramatic decline when compared to its eastern cousins and most adults have swollen and missing toes. The main cause of these deformities is still unknown. My research aims to understand differences between subspecies and what could be causing these lesions. I will be focusing my attention on their snot, or more appropriately termed, skin secretions.
What is the significance of this project?
Hellbenders represent a unique part of our mountain ecosystems and serve as a sentinel for watershed health. We should be concerned that such a widespread and charismatic species is disappearing beneath us. We know there is massive runoff from improper management of siltation and a lack of buffer zones. Water that used to be crystal clear now looks more like chocolate milk. We know this cannot be good for animal health, but is that the only piece of the story? This project aims to look at why certain animals appear to be sick. If we find answers in how these animals are dealing with infection, we will have a better answer in how to conserve them in these critical next few decades.


What are the goals of the project?
There may be answers lurking in the snot of the snot otter as has been seen in other amphibians. Secretions and skin health are very important for amphibian immunity and homeostasis. Do hellbender secretions have any properties against growth of well-known amphibian pathogens and is there a difference in Ozark secretions? How do the protein signatures change between subspecies secretions? Can I relate these secretions to other data I have collected from their skin? I have already collected one year of field samples. In the next year I will evaluate secretions between populations. I will look at small peptides, antibodies, and how they affect growth of certain disease causing organisms we worry about. I want to know how healthy their skin is and how it's holding up to daily stressors.
Budget
This budget represents the cost of kits and supplies needed to run analyses in the lab. This will include reagents, tubes, gloves, plates, and medium. We also have budgeted for sequencing analyses to be performed at a genomics lab for a small subset of skin swabs. This will help make our secretion data more powerful by pairing it with what we find with respect to genomes on the skin. Field equipment will be basic supplies needed to collect quality samples. One such necessity is dry ice to make sure the samples stay cool at all times. Finally, as many field biologist know, gas expenses are inevitable and the necessary evil to get to the best sites! We already have external funding to help pay for graduate salary and basic lab costs so we can focus this funding directly to this project.
Endorsed by
I am very excited for the Hellbender research proposed by Dr. Rebecca Hardman. Dr. Hardman has proposed a novel approach to examine skin secretions to evaluate overall health of these animals. As Hellbenders are declining range-wide, her research will hopefully provide a crucial link between environmental quality and Hellbender health as evidenced by their skin secretions.
Meet the Team
Rebecca Hardman
Hi! My name is Becky Hardman and this is my PhD research. I started my love for amphibians early in life as a Navy brat living on a base in Puerto Rico catching coqui frogs. Afterwards I lived in central New York and Boston until I moved to the southeastern United States for my first job as a field technician in 2006. I lived in the woods of North Alabama surveying for reptiles and amphibians. I learned so much and was also able to see my first hellbender! I went on to get my MS at Western Carolina University looking at distributions of Green Salamanders and made a decision to go to veterinary school at the University of Tennessee. I recently received my DVM and am moving forward with my dissertation research. It may seem I have been hopping around degree programs for quite some time but I have a goal. I am interested in understanding disease in wildlife populations and I wanted to have perspectives both from ecology and clinical medicine. As we move forward in conservation it will be important for people to enter a "one health" approach to problems. When the fields of medicine, conservation, and population biology work together, we may be able to tackle complex issues such as public health and wildlife disease. Despite these plans I still try to live out a balanced life. The rest of it is filled with trail running, dogs, and an occasional pint of good beer!
Additional Information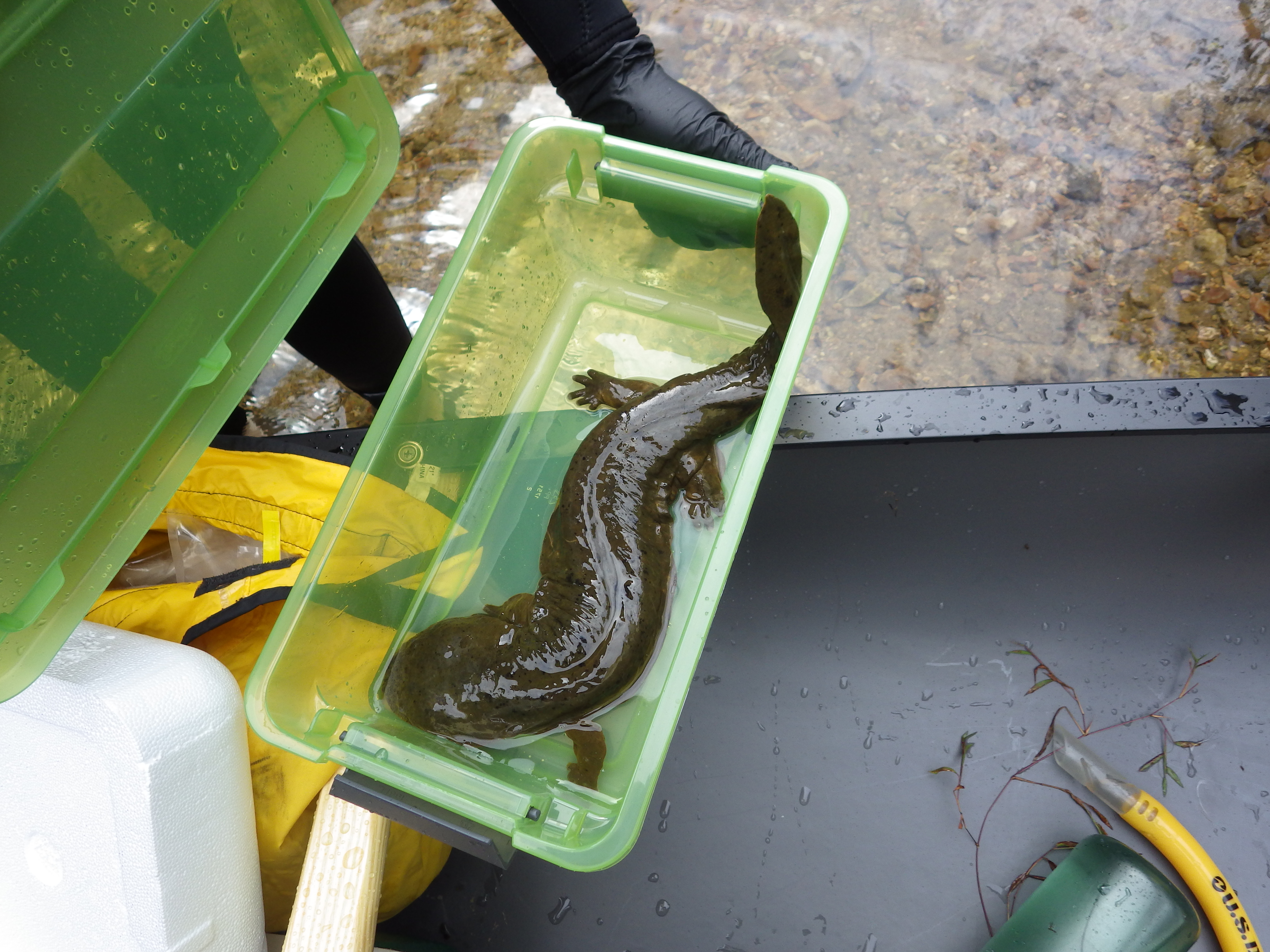 Collecting secretions from a large adult in Tennessee
---
Project Backers
12

Backers

13%

Funded

$476

Total Donations

$39.67

Average Donation