About This Project
The Parana River is one of the world's largest rivers and provides water for a large portion of southern Brazil, and is heavily impacted by hydroelectric dams. This study seeks to examine the dynamics of this ecosystem utilizing molecular ecology. We will collect fecal material and sequence the gut microbiome of 6 species of fishes in order to compare their gut microbiomes. We hope that through this study we can determine how the gut microbiome varies on a spatial and phylogenetic scale.
Ask the Scientists
Join The Discussion
What is the context of this research?
Gut microbial ecology is a very new method for studying ecosystem processes. It has recently been applied to everything from human health, to insect physiology. It has not, however, been applied widely to aquatic ecosystems. This method could be widely applicable to important ecological questions such as ecosystem carbon flow, and aquatic organism nutrition. This pilot study will examine the potential for the fish gut microbiome to mediate ecosystem carbon flow through detritivorous fishes. In order for us to do that though we need a broad understanding of how gut microbes vary on phylogenetic, spatial, and temporal scales in fishes. This project will attempt to understand this variation by sampling gut microbes from six species of fish on the Upper Paraná River Floodplain in south Brazil.
What is the significance of this project?
Recent research on the gut microbiome in mammals has expanded our understanding of the role that the microbiome plays in nutrition, health and behavior. Advances in the study of human-microbe symbioses indicate similar importance in other vertebrate taxa. Limited research has been conducted on natural populations. This study will test for environmental and phylogenetic effects on gut microbial diversity in fishes of a Neotropical floodplain. In doing so, this study will contribute to greater understanding of the ecology of tropical ecosystems and provide context for conservation. There is great potential in this study to contribute to our knowledge of human health as well. Gut microbiomes have been shown to be remarkably similar between fish and other vertebrates.

What are the goals of the project?
This project seeks to test the following hypotheses and to publish the results in a peer reviewed journal:

1. Gut microbiomes in detritivorous fishes will differ among species from the same habitat and will differ within species collected from different habitats.

2. For the interaction effect in Hypothesis 1, species identity will play a stronger role in shaping the gut microbiome than local habitat.

3. Phylogenetic relatedness will correlate positively with gut microbiome similarity.

4. For the commercially important artisanal fisheries species Prochilodus lineatus, gut microbiome diversity will positively correlate with body condition (i.e. body mass – length relationship)
Budget
In March 2014 I traveled to Brazil to collect fish fecal samples for this project. Due to international shipping restrictions I was not able to bring the samples back, and they remain in storage at the University of Maringa. Funding requested here will pay for a return trip to Brazil to perform an additional round of sampling, and to extract DNA from samples stored and newly collected samples. Once DNA is extracted there is not restriction preventing international shipping and they can be returned to the University of North Texas for further processing. The additional funds requested will cover the expenses for the extractions kits needed.


Meet the Team
Team Bio
I attended Baylor University for my undergraduate degree. My first taste of real research came as a summer position working in the lab of Dr. Ryan King. Over that summer I got the chance to explore the field of aquatic ecology by carrying out my own project. I became interested in a career protecting the worlds freshwater supply, and all the life that lives in it. I currently attend the University of North Texas as a Ph. D. student in the lab of Dr. David Hoeinghaus. This project has become very important to me since travelling to Brazil, and seeing the state of this ecosystem. On the surface the Parana River is unspoiled, but without support from the scientific community, and the government of Brazil the ecosystem will continue to decline.

In my free time I am an avid mountain biker, and musician.
I also live out the life philosophy that you can never have too many aquariums!
Additional Information
NUPELIA Research Vessel in the Rio Baia: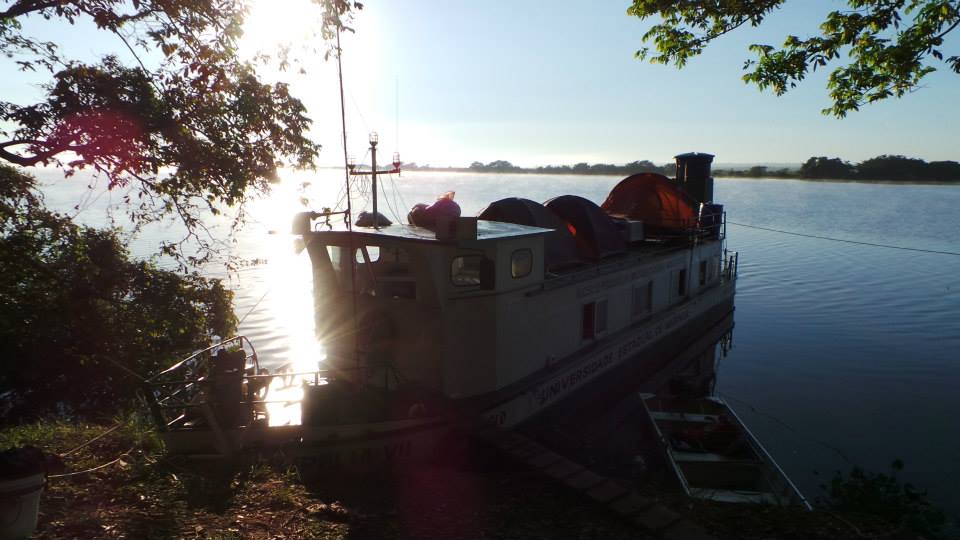 Me hard at work dissecting fish: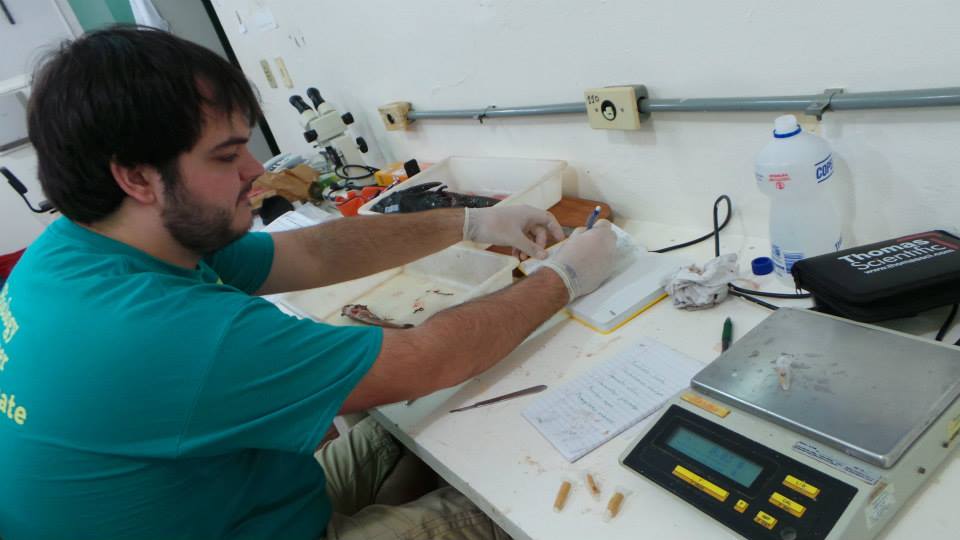 Rewards for support:
1. All supporters will receive a personal thank you email from the researcher and access to an online discussion board with research updates from the team.
2. A donation of $250 will receive an invitation to discuss the project with researchers in an online meeting, as well as the above reward.
3. A donation of $500 will receive a fish print on rice paper of one of our target species as well as the above items.
4. A donation of $5000 will be able to travel to the Upper Parana River Floodplain with researchers (airfare, and meals must be paid separately) for 3 days and sample fish with us.

---
Project Backers
7

Backers

5%

Funded

$204

Total Donations

$22.00

Average Donation