About This Project
Koh Phangan is situated in the Surat Thani Environmental Protected Area, a region of diverse marine wildlife, close to areas of intense fishing activity. This project is providing a baseline survey of this Marine Protected Area by aerial monitoring using drones to understand the scale of abandoned, lost or discarded fishing gear in this biologically important region and to gain insight into potentially affected wildlife species.
Ask the Scientists
Join The Discussion
What is the context of this research?
The Gulf of Thailand experiences enormous fishing pressure, particularly via gillnetting; a practice with high rates of gear loss & entanglement. Coupled with increased risk of pollution through wastewater and tourism pressure, monitoring of the coastal ecosystem is vital to improving the island's environmental sustainability. Aerial surveying of shallow coastal habitat is therefore a viable method to gather high spatial resolution information on the extent of ghost gear accumulation. Koh Phangan is an island of ~125 km², with its windward, north coast, located directly below the busiest region of fishing activity in Thailand's national waters. The deployment of rapid, low cost aerial surveys will allow us to quantify the impact of ghost gear on this island ecosystem & its wildlife.
What is the significance of this project?
Aerial surveying and identification of ghost gear has been trialled successfully in shallow coastal waters of Myanmar by our researchers, in conjunction with Global Ghost Gear Initiative. During this process, multiple types of gear were identified, as well as signs of their impact upon the benthic habitat, such as entanglement with coral. During this process, it was found that marine megafauna, such as rays, sharks & turtles could be identified and counted.

This study will be focussed on creating a dataset documenting flux in gear accumulation & marine megafauna distribution.
By gathering a baseline dataset of the state of Koh Phangan's coastline, areas of concern can be identified, with the aim of establishing a long-term monitoring program.
What are the goals of the project?
1. Collect information on and monitor the abundance of abandoned, lost and discarded fishing gear along the coast of Koh Phangan;
2. Make observations of marine megafauna species presence and abundance within the aerial surveys;

3. Determine specific regions along the coast which are key ghost gear accumulation points;
4. Locate polluted terrestrial areas along the coast;
5. Develop local capacity to conduct fully independent aerial surveys by local NGO staff & stakeholders;
6. Take initial steps towards conducting a technology acceptance study for long-term drone use in marine conservation, using Melissa Schiele's methodology.
Budget
This survey is a rapid data gathering mission based on understanding the impacts of ghost gear accumulation in this region. The funds raised here will contribute to the gathering of data across the Koh Phangan coastline, in order to determine areas of high risk, that can then be managed by local environmental partners.
Endorsed by
Kat and Sol have previously worked under me and I am excited to endorse this much needed project in the region. I am also looking forward to extending my work on a technology acceptance model for drones in marine conservation, into the project. It will help us understand long-term likelihood of technology use in the local community and reveal barriers and challenges to technology use and I can't think of a better team to help support the initial steps.
Project Timeline
This project will take place in early March, ideally with low rainfall.
We will plan our flight paths prior to deployment, confirm in-country permissions & prepare fieldwork so the aerial surveys can take place rapidly after arrival.
The surveys themselves will take ten days, covering as much of the coastline as possible, including key areas of interest.
Once completed, images will be reviewed for ghost gear & megafauna, after which results will be presented to our local partner.
Nov 24, 2022
Project Launched
Feb 01, 2023
Planning of field visit and coordination with local partners
Mar 14, 2023
Travel to Koh Phangan for fieldwork
Mar 16, 2023
Commencement of fieldwork
Apr 02, 2023
Completion of aerial surveys
Meet the Team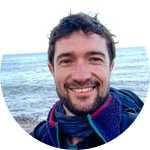 Sol Milne
PhD
Affiliates
University of Aberdeen, Wolf Fish Ltd
View Profile
Team Bio
We are a team of ecologists focussed on conservation of the marine environment. Our specialities cover aerial surveying, ghost gear pollution, shark biology & spatial ecology, all of which are essential to the remit of this project. Tania & Sol met during their PhD research on spatial ecology and forest ecology in Sabah, Borneo. Kat & Sol met on a research project in The Maldives, using drones to study the movement of ghost gear & presence of marine megafauna in the Kaafu Atoll.
Sol Milne
I am an aerial ecologist, focussed on restoring marine habitat. My background is in conservation biology, with a focus on landscape ecology- studying the distribution of orangutans in Northern Borneo, and the effects of human land-use, using UAVs.
I have been working on the issue of ALDFG since 2019, on projects in Myanmar, Jamaica, Belize, Trinidad & Greece.
I also run Wolf Fish Ltd, an ecological consultancy with anti-colonial focus- aimed at providing local researchers with teams for aerial surveillance of natural landscapes.
Tania Kanchanarak
I am an ecologist based in Thailand with experience in modelling species' dynamics to land use changes and forest restoration in Southeast Asia.
I was born in Thailand and I am very passionate about conservation issues in this country.
Kat Mason
I am a marine biologist, scientific diver and CAA commercial drone pilot, using non-invasive techniques to monitor and conserve elasmobranchs.
My background includes using drones to monitor ocean plastics, marine megafauna and ghost nets in the Maldives and using BRUVS to survey shark populations in the Cayman Islands, the Azores and the Philippines.
I am extremely passionate about marine conservation and spend as much time as I can in the water!
---
Project Backers
42

Backers

109%

Funded

$10,953

Total Donations

$260.79

Average Donation