About This Project
I'm looking to study radon concentrations Australia wide to compare to the Australian Radiation Protection and Nuclear Safety Agency radon study conducted in 1990 (based on gamma radiation), while running education programs in schools. We will buy 8-10 radon monitors that can be given to schools and connected to a network, and eventually deploy 100+ monitors. The data would allow radon concentrations to be estimated over different parts of Australia to compare to gamma data.
Ask the Scientists
Join The Discussion
What is the context of this research?
There is a significant knowledge gap in Radon data in Australia. The current radon map is based on gamma data taken in 1990, with a loose correlation to uranium concentrations and therefore radon emanation. It is not updated in real time. The public knowledge of radiation is lacking in Australia, and the more data the public can have access to in order to understand dose pathways the better. Establishing a strong baseline for radon concentrations across Australia will allow any changes to be tracked due to things like the proposed National Radioactive Waste Management Facility, and shifting government sentiment on uranium mining and exploration (WA recently overturning their Uranium Mining ban, NSW overturning their uranium exploration ban).
What is the significance of this project?
This data will help give not only background radon concentrations for any mine sites looking to conduct baseline surveys, but provide data that can be used for health studies, compared to other countries, tracked over long periods of time to see if there are climate change impacts, and allow access to real time monitoring (rather than based on data collected decades ago). By establishing radon concentration data in Australia, background radiation doses to radiation workers and members of the public can be estimated more accurately, allowing any research into low dose radiation to start from a comprehensive knowledge of baseline radiation doses. By introducing this program to schools, it will also allow us to introduce aspects of radiation safety/knowledge to the younger generation.
What are the goals of the project?
With 8-10 radon meters we can start to set up radon meters in South
Australia around the city of Adelaide. We will compare the data from this
region to the data from 27 years ago, when the gamma data (to derive estimated radon concentrations) was taken. By collecting this pilot data we can prove the value of these radon metrics, and apply for funding from the
Australian government to develop a program for citizens and students to
gather radon data to establish a country wide map in real-time,
presenting a publicly available map.

Budget
The radon monitors are to be sent to schools to start gathering data, which can then be collated and presented to gain funds from government initiatives/ARPANSA etc.
Endorsed by
This project is a great educational opportunity in STEM, that will also gather important information about the Australia environment. The last time someone did a survey of environmental radon was 1990. The previous survey involved passive radon monitors that provided an average radon concentration. An update is overdue. New technology makes it possible to measure the radon concentration hourly. The improved data from this project will help to better understand variations in radon, which can be correlated with environmental conditions.
I have worked with Daniel Emes for 4 years, and we are keen for the public to understand more about ionising radiation. The instruments proposed have been found to be accurate and reliable. Not only will the study trigger important discussions about radiation, the data set will provide a useful baseline over an extended period.
Project Timeline
Buy 8-10 radon meters to place in locations around Adelaide by mid next year. Track radon concentrations and compile data for presentation at the ARPS (Australiasian Radiation Protection Society) conference in 2018, or ARPS seminar. Potential for presentation at IRPA (International Radiation Protection Association) 2019 Conference.
Following the presentation, pitch for funding from ARPANSA/Science Teachers Association etc. for rollout to Australia Schools (along with education program)
Jan 01, 2018
Project Launched
Jan 31, 2018
Buy 8-10 Radon meters
Feb 10, 2018
Setup Radon meters in SA locations
May 20, 2018
Present data at ARPS conference
Jul 31, 2018
Rollout to schools
Meet the Team
Daniel Emes
I am a Radiation Safety Consultant. My role includes providing radiation safety training to mining, medical and industrial users of ionizing radiation, as well as consultancy services.
Having worked and studied in diverse disciplines of physical and environmental science, I have developed a solid technical skill set in environmental and radiation management in mining, oil and gas, industrial and health settings. I am one of only a handful of people in Australia to be recognised as an expert in radiation safety by the Australasian Radiation Protection Accreditation Board (ARPAB).
Experience:

4 years working as a radiation safety trainer and consultant.

7 years working in the applied science field, including cutting edge research projects, working at the largest uranium mine in the world, and consulting to numerous mining and industrial companies.

Over 10 years' experience in education, ranging from educating young children through to adults with advanced degrees.

Double Degree in Science and Education, with a major in Applied Physics and minor in Environmental Science.

ARPAB accredited, full member of ARPS, qualified RSO, full member of the AIOH.
https://www.linkedin.com/in/da...
Additional Information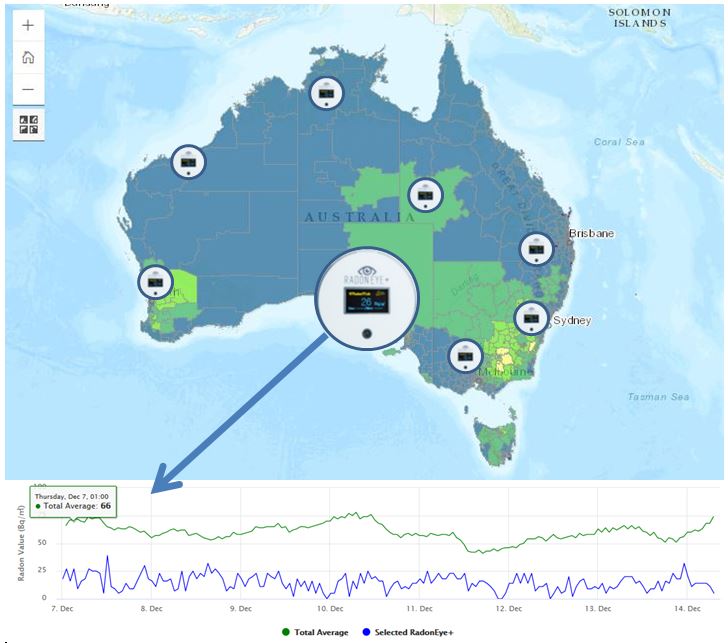 Each location can be tracked in real time
The radon meters I will be looking to use connect directly to wifi and can be seen on a network to track all monitors in real time.
The monitors have been tested in a radon chamber under many environmental conditions.
---
Project Backers
2

Backers

2%

Funded

$101

Total Donations

$50.50

Average Donation