About This Project
Atmospheric levels of CO2 have risen 100 ppm. During this same period, the world's arable agricultural soils have lost much of their original carbon stock. Restoring that soil organic carbon may help reverse global warming.
Several methods of agriculture have been measured to sequester 5-20 tonnes CO2 equivalent/hectare/year, but they are not methods for growing vegetables and produce. I will measure the carbon sequestration rate of a new method for produce production.
Ask the Scientists
Join The Discussion
What is the context of this research?
If we change Agricultural methods to high yielding regenerative models of production, can we reverse global warming?
There is more carbon missing from agricultural soils worldwide than extra in the atmosphere.
Low carbon in soil has an adverse impact on agronomic productivity, profitability, the environment, and its effect on food security, and the quality of life according to the USDA.
Putting that carbon back into the soil could be an important solution to these problems if the rate of sequestration is large enough to draw down some of the legacy CO2 emissions from the atmosphere and store that carbon safely in the soil where it belongs.
My new method that I have developed appears to be capable of good yields, significant carbon sequestration, and with minimal inputs.
What is the significance of this project?
It is well established that different agricultural methods can have widely different effects on soil carbon. And it is well known that soil degradation is a serious problem in its own right that must be dealt with to sustain food security for the world's populations.
However, there is quite a bit of controversy regarding the rates at which soil carbon can be sequestered in the soil, and how to optimize the rate. Will this rate be enough to significantly reduce atmospheric CO2 when combined with reductions in fossil fuel emissions in the energy sector?
The only way to know for sure is to directly measure these SOC rates over time. I have developed an organic no-till methodology that early results show promise, but to really know requires empirical evidence.
What are the goals of the project?
I am introducing a new organic no till methodology with perennial ground cover I have been developing for several years. It should gain significant benefits to soil carbon if it functions in a similar way to the wild ecosystems it was patterned after.
This fundraiser will help determine the absolute net rate of carbon sequestration in the soil, which is a key factor in determining if they can also be used as a tool for global warming mitigation, since most modern agriculture degrades Soil Organic Carbon.

I will be planting a small 1/2 acre research plot and measuring how much CO2 is removed from the atmosphere and sequestered long term in the soil by my methods, by directly sampling the soil and measuring SOC. That rate can then be used to extrapolate the AGW mitigation potential.
Budget
I am raising funds to measure the suitability of the larger Red Baron Project under development since 2013 to sequester carbon in the soil and regenerate land fertility. The method is for vegetable and produce production and uses hay and paper as a substitute for plastic film and/or herbicides and tillage; so it can be both organic and also no till.
The hay is for weed suppression. The small greenhouse is for producing vegetable crop seedlings. The inoculate is to jump start the liquid carbon pathway of carbon sequestration into the soil through living plant roots' symbiosis with mycorrhizal fungi. The soil samples will be sent to a lab to have their organic carbon content measured over time.
The method will be considered suitable if the soil organic carbon increases at a rate high enough to significantly mitigate global warming when applied to agriculture worldwide.
Endorsed by
This project is a great idea and will help conserve our food resources from chemicals and damaging from the environment.
I can think of few projects as important as mitigating the carbon depletion from tillage systems. The world is crying out for methodology that offers vegetable growers the same opportunities as tightly managed perennial grassland operations. Incorporating both mulching and no-till is a great symbiotic concept and it would be a real credibility plum to be able to show efficacy at scale. I fully endorse this project and hope it yields more data in the soil carbon sequestering sphere.
Project Timeline
The ultimate goal of the parent Red Baron Project is to develop a no till organic methodology for use in growing food sustainably.
I will immediately test soil carbon and general soil fertility on a new 1/2 acre test plot. I will continue to test the soil for at least 3-5 years comparing against this baseline.
At the end of the study I will calculate the rate of Carbon sequestration to determine the potential significance to AGW mitigation if these methods were widely adopted.
Sep 18, 2020
I will chart the results and publish a conclusion based on the soil sample results.
Sep 28, 2020
Project Launched
Feb 28, 2021
Build a greenhouse and start seedling flats inoculated with AMF spores
Feb 28, 2021
Take soil samples and send out for testing
Apr 30, 2021
Prepare beds with mulch and/or compost and plant
Meet the Team
Scott E Strough
I grew up on a small homestead type farm. We grew a 1/2 acre garden, a small orchard with cherries, peaches and apples, a milk goat named Sally, 200+ chickens, and a whole bunch of rabbits, 3 beef cows, strawberry patch etc… You get the idea. All us kids were active in Scouts and 4H. Pretty typical rural US childhood. And this little homestead was right square in the middle of a huge commercial farmer's corn field. Across the road was another slightly smaller commercial farmer, who also grew corn etc… But just enough to feed his pastured pig and beef cow operation. As soon as I could work I was working on those neighbors' farms.
So I literally grew up seeing first hand and understanding all scales of farming here in US, from the tiny small family farm to the large commercial operations and everything in between. I even took a job at the seed company next town over for summer work and learned corporate farming and seed research, building and documenting test plots with controls, running and training an agricultural labor crew etc… too.
My family ended up losing the farm and for a while I worked as a merchant marine engineer. I learned to view the world differently after seeing many countries and their impacts on the environment. Most impactful of all was seeing the environmental and human quality of life devastation that occurred in Haiti when agriculture collapsed there.
I am now retired from the Merchant Marine and have started my Red Baron Project which will become my ultimate life's work and legacy. My small help in fixing huge problems facing future generations if we don't make our systems sustainable.
Additional Information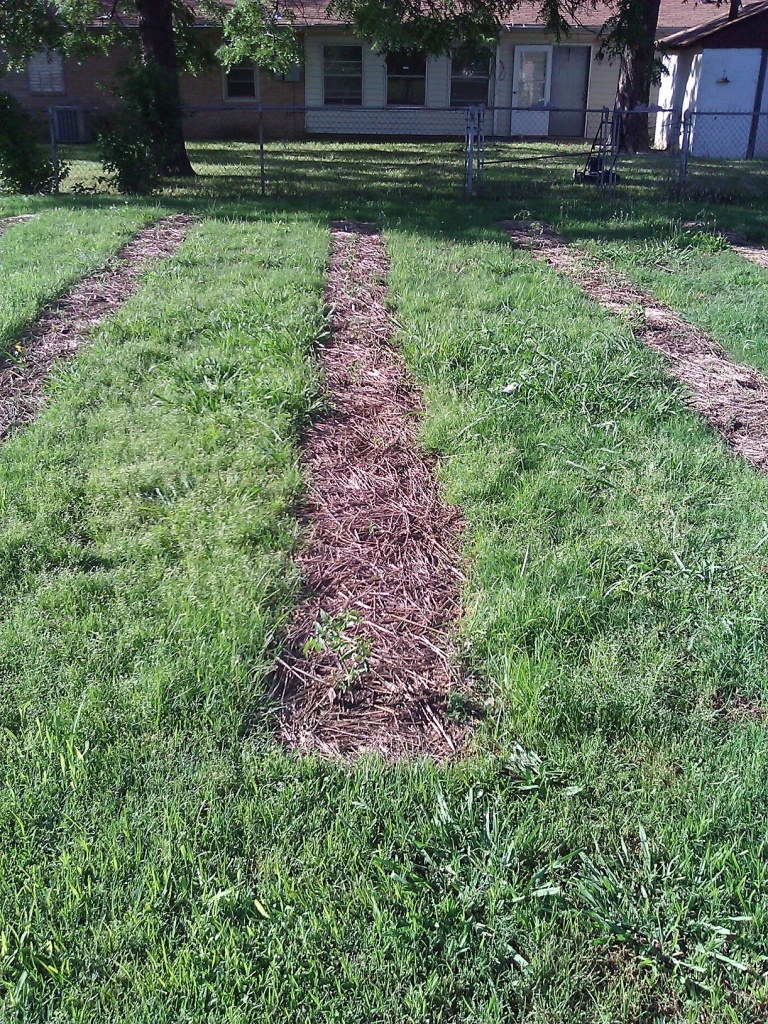 If this fundraiser is successful, and the measured rate of sequestration is confirmed to be in the estimated range of 5-20 tonnes CO2e/ha/yr, there will be a future study to determine the scale-ability of the project.
---
Project Backers
13

Backers

105%

Funded

$1,870

Total Donations

$143.85

Average Donation