About This Project
Guinjata Bay, Mozambique has humpback whales migrating through during the winter period. There are dozens of them, but there has never been any research carried out before in this area. In our new study, we will be investigating the patterns between the social vocalisations of the humpback whale population and their corresponding surface behaviours as well as their migration patterns and pod formations.
Ask the Scientists
Join The Discussion
What is the context of this research?
In 2015 we joined the non-profit NGO Love The Oceans conducting fisheries and reef research in Guinjata Bay, Mozambique. Whilst there, we were astounded with the huge population of humpback whales migrating through the bay and the diversity in their behaviour. There has never been any data collected on these whales before. The questions we want to answer are:
"What is involved in the humpback's migration path through the Mozambique Channel?"
"Do the behavioural displays correspond in any way to their social vocalisations?".
This project will run alongside Love The Oceans, a non profit focused on marine conservation in Mozambique; and will aid their efforts in establishing a local MPA.
What is the significance of this project?
Humpbacks numbers have dramatically decreased as a result of the whaling industry. Given their importance in the marine food web, it is crucial to understand how human impacts like fishing and climate change will affect them.
Our data will help the world to understand more about this majestic species through analysing their social behaviour and migration. The frequency data will show if whale ecotourism is a viable alternative to unsustainable fishing - ultimately saving marine life.
This pioneer project is the first in the area so it will be challenging. However, we care passionately and are ready to invest all our time and energy to make a difference.

What are the goals of the project?
We want to gain a large data set so we can obtain results which can eventually be published. When investigating the link between vocalisations and behaviour, we suspect patterns may emerge allowing us to correlate between the cues.
We aim to determine the frequency of humpback sightings by using a daily log tracking the whale migration. The frequency of sightings will show if whale ecotourism a possible alternative resource for the community. Ecotourism would bring in a large amount of much needed sustainable revenue to this poverty stricken area.
Love The Oceans strives to protect marine life but also improve community welfare. This research fits well with the ethos of this non-profit.
Budget
The entire budget of this project is dedicated to securing equipment we need to take effective and efficient measurements. After the project we will donate the equipment to Love The Oceans, a non-profit marine conservation organisation so they can continue the research - nothing will be wasted.
We need professional photographic equipment, a hydrophone, range finding binoculars, a compass, GPSs and processing software. The breakdown of costs is as follows:
Camera equipment with good zoom - £1000

Range finding Binoculars - £300

Hydrophone - £200

Compass - £20

GPSs - £200

Acoustics processing software (Raven Pro) - £82 ($100 for one-year student licence)
Endorsed by
Francesca is one of my former students who was so concerned about the lack on marine conservation in Mozambique that she set up Love the Oceans whilst still an undergraduate. Over the years she has attracted volunteers (including my current students Charlotte and Rob) to help with her growing range of projects in Mozambique. I lent them simple acoustic equipment last year which proved to be a great success and hence this current appeal which I wholeheartedly support.
Project Timeline
Apr 11, 2017
Project Launched
Oct 30, 2017
Field data collected
Jul 01, 2018
Results written up and available on request
Meet the Team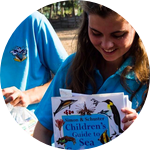 Charlotte Johns
Master of Marine Biology Student
Affiliates
University of Southampton
View Profile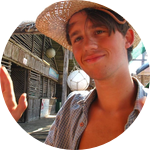 Rob Thomas
Master of Marine Biology Student
Affiliates
University of Southampton
View Profile
Team Bio
Charlotte Johns and Rob Thomas are studying at the University of Southampton. This data will be used for their Master's in Marine Biology projects, supervised by Dr Ken Collins. Both Charlotte and Rob are extremely passionate about Humpback Whales and are keen to uncover some mysteries surrounding these majestic creatures.
Love The Oceans is a non-profit marine conservation NGO providing in-country support. You can read more about their team here: lovetheoceans.org

Francesca Trotman
Francesca Trotman is the managing director and founder of Love The Oceans. With a Masters in Marine Biology she has always had a passion for marine life.
An avid diver since the age of 13, Francesca's main passion has always been sharks, although she is interested in all aspects of marine life. Having originally visited Mozambique in 2013 for a photography internship, she was inspired to help the local fishermen work towards sustainable fishing. Francesca returned in 2014 for 3 months to start research on the artisanal fisheries of Guinjata Bay.
Prior to her visit to Mozambique, Francesca was an avid conservationist, attending meetings and lectures held by the Marine Conservation Society in London, England and has experience in conservation in many places throughout the Caribbean.
Results orientated, Francesca constantly encourages people to consider conservation in everyday life and take a greener approach to modern living. You can contact Francesca directly at francesca@lovetheoceans.org
Charlotte Johns
Charlotte is currently in her third year of her Integrated Master of Marine Biology degree, due to be completed in 2018 at the University of Southampton. Since deciding she was going to be a marine biologist at the age of four, she strived to gain as much experience as she could growing up, along with studying hard throughout her school life to achieve acceptance for the University of Southampton.
By completing her first diving experience at the age of nine (PADI Bubblemaker), she pursued her diving passion by achieving PADI Open Water (2013, Costa Brava, Spain) and Advanced Open Water (AOW) (2015, Guinjata Bay, Mozambique). For Charlotte, SCUBA diving has always been about observing marine life, with her particular interest in cetaceans, cephalopods and elasmobranchs.
Charlotte has travelled extensively in twenty years, but one of the most notable experiences started when she travelled to Mozambique as a volunteer for Love The Oceans in 2015. By experiencing life as a hands-on marine conservationist, Charlotte was lucky enough to witness two adolescent male humpback whales swimming above during an ascent on a required PADI AOW dive. This experience has fuelled her ambition as a marine conservationist to investigate humpback whale behaviour and vocalisations.
Charlotte also enjoys taking part in related voluntary work, including helping with the WWF UK Shark Tagging Programme, attending the Underwater Sound Forum 2016 and aiding crustacean identification at her local Environment Agency laboratory.
Charlotte can be contacted directly at: caj1g14@soton.ac.uk
Rob Thomas
Rob is currently in his third year of his marine biology integrated masters degree, which he will complete in 2018 at the University of Southampton. Since watching grey whales and Orcas off the Pacific Coast of Washington State at the age of 6, he has always been fascinated by the marine world and the life in it.
His exploration of the oceans was increased through the achievement of his PADI open water certification (2010, Kas, Turkey) and advanced open water (2015, Guinjata, Mozambique) and has allowed underwater experiences with enigmatic animals such as the humpback whale, elasmobranchs and turtles.
Rob gained a vast amount of experience in the marine conservation world as a volunteer with the marine conservation organisation Love The Oceans in 2014. He gained insight into elasmobranch conservation whilst working with the shark fishermen of Guinjata and was lucky enough to witness a female humpback whale and her young calf. These experiences, particularly the whales, instilled in Rob a desire to study the migration of humpback whales past Guinjata and promote ecotourism in the area.
Conservation is one of Rob's greatest passions and has led him to aid conservation groups both in the UK and abroad.
Rob can be directly contacted at: rt6g14@soton.ac.uk
---
Project Backers
5

Backers

2%

Funded

$45

Total Donations

$9.00

Average Donation