About This Project
Natural Oyster abundance in Rhode Island has been declining and is in need of a restoration plan. In collaboration with the Rhode Island Division of Marine Fisheries, My project will develop a GIS geodatabase of existing data to inform the development of a habitat suitability index for eastern oysters in Rhode Island. Data include, but are not limited to water quality data collected by various entities across systems, subaqueous soils, and groundwater intrusion.
Ask the Scientists
Join The Discussion
What is the context of this research?
From the late 1880s into the early 1900s, oysters were the most abundant and plentiful shellfish in Rhode Island. Currently, the oyster reef habitat is estimated to be less than 1% of its historical abundance in the New England region. This is due to many factors such as incorrect harvesting, disease, and sedimentation which have negatively impacted the ecosystems resulting in the degrading of natural oysters. Oyster reefs are not only ecologically important but also economically crucial to New England. Reefs act as nursery habitats for juvenile fin fish that have value economically, and other small species of invertebrates while also enhancing water quality benefitting the overall ecosystem. Restoring the oyster abundance would greatly benefit the quality of estuarine ecosystem.
What is the significance of this project?
Although the eastern oyster (C. virginica) was once greatly abundant, reefs have become greatly damaged affecting the entire ecosystem. This issue is not just domestic to New England, but also global where oyster reef habitat has been reduced to 15% of its historical extent. Throughout Rhode Island, very few locations of high-density natural oysters still exist and there has yet to be a true attempt at restoring oyster habitat. This research would be a piece that would support a large-scale oyster habitat restoration project being conducted by the Rhode Island Division of Marine Fisheries to ultimately benefit the health of the estuarine ecosystems.
What are the goals of the project?
My goal is to identify trends related to abiotic environmental factors in Rhode Island estuaries that wild oysters find preferable for larger congregations of abundance. By analyzing environmental data of the estuaries I will use ArcGIS to create maps and collate streams of data in support of the RI Marine Fisheries restoration research. As I create these maps I will be able to provide backers with results visually of the progress I am making that easily visualize the trends that are present in the estuaries. Those maps also can be used by the Division of Marine Fisheries when developing a final restoration plan.
Budget
This research will be a full-time project over the span of the summer months where I will work 35-40 hours a week collecting data and working on this project. Most of the supplies needed will be provided by the Marine Fisheries, but mainly access to ArcGIS will be needed. This is a project I am very passionate about and would love the opportunity to help restore my local coastal ecosystems.
Endorsed by
In the past year I have been impressed with how motivated Blake Busch is to work on this project. He is a self-starter and strong team member. Preliminary work on this project has shown his dedication, intelligence, and thoughtfulness. Having worked closely with Blake waist deep in mud and remotely behind our computer screens I have seen him complete tasks early and take personal responsibility for his projects. This funding will help our organization plan for the future of shellfish management in RI and support a promising marine scientist.
I'm excited about this project and I believe there's great merit in the questions that Blake's addressing. I've seen his preliminary work on the project using GIS technology to map oyster habitat and I can tell he's very self motivated and passionate about the topic. It's a well constructed proposal and I'm excited to watch the progression of this research and how it can impact conservation efforts.
Project Timeline
This research will be a full-time research project starting in May of 2023. While working in Rhode Island full time from May to August on data collection, management, and map development. Once I return to school in late August I will work throughout the semester to complete and finalize the data files and models of the project.
Feb 06, 2023
Project Launched
May 20, 2023
Start Data Collection in Rhode Island 
Jun 20, 2023
Analyze and Log Collected Data
Jul 20, 2023
Continue Structure of Data Files
Jul 31, 2023
Complete Data Collection
Meet the Team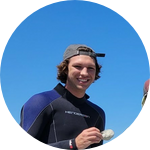 Blake A Busch
Undergraduate Researcher
Affiliates
Rhode Island Division of Marine Fisheries
View Profile
Team Bio
While conducting my own research, my results will contribute to the large-scale restoration project of the Rhode Island Division of Marine Fisheries. I will be working under principal biologists JA Macfarlan and Eric Schneider. In the summer of 2022, I completed a research internship with marine fisheries and became very interested in this project. This led me to continue my work on the project remotely while at school using GIS to identify oyster abundance in relation to freshwater sources.
Blake A Busch
Undergraduate Student enrolled at the University of Tampa studying Marine Science-Biology and Environmental Science. Interests in the ecology of estuarine, tidal ecosystems, and conserving New England flora and fauna.
---
Project Backers
8

Backers

107%

Funded

$4,410

Total Donations

$551.25

Average Donation