Project Results
The results showed that Maxent modeling is able to accurately predict suitable habitat for Plethodon montanus. This demonstrates that future conservation projects should utilize GIS modeling in predicting where rare species may be found and what habitat types they prefer.
Tyler Wicks and Trevor Chapman
Presentation
About This Project
The Southern Appalachian Mountains are know as the "Salamander Capitol of the World." Salamander populations are at risk, however, due to a changing world. Keeping up with their abundance is a top priority for conservationists and researchers. In this project I will attempt to determine the abundance of rare salamander species in Roan Mountain and Rocky Fork State Parks in Tennessee. This will allow us to assess the state of these rare salamander populations and the environments they inhabit.
Ask the Scientists
Join The Discussion
What is the context of this research?
The Southern Appalachian Mountains are extremely rich in herpetofauna, being nearly unparalleled in the world for salamander diversity. Salamanders play a vital role in a forest ecosystem and are often the most abundant group of vertebrates inhabiting them. Despite their importance, salamanders are on the decline globally due to disease, habitat loss, and global climate change. Due to their sensitivities to change, salamanders are often seen as an indicator of an environment's integrity. Indicator species are able to give early signs of environmental problems. Species surveys and population estimates of vulnerable species give conservationists the information they need to determine an environment's ecological stability.
What is the significance of this project?
Rocky Fork and Roan Mountain State Parks are in the upper elevations of the Southern Appalachian Mountains and contain swaths of unaltered second-growth forests. Both parks are known to feature extensive salamander populations. These parks are also contained within the ranges of three species identified as species of "greatest conservation need" by the Tennessee Wildlife Resource Agency (TWRA), Plethodon richmondi, Plethodon montanus and Plethodon yonahlossee. The current system utilized by the state to rank species conservation need relies on individual occurrence data for each species . Since no extensive surveys have been performed in these areas the state agencies may be vastly underestimating the number of individuals present.
What are the goals of the project?
There will be two goals for this project. The first will be to do an extensive species list for the salamanders located within the parks. The second goal will be to ascertain salamander abundance for the species of greatest conservation need within the parks. To achieve these objectives, the occurrence data for all species found will be mapped using ArcGIS, and to determine population abundance for the species of greatest conservation need several area constrained plots will be created. A N-mixture model will then be used to analyze count data to determine population abundance. This information will be given to state conservation agencies so they can better target their conservation areas.
Budget
GPS Unit:
Since most of this work will be conducted in the back-country where there is no cell service, a reliable GPS unit is the top priority. It will serve to record lat/long data for all individuals that are found.
Supplies:
These funds will be used to support the field work. We will need supplies to mark survey plots (e.g. flags), gloves to safely handle salamanders, and vials to hold them while they are identified.
Travel:
A lot of travel between the two study sites will happen over several months. It is also my goal to present this research at a regional conference. This money will help offset travel cost associated with those things.

Stretch Goal (Tagging Equipment):
This money would be used to purchase visible implant elastomer equipment. This would add another level of significance to the project because it would allow for mark/recapture survey techniques to be employed.
Endorsed by
This project will provide us with invaluable information concerning the abundance of salamander species at Roan Mountain State Park. Mr. Wicks has excelled at his studies and research at East Tennessee State University, as well as being an avid naturalist at Roan Mountain State Park. This makes him uniquely qualified to conduct this research.
Project Timeline
This project will take place over the summer months to coincide with salamander peak activity. I hope to present my finding at a regional conference this fall and have a manuscript ready for publication.
Apr 02, 2018
Project Launched
May 21, 2018
Have all plots and transects planned and marked
Jun 01, 2018
Begin surveying plots
Jul 31, 2018
Conclude field work
Aug 15, 2018
Have data compiled and analyzed
Meet the Team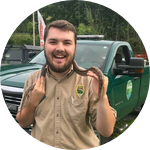 Tyler Wicks
Graduate Student
Affiliates
East Tennessee State University
View Profile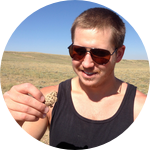 Trevor Chapman
PhD student
Affiliates
East Tennessee State University
View Profile
Team Bio
Trevor and I conduct research projects that go hand in hand. We provide support and expertise to each other in whatever way we can. It is always the goal of scientist to help each other and to work together.
Tyler Wicks
I am a student at East Tennessee State University in the Department of Biological Sciences. I enjoy spending time in the mountains of East Tennessee trout fishing, hiking, and herping. I am an avid salamander researcher. I believe they play a unique role in our environment and serve as indicator of its stability.
Trevor Chapman
I am a PhD student at East Tennessee State University. I am an avid outdoorsman, and my interest in amphibians began at a very young age spending my time creek stomping and fishing. I began studying amphibians during my undergraduate at Hanover College. Although I did not work with salamanders during my Masters, I am very excited to get back in to amphibian conservation and ecology.
Additional Information
The featured photo is from a preliminary scouting journey. The photo show a Northern Water Snake preying on one of my target species, Plethodon montanus.
---
Project Backers
3

Backers

100%

Funded

$701

Total Donations

$233.67

Average Donation