Oliver Shipley (Cape Eleuthera Institute) Sheds Light on the Vertical Habitat Use of Cuban dogfish
Hi and happy new year!
It has been a while since I last posted, mostly because I didn't think anyone would be interested in hearing about the inside of my cubicle. I also considered making a GoPro video of my commute to the office and putting some epic music to the Windows 7 start-up screen, but thought better of it. Instead, you might be interested in hearing from Oliver Shipley (Ollie), a member of the Shark Research and Conservation Program at the Cape Eleuthera Institute, about his research over the past six months.
I was fortunate to provide him with some field assistance alongside Monmouth University students in early January- I was there to help teach a Tropical Island Ecology field course run by Dr. Pedram Daneshgar. Unfortunately, we didn't catch any Cuban dogfish large enough for the last satellite tag of the project, but we did catch nine individuals and a gulper shark. Despite horrible weather conditions, the students had a fantastic time and learned a lot, as well as helped measure and sample understudied deep sea sharks for ongoing research here at the FSU Coastal & Marine Lab. On top of that, we got out with Dr. Owen O'Shea to help him collect data on stingrays in the area, undoubtedly a trip highlight. Big thank you to the CEI team for hosting us, the Monmouth University crew for their hard work, and Ollie for contributing to the blog! See below to read about his recent work.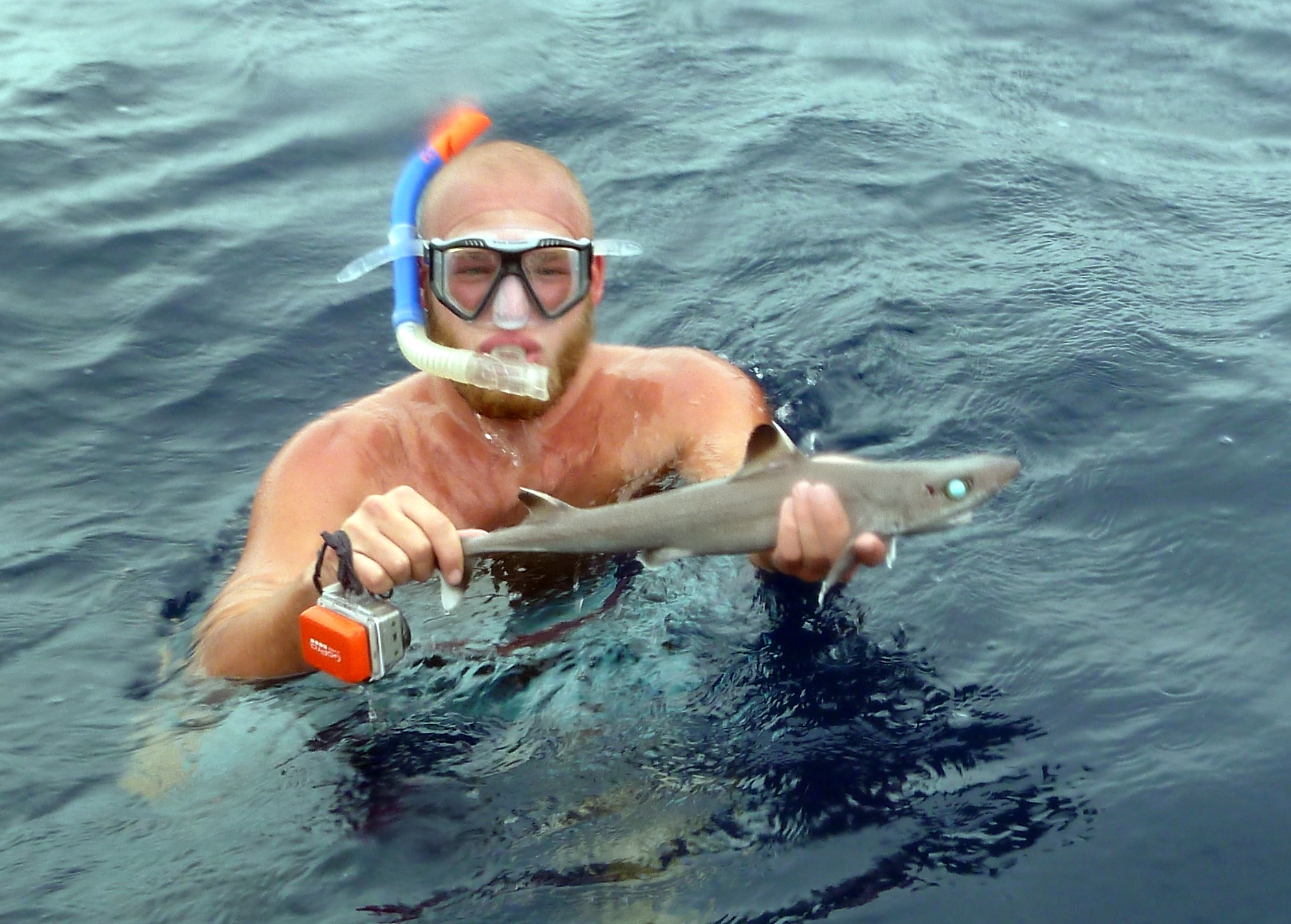 Adam Iatesta of Monmouth University prepares to swim down a Cuban dogfish after it was measured, photographed, and sampled for DNA. Unfortunately, this shark was too small for a satellite tag.
From Ollie :
Determining the movement of sharks in both space and time is important for understanding where and how they perform important ecological functions such as top-down control of food-webs, facilitating ecosystem connectivity, and elucidating how species with similar geographic ranges partition resource use. This has large implications for the development of contemporary management of marine resources, for example highlighting unrecognized habitats that may warrant legal protection. Although deep-sea elasmobranchs make-up around 50% of all living elasmobranch species, the logistical difficulties associated with studying deep-sea ecosystems have resulted in large ambiguity regarding the behavior of deep-sea sharks, particularly how they govern ecosystem structure and function. Therefore assessing their vertical movement can elucidate complex life-history aspects such as habitat utilization and potential feeding strategies, which can be directly incorporated into novel management practices.
The Cuban dogfish (Squalus cubensis) is a small-bodied cosmopolitan shark residing ubiquitously across the deep waters of the tropical and sub-tropical Western Atlantic. The International Union for the Conservation of Nature currently categorizes Cuban dogfish as 'data deficient', highlighting an extreme lack of both ecological and fisheries landing data. It is therefore imperative to understand more about their vertical movement, particularly due to their documentation in commercial fisheries bycatch.
Ollie and the team attach a satellite tag to a Cuban dogfish prior to sending it back down to depth in a modified release cage.
We have been working closely with long-term collaborators and supporters of the Shark Research and Conservation Program (SRCP), Microwave Telemetry Inc., who have provided satellite tags for a plethora of shark-tracking studies conducted by the SRCP and collaborators around the Bahamas. Thus far we have deployed seven pop-up satellite archival tags (PSAT's) recording two-minute depth, temperature and light data for a maximum duration of fourteen days on adult Cuban dogfish. Due to the varying extent of animal depredation post-release, we have developed a novel release cage in which to transport tagged individuals back down to depth. This data will provide the first assessment of vertical habitat use in this species, exemplifying a foundation on which to base novel management strategies for this poorly studied species.

A Cuban dogfish is placed in the release cage, designed to prevent post-release predation, before it is lowered to the sea floor (500-800 m down).

This is a nice illustration of how science builds on itself, and I'm excited that our Cuban dogfish post-release mortality work has already helped researchers take the next step in understanding the ecology of deep sea sharks like these. If you'd like to learn more, check out the Island School Fall 2015 research poster designed by Ollie's students here.

Fingers crossed that my next post has a link to a published paper about post-release mortality in deep-sea isopods...

Best,
Brendan