About This Project
Estimates from 2021 show that psoriasis affects 125 million people globally and 37.5 million of these individuals suffer from psoriatic arthritis. Despite immunomodulatory biologics that have helped in the management of these disorders, their adverse effects, high cost, and injection site complications have made their use challenging. We have identified a potent anti-inflammatory oxysterol that can be given orally and targets the main drivers of these disorders, namely inflamed macrophages.
Ask the Scientists
Join The Discussion
What is the context of this research?
Our oxysterol drug candidate has shown potent anti-inflammatory effects on macrophages in vitro, as well as, in vivo in multiple pre-clinical models of chronic inflammation. These include: inhibition of liver inflammation associated with non-alcoholic steatohepatitis (NASH/fatty liver), inhibition of vascular wall inflammation in atherosclerosis and inhibition of adipose tissue inflammation associated with obesity in mouse models. Since inflammatory activation of macrophages is the first step in psoriasis and psoriatic arthritis, our orally bioavailable drug candidate is a promising next generation therapy that works through a different mechanism than existing injectable drugs, including Enbrel and Cosentyx.
What is the significance of this project?
This project will provide evidence of the efficacy of our oxysterol drug candidate, which is orally bioavailable, in targeting psoriasis and psoriatic arthritis by inhibiting the inflammatory responses of macrophages that are the first drivers of the diseases. This drug candidate has shown favorable safety and is not expected to have the adverse effects of competitors such as Enbrel and Cosentyx, which inhibit the patients ability to mount an inflammatory response against pathogens and even cancer.
What are the goals of the project?
To demonstrate efficacy of our drug candidate in a pre-clinical mouse model of human psoriasis and psoriatic arthritis and pave the way towards human clinical trials. Our studies will provide information on arresting the disease and the adverse effects of chronic inflammation on joints and other organs. The study can be initiated immediately through a collaboration with a Swedish team of scientists that offer an ideal animal model with all the manifestations of the human disease. More information on the animal model can be found in the link below. Our experiment will involve oral administration of our drug candidate in mice that develop psoriasis and psoriatic arthritis in response to a sugar molecule, mannan.
Budget
All funds raised will be used directly on the project. The proposed mouse model is ideal for evaluation of the therapeutic effect of our drug candidate to inhibit the manifestations of psoriasis and psoriatic arthritis. This includes the skin lesions and joint inflammation associated with the disease. In house synthesis of the oxysterol drug candidate will be achieved with quality control and cost efficiency. IACUC approval will be obtained prior to the initiation of the study.
Endorsed by
An amazing research team! They are working on a new life-changing treatment for psoriasis and psoriatic arthritis which affects millions of people. At this time, the treatments available have multiple side effects and are prohibitively expensive. Can't wait to use this Oxysterol Drug in our patients in the near future! 
Dr. Parhami and his team have turned their successful development of oxysterols as a therapeutic platform towards solving the global treatment problems associated with psoriasis and psoriatic arthritis. I'm very excited to see the results of this research.
This is an extraordinarily exciting project, and I'm confident that Dr. Farhad Parhami and his team at MAX BioPharma are capable and equipped to run these studies. I look forward to the data upon conclusion.
Project Timeline
Synthesis of oxysterol will be performed in the first 30 days. The oxysterol will be transferred to the lab in Sweden and the study will begin within 2 weeks of receipt of the drug candidate. Duration of the study will be 7 days and study analysis will take an additional 8 weeks.
Nov 11, 2022
Project Launched
Dec 23, 2022
Synthesis of Oxysterol Drug Candidate
Jan 16, 2023
Study Initiation in Sweden (including IACUC approval)
Jan 23, 2023
Study Completion in Sweden
Mar 24, 2023
Data Analysis
Meet the Team
Team Bio
We are pioneers in the design, synthesis and testing of oxysterol based drug candidates for a number of human diseases. Our collaborators at Redoxis in Sweden are experts in models of psoriasis and psoriatic arthritis. Redoxis is a CRO with core expertise and focus on preclinical drug development and efficacy evaluation in models of inflammatory and autoimmune diseases.
Farhad Parhami
Dr. Farhad Parhami worked at UCLA as a biomedical researcher and Professor of Medicine for over 22 years. While at UCLA, Farhad studied the effects of certain sterols, including cholesterol and oxidation products of cholesterol, so called oxysterols, on cellular signaling, and physiological and pathological responses of cells to environmental signals that define health, survival and disease. In recently published studies, Farhad and his team at MAX BioPharma Inc. (www.maxbiopharma.com) showed that a specific oxysterol compound, designed by the company scientists, has very potent anti-inflammatory effects when applied to immune cells called macrophages in vitro. The team also reported that this oxysterol drug candidate exerts anti-inflammatory and disease inhibitory effects in preclinical animal models of fatty liver, atherosclerosis, and obesity related inflammation, while having an excellent safety profile. Since macrophage activation is the first event in triggering psoriasis and psoriatic arthritis (PsA), the team investigated the ability of its drug candidate to inhibit stimulation of macrophages by mannan, a sugar molecule that when given to mice causes all the symptoms and PsA including skin lesions and joint disorders. The team is now hoping to test this very promising drug candidate in a mouse model of PsA that shows the manifestations of the human disease (The Mannan Induced Psoriatic Arthritis (MiP) Model in Mice | Redoxis). If successful, this will allow the company to take the next steps toward human clinical trials, with the hopes that its anti-inflammatory, orally bioavailable drug candidate, which acts differently than the available drugs for PsA (including Enbrel and Cosentyx) will help many patients who suffer from psoriasis and PsA in the future.
Additional Information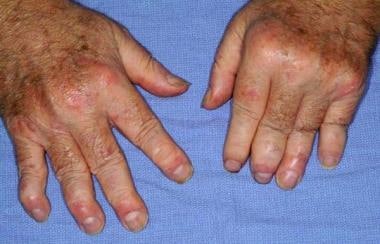 In vitro, we have found that treatment of human and mouse macrophages with mannan triggers an inflammatory response including stimulation of inflammatory cytokines that are drivers of human psoriasis and psoriatic arthritis, namely TNF-alpha, IL-6 and MCP1. As such, our drug candidate is expected to act upstream of TNF-alpha, which is the target of Enbrel, and upstream of IL-17, which is the target of Cosentyx. By inhibiting multiple cytokines, our oxysterol drug candidate may have a more robust anti-inflammatory effect in contrast to inhibitors of single cytokines. An example of psoriatic arthritis is shown in the attached photo.
---
Project Backers
13

Backers

9%

Funded

$1,791

Total Donations

$137.77

Average Donation