About This Project
How might we design science kits rooted in cultural and ancestral knowledge unique to Hawai'i? There is no shortage of kits shipped here, but a lack of homegrown kits centering ancestral innovation and local natural materials. If we can develop Hawaiian place based science kits, we will uplift Hawaiian frameworks for solving our unique environmental challenges.
We will develop biomaterial and frugal science kits useful to grow trust spaces for local science innovation conversations.
Ask the Scientists
Join The Discussion
What is the context of this research?
In a State where fresh water is at risk, and 90% of goods and 80% of energy are imported, this program provides a vision for biodesign education anchored in sustainable locally sourced materials and cultural frameworks. Current Hawaii biodesign programs are limited to universities, and private high schools. Nationally, there is one other community biolab, ( a physical lab space used for experimentation and education) that centers locally sourced materials, cultural and community knowledge (Xinampa in Salinas). This Nest Makerspace program will join Xinampa and BioJam Camp as a space that uplifts storytelling, frugal science, and creativity, as it builds a community of biomarkers in Hawaii and facilitates broader community engagement.
What is the significance of this project?
In a State with no community makerspaces or biolab, the Nest Makerspace will step into the void serving as a creative tinkering community space for hands-on explorations at the intersection of culture, bioscience, and frugal science tools. The kits developed in this space aim to amplify local and Indigenous knowledge in place based journeys focused on sustainability design solutions. The programming will center on communities that are often excluded in biological innovation conversations. The kits will inform existing biodesign approaches and broaden their impact to grow a more innovative, and relevant biodesign enterprise. Lessons will be open source licensed with the Creative Commons attribution noncommercial share-alike license and Local Contexts Notices.
What are the goals of the project?
We will design easily replicable STEAM kits rooted in locally sourced natural materials and ancestral knowledge unique to Hawaii. These kits will be distinct from other educational science kits, but will also address NGSS and Common Core standards. The goal is to build flexible kits that support open ended learning and sharing to grow trusted art/science education spaces centered in Hawaiian frameworks, frugal science tools, and biomaterial design. The project will be collaborative and open source, allowing community members to contribute and comment. Kit evaluation will include workshop observation and surveys, as well as pre/post assessments gauging the kit's impact on creative confidence, learning, interest in ancestral science, and valuing of natural materials in engineering kits.
Budget
Hawaii is a State spanning islands and since it is difficult to meet in person due to flight costs, a portion of the budget supports travel among the sister islands. Advisory board stipends are budgeted to honor the knowledge and time of educators and cultural experts offering guidance. Funding is also needed for lab, art, and gardening tools, as well as a laser cutter which is central to our frugal science tool design. Funds will also support the research and development of kits and programming, and the creation of kit resources and lesson plans shared on the project website. The project will culminate in a celebration event to be held at the Nest Makerspace. Funds for food, music, and materials are allocated for that. The event will invite participants to share ideas and grow connections to further nurture Nest Makerspace programming. External funding for prototype programming in my garage this summer comes from a $1,000 Ka Maka ʻĪnana Think Tank Grant from Purple Mai'a
Endorsed by
This unique project has the potential for both deep local impact and meaningful field-wide contributions to research and practice. Corinne's passion for broadening access to science and building creative STEAM programming that centers community, collaboration, equity, and justice is inspirational and has generated a long list of past work that thoughtfully elevates new voices and cultural knowledge. Please consider supporting this project to continue amplifying more inclusive and justice-oriented educational approaches to science.
This project is critical to engaging the diverse communities necessary to develop an equitable and just bioeconomy. I think this is the best team to accomplish this project successfully.
Time and again, Corinne has shown me how her community-centered storytelling and teaching has changed lives. I'm excited to see her bring a bio-makerspace to Hawaii, and I look forward to seeing the inspiring projects created there. I encourage you wholeheartedly to contribute to this project.
I have worked with Corinne in multiple capacities since 2018 and continue to be impressed by her work with young learners and their communities. Her students create projects, stories, and experiments that demonstrate strong scientific exploration and research, are deeply rooted in their (often underrepresented) communities, and often prioritize using emerging technological tools to preserve and increase the health of our Earth's natural ecosystems. I strongly endorse this project and hope you will consider supporting it.
I strongly endorse this project. Corinne's visionary work imagines a future where biotechnology and biomaking are accessible to all. By amplifying cultural knowledge and lived experience, Corinne is helping craft a new lexicon of biomaking tools that advance equity and justice. Please consider supporting this project.
Project Timeline
The project will begin with the ordering of needed tools in September 2023. Project webpage built and shared in October 2023. In November 2023 there will be an open house and a call for collaborating educators and organizations to join the advisory board. Workshops at the Nest Makerspace and at partner sister island sites span spring and summer 2024 . The program culminates in a celebration/showcase in early August 2024. In September 2024 the lesson plans are shared on the project website.
Aug 24, 2023
Project Launched
Oct 04, 2023
Website pages and announcement of makerspace
Oct 21, 2023
Call for collaboration and advisory board
Nov 04, 2023
Makerspace open house
Meet the Team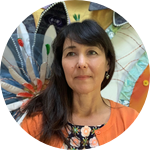 Corinne Okada Takara
Artist/STEAM Eduactor
Affiliates
Okada Design, BioJam Camp, and Nest Makerspace
View Profile
Corinne Okada Takara
Corinne Okada Takara is a community art activist and STEAM educator who creates programs that elevate and empower community voices in conversations centered on identity, place, science, and technology. She is a Yonsei (4th generation) kama'aina settler who lives on Oahu. For over twenty years her passion for accessible STEAM learning anchored in cultural and community science knowledge has driven her to collaboratively develop programs with museums, libraries, and community organizations. She is a co-founder of BioJam Camp, a teen program anchored in both Salinas and the Stanford Department of Bioengineering, served as the Program Director of the community biolab Xinampa in Salinas, California, and is co-founder of the youth Art & Design Thinking Camp in East San José, California. Her frugal science tool and biomaterial design research is conducted in her garage and in her Nest Makerspace shed.
Takara has received State, National, and International recognition for her work straddling art and biology including fellowships and residencies such as the Ginkgo Bioworks Creative Residency, a Lucas Artist Residency at Montalvo Arts Center, 2020 Global Community Biosummit Fellowship, and a 2020 National Public Interest Technology Innovation Fellowship. She has led four high school teams in the International Biodesign Challenge for which she was honored with the 2019 Outstanding Instructor Award. She is a recipient of the inaugural 2023 Ka Maka ʻĪnana Think Tank Grant from Purple Mai'a.
Takara holds a BA in Design from Stanford University and is an alumni of the Hawai'i Purple Mai'a Ka Maka I'nana program.. http://www.okadadesign.com/ & https://nestmakerspace.weebly....
---
Project Backers
5

Backers

102%

Funded

$10,200

Total Donations

$2,040.00

Average Donation