Project Results
We are so excited that this wild giraffe foot study is now published! What a journey traveling 1/2 way around the world with x-ray equipment and into a national park in Uganda to help with giraffe conservation & do this research on the side. This study is the first systematic review of wild giraffe feet and our results could help zoos find new ways to prevent some causes of arthritis & lameness in giraffe.
Thank you so much to our co-authors & the global community of friends who made this work possible, from our many supports with Experiment.com, to our friends at VetRocket who lent us x-ray equipment, to the amazing teams at Uganda Wildlife Authority who led the fieldwork, and to Giraffe Conservation Foundation who made this study possible.

About This Project
Cooperative training helps zookeepers care for zoo animals. For giraffe, much of this training focuses on hoof work, because just like fingernails, hooves grow and need regular trims. Our project focuses on continuing to improve our giraffe hoof care by evaluating hoof shape and foot anatomy of wild giraffe and comparing this with Zoo giraffe. This will help us improve trimming techniques to maintain foot health and help to prevent foot arthritis in our older giraffe.
Ask the Scientists
Join The Discussion
What is the context of this research?
Cheyenne Mountain Zoo is well-known for our giraffe herd. People are excited to feed and meet our 16 docile giants face to face. Taking exeptional care of our herd is more than just providing them with food, water and enrichment. Everyday guests can also take a front-row seat to watch our award-winning training programs.
Because of our herd size and our ability to work directly with our giraffe, we have recently developed hoof trim and medical techniques that improve the health of our giraffes' hooves, but we want to do even more for the health of our herd. To date, only anecdotal reports are currently available that describe the shape and foot health of wild giraffe. This information would help us further advance techniques for keeping giraffe in human care healthy.
What is the significance of this project?
To improve current hoof trim techniques for zoo giraffe, baseline information on foot shape in free-ranging wild giraffe is essential. Additionally, it is currently unknown if zoo giraffe develop arthritis more as they age than wild giraffe, or if there are other differences in foot health. With this information from wild giraffe, we hope to improve hoof trim techniques and ultimately improve the long-term foot health of giraffe in all accredited zoos.
What are the goals of the project?
Our goal is to measure and describe hoof shape in a population of wild giraffe in Namibia in March 2017. We plan to study the feet of at least 10 giraffe of multiple ages and of both sexes. When possible, we will also take radiographs (x-rays) on their feet, using equipment from a vet that works with the giraffe conservation organization in that country. We will then compare results with the foot shape and radiographs of giraffe at Cheyenne Mountain Zoo. Long-term, we hope to use this data to identify best practices to trim hooves and improve overall foot health for giraffe in zoos.
Budget
Funding is needed to send our team to Namibia to study wild giraffe feet and for in-country transportation expenses. We plan to send a zoo veterinarian with expertise in giraffe arthritis, plus a master farrier with expertise in zoo giraffe hoof care. Once there, the Giraffe Conservation Foundation (GCF) will provide us with opportunistic access to wild Angolan giraffe. GCF is based in Namibia and works with a large number of wild giraffe as part of their ongoing monitoring and field research.
Endorsed by
We at the Giraffe Conservation Foundation are excited to team up with Liza & Steve, some of the world's experts on giraffe hoof care. Bringing our knowledge of wild giraffe to this collaboration will hopefully help improved care of their cousins in zoos across the world. Please help them to help giraffe!
Meet the Team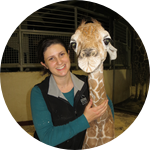 Liza Dadone
Vice President of Mission & Programs. I oversee the veterinary, conservation, & education departments at the Cheyenne Mountain Zoo.
Affiliates
Adjunct Faculty in Avian, Exotics, & Zoological Medicine, Colorado State University; Clinical Associate Faculty, Western University College of Veterinary Medicine
View Profile
Team Bio
Our team has worked together for four years. In this time, we have done much-needed research on zoo giraffe foot anatomy which has raised awareness for the importance of routine hoof trims and new medical techniques to manage arthritis and other conditions. We bring giraffe expertise from both the zoo veterinarian and master farrier perspective. This will help us identify key differences between feet from zoo and wild giraffe. Long-term, this will improve giraffe care in zoos.
Liza Dadone
I am a vet at the Cheyenne Mountain Zoo, where I have worked with one of the largest giraffe herds in North America for the past six years. Because of our award winning giraffe training program, I have unprecedented hands-on access to our 16 giraffe. This has helped us develop techniques to better manage arthritis and other conditions in giraffe. I have presented on our giraffe medical care at multiple national and international conferences, and our Zoo now hosts an annual Giraffe Care Workshop to help advance giraffe medicine. My hope is that by keeping zoo giraffe healthy and happy with advances in veterinary care, our guests will have more opportunities to interact and fall in love with these beautiful creatures.
In the past few years, I have also become involved with giraffe conservation. Wild giraffe are having a "silent crisis" in that their populations have decreased by about 40% in 30 years and yet this receives relatively little media attention. A career highlight for me was helping with a Rothschild's giraffe conservation project earlier this year, called "Operation Twiga." I was part of a multinational team that captured 18 wild giraffe and moved them by boat across the Nile River, back into their historic home range. This was done because almost all of this subspecies (1,500 giraffe) live in a park where oil mining is about to begin and will likely impact that ecosystem. The project was featured in the PBS documentary Giraffes: Africa's Gentle Giants http://www.pbs.org/video/23658...(I'm the vet in the blue Zoo shirt).
By working with both zoo and wild giraffe, my hope is to help both groups and ultimately to make giraffe conservation more effective. Zoo vet expertise could be invaluable for diagnosing and managing wild giraffe health problems such as Giraffe Skin Disease. Likewise, understanding if there are differences in foot shape for wild vs zoo giraffe could help us find ways to manage zoo giraffe differently and ideally prevent arthritis.
Steve Foxworth
For the past 14 years, I have worked as a farrier in northern Colorado, working with horses ranging from backyard pets to high performance horses across disciplines. In 2007 I received my Lameness Specialist Certification from the Equine Lameness Prevention Organization (ELPO) and have had great success in turning around lame horses and helping them become sound. I have been the president of the ELPO since 2012, running clinics and certification programs for other hoof care professionals.
Shortly after receiving my Lameness Specialist Certification, I was asked to assess a lame zebra at the Denver Zoo, opening the door for me to work with a variety of captive exotic hoofstock. I have been Denver Zoo's farrier ever since.
In 2013, I was contacted by Cheyenne Mountain Zoo (CMZ) in Colorado Springs, CO to assess a moose with a cracked hoof. After one trimming, the crack in the hoof had improved significantly and I was asked to evaluate the Zoo's giraffe herd. This resulted in the establishment of a voluntary hoof work training program for CMZ's giraffe, and I have been trimming the giraffes' hooves once a month ever since. The work being done at CMZ has demonstrated the need for developing a hoof trimming protocol for giraffe so that information can be shared with other zoo professionals and institutions to better the husbandry care provided. Because the animals in zoos have such an important job as ambassadors for conservation, I feel it is our responsibility to continue to monitor, question, educate, and improve upon our practices when it comes to the animals' wellbeing in captivity. The opportunity to study the form and function of wild giraffe feet will provide valuable insight into how we maintain our captive herds.
Additional Information
The photo is of wild Rothschild's giraffe in Uganda. Oil mining is about to begin in the national park where they live. As part of a conservation program, these giraffe were transported across the Nile River, back into a historic home range to move them away from the planned oil mining.
---
Project Backers
262

Backers

248%

Funded

$10,417

Total Donations

$39.61

Average Donation