About This Project
Antibody Dependent Enhancement maybe involved in the spread of Zika. We are interested in characterizing Zika NS1 protein and seeing if Zika NS1 binds to IgG antibody immune complexes and if this binding can be inhibited. Next we want to characterize African Zika NS1 and Asian Zika NS1 proteins to see if the Asian Zika NS1 binds IgG antibody immune complexes with a higher avidity than African Zika NS1. Changes in Asian Zika NS1 protein, may be fueling the spread of Zika in the Americas.
Ask the Scientists
Join The Discussion
What is the context of this research?
The Aedes mosquitoes spreading Zika are poor vectors of Zika, suggesting that other factors may be contributing to the explosive spread of Zika in the Americas. Scott Halstead MD believes this may be due to Antibody Dependent Enhancement (ADE) of infection. This is where viruses such as dengue or Zika use our antibodies against us. We previously identified a viral protein receptor we found in dengue which contributes to the spread and severity of dengue. Inhibition of this viral protein, both cell culture (in vitro) and in animals (in vivo) lead to an issued US patent for treating dengue/DHF/DSS (US patent 8,815,813).
What is the significance of this project?
Zika and dengue are both Flaviviridae and are very closely related. Antibodies to previous dengue infections often cross-react with the Zika virus and may contribute to the spread of Zika. These cross-reactive, antibodies are associated with ADE. ADE is thought to contribute to the spread and severity of dengue infections and we believe the same phenomenon may be contributing to the spread of Zika. It is known that there are genetic changes in the African and Asian Zika NS1 proteins, but the significance of these changes is not known. We want to measure whether the Asian Zika NS1 protein binds with a higher avidity to antibodies. The Zika strain spreading through the Americas is the Asian strain and it has been reported that the Asian strain is more pathogenic than the African strain.
What are the goals of the project?
We want to characterize whether different strains of Zika NS1 protein bind to antibodies differently and if this binding can be inhibited. We believe the viral proteins we have found in dengue and Ebola contribute to the spread and severity of these viruses and we want to see if this is also true for Zika. We have found that inhibition of these viral receptors resulted in higher in vivo survival in a mouse model of ADE in dengue and may help reduce the spread and severity of Zika. We have shown that myelin basic protein also binds IgG IC and this interaction may contribute to autoimmunity. Guillain-Barré syndrome(GBS) is an autoimmune disease that can be triggered by recent Zika infections. Inhibition of these viral proteins may help treat GBS.
Budget
The funds will allow one laboratory P.I. (Dr Elliot Altman) and one assistant to work on Zika research. The balance of the funds will be used to purchase African and Asian Zika NS1 proteins from the Native Antigen Company. Whole African and Asian Zika virus will be purchased from ZeptoMatrix corporation. Dr Altman's lab has developed a "reverse ELISA" to measure the binding of IgG antibody immune complexes to various proteins. In dengue, Dr Altman found that dengue NS1 protein expresses a viral encoded receptor for the Fc portion of IgG antibodies and that this receptor contributes to the parthenogenesis of dengue. Dr Altman has been working on an inhibitor of this binding. In dengue, this inhibitor at 10mg/kg had 100% survival vs. 0% in the control group in a mouse model of ADE in dengue. The previous in vivo experiments where done at UC Berkeley. We believe changes in the Asian Zika NS1 protein maybe fueling the spread of Zika in the Americas due to this receptor and ADE.
Endorsed by
This study seeks to understand whether a mutation in the Zika virus has contributed to the outbreak in the Americas by facilitating antibody dependent enhancement, which is a fascinating and rare process in nature. This project will also assess the possibility of inhibiting the protein which may have mutated as a potential treatment for Zika virus infection. This is important work for understanding how the human immune system interacts with the Zika virus during infection, and how interactions between host immune systems and viruses can enhance viral transmission.
Studying mutations has shown to be of particular value in better elucidating the mechanisms of viral infection, and hence in finding ways to counter those. The team builds upon ongoing research on antibody dependent enhancement, through which circulating antibodies bind to the newly infecting virus but do not neutralize infection. This is a promising technique that has been studied in other arthropod-borne viral infections, such as Dengue.
Meet the Team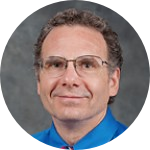 Elliot Altman
Professor
Affiliates
Middle Tennessee State University
View Profile
Team Bio
We have been studying the immunopathogenesis of Flaviviridae like Zika for over ten years and we have a unique skill set we can bring to solving the "Zika puzzle". Dr. Bodie has personally invested almost $30,000 of his own money in the last year and a half in developing this technology. The reason he has done this is that he has seen the data and he knows the inhibitor works against Flaviviridae like Zika.
Dr Neil Bodie
Dr. Neil Bodie has 17 years of experience in biotechnology.
Past biotechnology experience: VP R&D Trinity Therapeutics Inc. Present biotechnology experience: CEO Paradigm Immunotherapeutics Inc.
Lead inventor of six issued US patents, including 8,815,813 Bodie (2014) "Methods for treating immune-mediated Dengue Fever infections and antibody-dependent enhancement of Dengue Fever infections, including Dengue Hemorrhagic Fever and Dengue Shock Syndrome". Demonstrated in vitro and in vivo effectiveness in treating dengue. Zika is very closely related to dengue.
BS high honors in molecular genetics from UC Davis 1978. DVM UC Davis 1983. Four years post graduate experience in medical microbiology at UC Davis medical school.
Elliot Altman
Dr. Altman received his Ph.D. degree from the California Institute of Technology, Pasadena, California. He is currently the Director of the Tennessee Center for Botanical Medicine Research (TCBMR) and a Professor in the Department of Biology at Middle Tennessee State University. The TCBMR specializes in developing new drugs or nutraceuticals from plants that have medicinal value and is particularly interested in the study of plants that have been used in traditional Chinese medicine (TCM). Dr Altman's laboratory has three primary research interests, developing fermentation approaches to produce industrially important biochemicals, creating new or improved peptide drugs and finding new uses for natural products. Dr. Altman has over 50 publications in refereed journals and 16 issued US patents.
Additional Information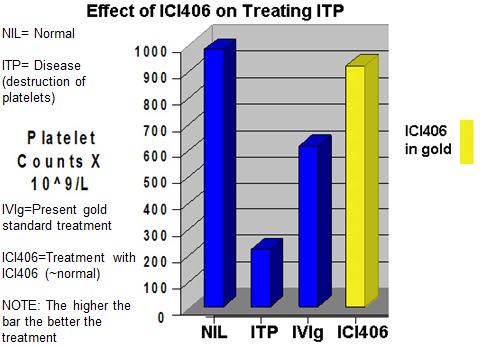 In vivo models of ITP showed that our inhibitor worked better than intravenous immunoglobin (IVIg). IVIg is the primary treatment for GBS. NIL= Normal ITP= disease (thrombocytopenia), IVIg = response to IVIg treatment, ICI406 = our inhibitor corrected ITP better than IVIg. IVIg is a primary treatment for both ITP and GBS.
---
Project Backers
4

Backers

5%

Funded

$217

Total Donations

$54.25

Average Donation