About This Project
We know a lot about the accumulation, distribution and effects of microplastics on marine ecosystems. We know very little about microplastic levels in comparison between freshwater and estuary ecosystems. We hypothesize that ecosystems upstream in the river inhabited with bivalves will have less microplastic contamination than ecosystems at the estuary inhabited by bivalves.
Ask the Scientists
Join The Discussion
What is the context of this research?
Plastic debris is an increasing concern and has been identified as a major contributor to biodiversity reduction in an ecosystem and poses a potential threat to human health and environmental growth. Limited studies have been conducted comparing the type and density of microplastics between inland freshwater river systems and coastal estuary systems in the Southeast region of the United States. This research will evaluate microplastic contamination in the Columbia, SC river systems and the estuary waters of the Charleston harbor. The research proposal will focus on density and distribution of microplastics within the Columbia and Charleston water systems; potential sources of plastic debris, and potential toxic effects of microplastics on the marine organisms.
What is the significance of this project?
There is an increasing global awareness and concern on the potential impact that microplastics may have on the marine food web. Ingestion of microplastics by marine animals have caused adverse health effects to include food intake reduction, decreased growth rate, and energy depletion, which may endanger marine populations and living resources. Microplastic pollution in natural water systems may pose potential threats to aquatic organisms and human health. No empirical study has been conducted to quantify the differences in plastic pollution between freshwater and estuarine systems or the potential impacts of microplastic contamination on bivalve organisms. This research will help fill in knowledge gaps in these areas.
What are the goals of the project?
We hypothesize that ecosystems upstream in the river inhabited with bivalves will have less microplastic contamination than ecosystems at the estuary inhabited by bivalves.

The field samples will assess and compare the spatial distribution of microplastics (MPs) between the sediment and water surface layers of the freshwater river systems of Columbia, SC, and the estuary system in Charleston Harbor, SC. Marine sampling will determine and assess the ecotoxicological hazards of MPs in the bivalve organisms.
MPs will be identified and classified by their shape, size, color and type. Polymer composition will be determined using a Fourier Transform Infrared Spectroscopy.
Budget
Funds for field sampling collection will be used to purchase sampling equipment required to collect and analyze a total of 50 water samples 150 sediment samples and 100 bivalve samples for microplastics in the Columbia and Charleston areas of South Carolina. The sample sizes ensure a confidence level of 95% with a 5% margin of error.

Funds for FTIR Analysis will cover Fourier Transform Infrared testing for identifying and detecting polymers associated with microplastics.
Funds for shipping will cover the shipping of the microplastic samples collected in the field.
Funds for publication will be allocated to publishing the results and findings from the study to a scientific journal and for creating posters to present at a professional conference and a research day event at the University of South Carolina.

Endorsed by
This research project is addressing the emerging public health and environmental health concerns of plastics and microplastics in our freshwater and estuarine receiving waters. Our understanding of the magnitude of and health implications of uptake of microplastics by humans and shellfish in our recreational and shellfish harvesting waters is limited. The scientific finding of JR's research will be translated in to useful and usable information to support the public's better understanding of the issue and ways in which to minimize the issue.
JR is currently my lab mate working on his PhD in Environmental Health Sciences in the Ecotoxicology and Human Health lab at the University of South Carolina. The project he is proposing will provide critical information on microplastics distribution and the effects on Eastern Oyster health, which is an indicator for impacts on human health. Microplastics research has been virtually absent from the freshwater systems in the Columbia, SC area and this project will provide novel insight into abundance, distribution, and impacts of microplastics.
Project Timeline
We are ready to start field and sample collection in Charleston, South Carolina in early June. We plan to publish the results from Charleston in July as we begin field sampling in Columbia, South Carolina. We will be analyzing microplastics in the collected samples by December. We intend to finish the manuscript in January 2020 and present posters at the Carolina Society of Environmental Toxicology and Chemistry in March 2020 and the University of South Carolina's Research Day in April 2020.
Apr 09, 2019
Project Launched
Jun 03, 2019
Begin field and sampling collection at Charleston, SC
Jul 15, 2019
Begin field and sampling collection at Columbia, SC
Sep 09, 2019
Complete all field and sampling collection
Dec 27, 2019
Complete processing and data analysis of all field collected samples
Meet the Team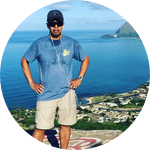 JR Viado
PhD Student
Affiliates
University of South Carolina, Department of Environmental Health Sciences
View Profile
JR Viado
I am a PhD student researching the impacts of microplastics on the aquatic and marine ecosystems in the Southeast region of the United States at the Environmental Health Sciences program at the University of South Carolina. I have always enjoyed the ocean and outdoor environment. I received my undergraduate degree in civil engineering from The Citadel, SC and my graduate research at USUHS – Bethesda, MD was based on the chemical analytes released from the Balad burn pits during Operation Enduring Freedom. I plan to use my science and research experience to address key environmental topics and develop attainable solutions in order to preserve and sustain the natural ecosystems.
---
Project Backers
4

Backers

4%

Funded

$122

Total Donations

$30.50

Average Donation