About This Project
Do collies think differently than Labradors? Our preliminary evidence suggests yes – herding dogs (who track large numbers of animals) may reason about numbers more precisely than hunting dogs. However, this preliminary work has several limitations that must be overcome before we can conclude that selectively breeding dogs to serve particular functions has shaped the way they think. In this project we plan to implement the necessary controls to further explore this exciting yet preliminary work.
Ask the Scientists
Join The Discussion
What is the context of this research?
How does evolution shape behavior? Although behavior clearly changes in response to evolutionary selection pressures, it's not always clear exactly how because evolution operates on genetically heritable traits and cannot act directly on behavior. Selection of behavior operates indirectly through selection of heritable physical or cognitive mechanisms. Directly isolating these is challenging because we cannot look into the fossil record and see the co-evolution of behavior and cognition as neither fossilize. Dog breeds all belong to the same species (minimizing physical differences) yet exhibit great variation in behavior (guarding, retrieving, tracking etc.) as a result of selection pressures. Can variation in the way dogs think (cognition) explain some of that variation in behavior?
What is the significance of this project?
This work will contribute in two important ways. First it will address important questions about the role of cognition in evolution by suggesting that selection for behavioral traits can independently shape specific (e.g., numeric reasoning) cognitive mechanisms while leaving others untouched (e.g., object reasoning, self-control). This contributes to our understanding of evolution which will inform psychologists and biologists about basic mechanisms of evolution that can be applied to other species (including humans). Second, it will contribute to a growing body of knowledge on breed differences which interests veterinarians, trainers, other professionals working with dogs (police, assistance dog trainers etc.) and dog owners alike.
What are the goals of the project?
We hope to test the hypothesis that selection for breed specific behavior occurs by selection for specific cognitive mechanisms. We will explore breed differences in a number cognition task and the extent to which this skill is specific by exploring breed differences in object reasoning. Numeric reasoning is well poised to test specificity since our numeric system appears to have two components: an approximate magnitude system (how many?) and an object file system assessing object identity (what is it?). We expect herding dogs will out perform hunting dogs in how many tasks and that hunting dogs will out perform herding dogs in what is it tasks.
Budget
In order to conduct the experiments we will need to construct a mobile apparatus with multiple uses that includes a test area, a staging area, shielded selection bins, and treat dispensers. In addition, funding will be required for animal-like objects (e.g.ducks, geese, cows, sheep), dog treats, and travel to breeders and breed clubs within a three state area.
Additional funding would allow us to explore other breed differences in cognition including self-control and social reasoning.
Endorsed by
What a fantastic project! The question of how breed shapes dogs' numerical understanding is an important one, both for the field of comparative cognition and simply to understand our canine friends better! Dr. Furlong and her students have all of the right expertise to complete this exciting project.
Dr. Furlong is an energetic new member of our psychology faculty. Her work seeks to clarify how behavior is shaped by evolution and the degree to which it is independent of cognition. Studying the variability of these traits between breeds developed for specific tasks will provide critical insights into the ways evolution affects behavior through natural selection.
Dr. Furlong's impressive academic and scientific record, extensive and admirable work with students, and clear skill at completing tasks she sets for herself, as well as her fascinating and engaging research proposal, all encourage my strong support for this proposal.
Meet the Team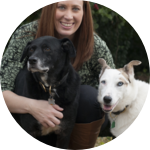 Ellen Furlong
Assistant Professor
Affiliates
Illinois Wesleyan University
View Profile
Eric Rydell
Affiliates
Illinois Wesleyan University
View Profile
Liz Oltman
Affiliates
Illinois Wesleyan University
View Profile
Ellen Furlong
Animals have been a huge part of my life since day 1 -- I was named after a dog, my first word was my dog's name, and one of my earliest memories was of seeing a gorilla in a zoo. When I was 9 I started training the family dog, a terrier mix named Coco, and when I was 13 I added a second dog to the mix, Sassy, a cocker spaniel. I quickly became fascinated at how different they were to train. For example, even though Coco was objectively smarter, it took her three years to learn to lay down while it took Sassy a matter of days. Coco was stubborn and independent. Sassy's only thought was how to please. That summer, the year I was 14, I sat at the pool while all my friends were swimming and playing, and made a list of all the questions I had about how dogs think. To this day I'm still working on that list. The exciting thing, however, is that now, as a professor, I get to answer those questions. I have the best job ever.
Eric Rydell
I am an undergraduate psychology student interested in decision making and behavioral economics. In addition to these interests, I plan to conduct a thesis with the focus of breed differences in cognition. Growing up with hunting dogs by my side throughout my childhood, understanding more about the canine worldview and learning how to get inside a dog's mind has always been something that has gripped me. This project as well as my intended thesis project provide me with means to answer these fundamental questions quantitatively.
Liz Oltman
I am an undergraduate psychology student with an interest in the cognitive and social aspects of the field. I plan on doing a thesis on the grounds of breed differences in number cognition. This research will provide valuable insight into the cognitive, decision making abilities of dogs and look at which breeds are more successful at a given task. I've always had a love of animals and this project allows me to work side by side with man's best friend while collecting valuable information on their cognition and collecting data for my intended thesis project.
Additional Information
The "Are herding dogs better at math than hunting dogs?" research by Dr. Ellen Furlong is a project associated with the Psychology Department of Illinois Wesleyan University (Federal Tax ID 37-0662594), an Illinois nonprofit corporation with federal tax exempt status under Section 501 (c)(3). All donations are tax deductible to the fullest extent of the law. 100% of your donation for this project supports research activities.
Note: gifts made through Experiment.com will not be reflected in your Illinois Wesleyan University giving history and will be listed as an anonymous gift in Illinois Wesleyan University's record system.
---
Project Backers
33

Backers

32%

Funded

$1,250

Total Donations

$37.88

Average Donation