About This Project
RNA viruses cause several important diseases in humans and animals (e.g. West Nile, Ebola, rabies) and are associated with significant mortality in captive reptiles. However, these viruses are understudied in wild reptile populations and their effects on individual survival and population stability are unknown. We aim to test wild state-endangered Blanding's turtles for RNA viruses to determine their health effects and support effective conservation strategies.
Ask the Scientists
Join The Discussion
What is the context of this research?
Chelonians (turtles and tortoises) are some of the most imperiled animals on the planet, with over half of recognized species threatened with extinction. Turtle populations are dwindling due to several factors including habitat loss, road mortality, overcollection, and nest predation. Some species are also threatened by infectious diseases, and characterizing turtle health status is an important area of active research. This is especially true for threatened species, which may be at a higher risk of extinction due to catastrophic events including disease outbreaks. RNA viruses are important pathogens in chelonians, and may be associated with mortality events in wild turtles. However, the presence of these viruses is rarely investigated in free-living animals.
What is the significance of this project?
Understanding the types of RNA viruses that infect wild turtles and determining the impacts of these viruses on individual and population health is important for designing effective conservation strategies. We plan to test a population of wild, state-endangered Blanding's turtles for four RNA viruses, then determine whether viral detection is associated with clinical signs of illness or bloodwork changes consistent with poor health. This will be one of the first studies to test for RNA viruses in wild North American chelonians, and will complement data that we are concurrently collecting in box turtles and rattlesnakes. Our research will help determine the importance of RNA viruses for wild reptile health, and may promote better conservation outcomes.
What are the goals of the project?
The goals of this project are to determine whether four RNA viruses (picornavirus, nidovirus, ferlavirus [formerly paramyxovirus], and reovirus) are present in wild Blanding's turtles, and to identify associations between viral presence and signs of poor health. We will accomplish these goals in conjunction with an existing health assessment study. Briefly, wild turtles will be located using radiotelemetry and turtle traps. Turtles will receive a complete physical examination, bloodwork will be performed to assess health, and a combined oral/cloacal swab will be tested for RNA viruses using PCR. Associations between virus detection and signs of illness or bloodwork changes will be evaluated statistically to help determine the overall effects of these viruses in Blanding's turtles.

Budget
This project is part of a Blanding's turtle health assessment program performed by the Wildlife Epidemiology Laboratory at the University of Illinois and the Lake County Forest Preserve District. We will use external funding for travel, housing, turtle location, and health testing including bloodwork (hematology, biochemistries, protein electrophoresis) and pathogen screening (hemoparasites, DNA viruses, Mycoplasma sp.).
We are requesting funds to test for four RNA viruses (ferlavirus, nidovirus, reovirus, and picornavirus) in 50 turtles. Sample collection costs cover sample tubes, sterile swabs, gloves, and storage boxes. RNA preservative is used to stabilize viral RNA during fieldwork to help prevent false negative results. Molecular testing includes RNA extraction, cDNA synthesis, PCR amplification, and all associated materials. DNA sequencing will be pursued to confirm positive test results and enable phylogenetic tree construction.
Endorsed by
There are numerous factors that impact the health of free-ranging wildlife and infectious disease is certainly an important one. This project will investigate an under-studied group of viruses in a species of high conservation importance. Dr. Adamovicz is an extremely qualified scientist and veterinarian with a great deal of experience investigating wild chelonian health. I have no doubt that this project will be successful under her leadership.
Project Timeline
Fieldwork for this project will be conducted from May - August, 2019. RNA extraction, cDNA synthesis, and PCR will be performed from August - September. Statistical analysis and report preparation will be performed in September - November. We anticipate project completion by end of year 2019.
May 15, 2019
Begin Fieldwork
Jun 03, 2019
Project Launched
Aug 09, 2019
End Fieldwork
Sep 30, 2019
Molecular Analysis Complete
Nov 30, 2019
Statistical Analysis Complete
Meet the Team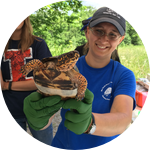 Laura Adamovicz
DVM, PhD
Affiliates
Wildlife Epidemiology Laboratory, University of Illinois
View Profile
Laura Adamovicz
Laura is a clinician-scientist who loves everything scaley, slimy, creepy, and crawly. She received her DVM from the Virginia-Maryland Regional College of Veterinary Medicine in 2012 and completed a PhD in epidemiology at the University of Illinois in 2018. She is currently a post-doctoral research associate in the Wildlife Epidemiology Laboratory at the University of Illinois. Her research involves modeling health in wild reptiles and amphibians, improving clinical interpretation of reptilian diagnostic tests, and determining the importance of disease in reptile conservation.
Click here for her awesome research team!
---
Project Backers
43

Backers

47%

Funded

$1,848

Total Donations

$40.65

Average Donation